Well hello my always reliable, but not always welcome friend, Monday.  Even though I had a little bit longer weekend, it still went too fast.  We've started summer Fridays at my real world job (the one I do when I'm not making a mess in the kitchen and weirding my neighbors out by standing on the table taking pictures of food).
Friday was a little bit of a bust because I went out with co-workers Thursday and had TWO martinis and Friday I felt like I had 456 martinis!  Getting older + vodka do not mix… at all.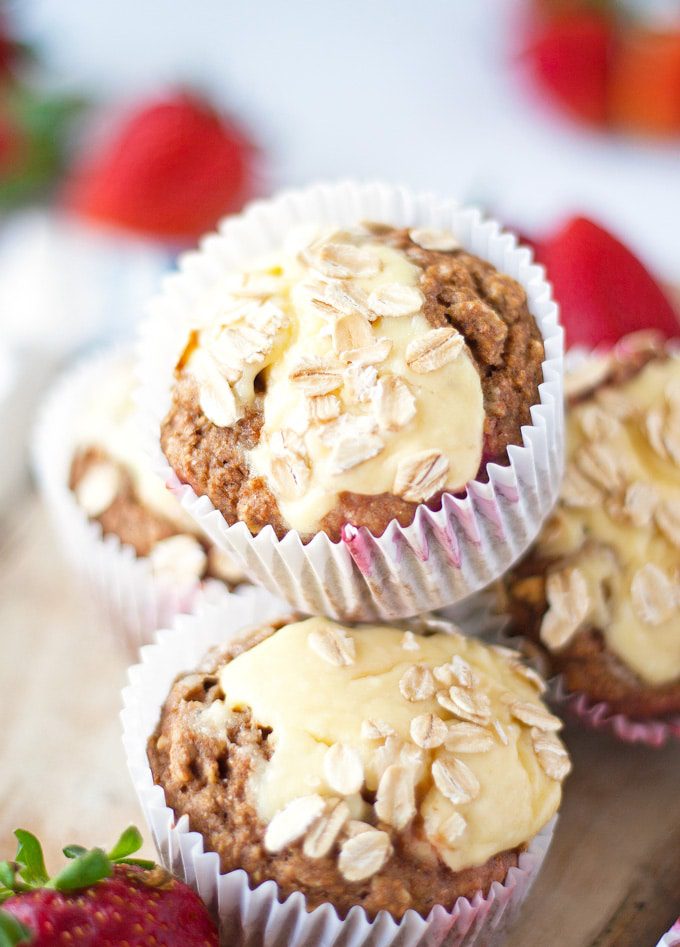 But by Saturday I was ready to go, baking up a storm in the kitchen and later went out to celebrate one of my favorite friend's birthday at a super fun spot, the Good Luck Bar, in Silverlake.  They made delicious fruity drinks that were served in coconuts.  What girl doesn't love a coconut drink?!
But here's Monday again, which means getting back to eating healthier and not shoving chocolate chip cookies in my mouth for breakfast.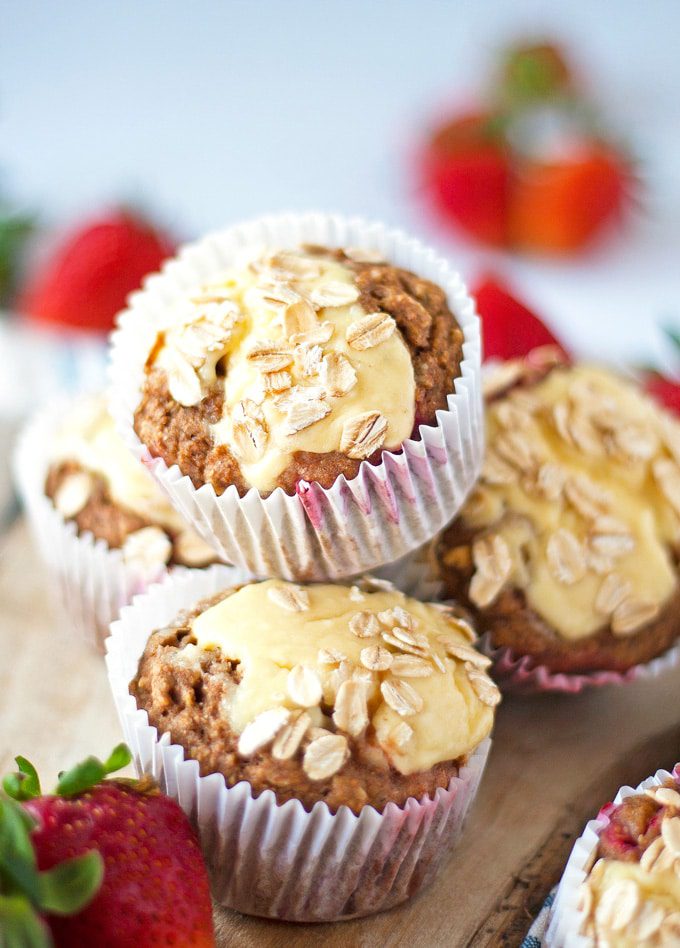 What I am eating for breakfast are these incredibly fruity, texture rich strawberry and cream cheese breakfast muffins that are actually pretty healthy, certainly healthier than chocolate chip cookies.
The muffins are made with strawberries, applesauce, almond milk and oatmeal and then topped with a tart and delicious cream cheese filling.  You could definitely leave the cream cheese filling out if you're looking for an uber healthy breakfast muffin, but it definitely elevates these breakfast muffins and if I'm giving  up chocolate chip cookie breakfast, I'm going to need a little something something.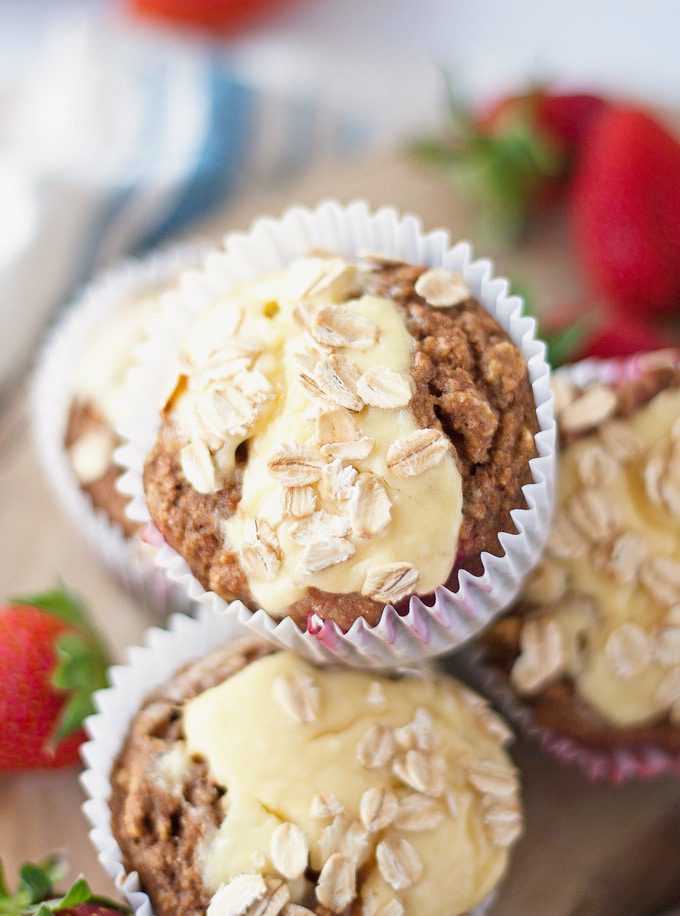 Now if we could just figure out how to talk my boss into summer Thursdays and Wednesdays…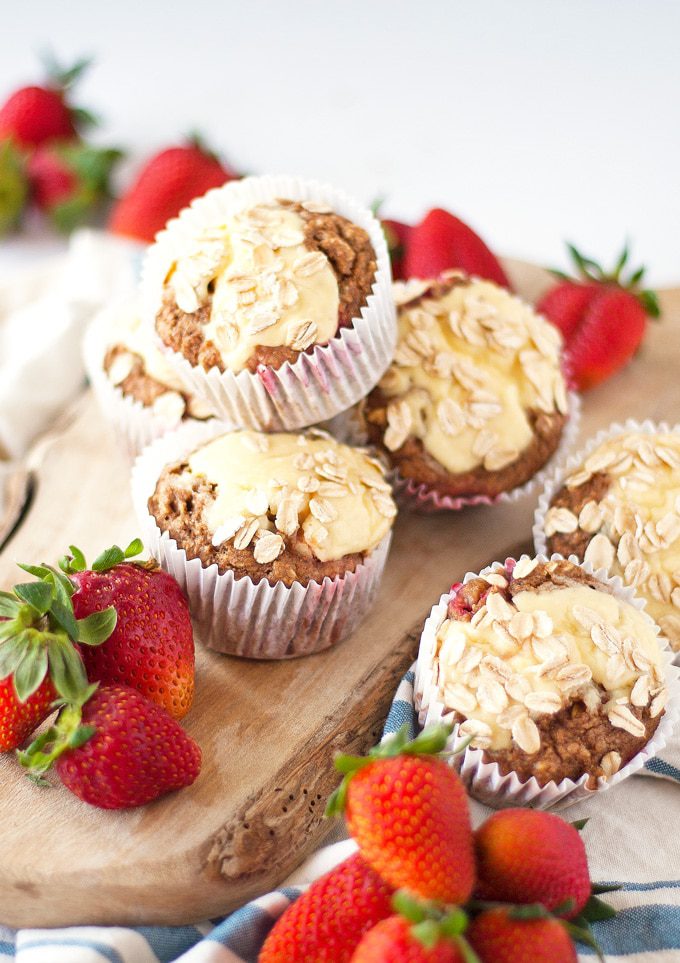 ingredients
muffins
1⅓ cup whole wheat flour
¾ cup + 3 tablespoons rolled oats, divided
1 teaspoon baking powder
1 teaspoon baking soda
1 teaspoon cinnamon
½ teaspoon salt
1 heaping cup unsweetened natural applesauce
1 teaspoon olive oil
¼ cup brown sugar
1 egg, slightly beaten
½ cup unsweetened vanilla almond milk
1¼ cup hulled and quartered strawberries
cream cheese filling
8 ounces cream cheese, softened
1 egg, slightly beaten
1 teaspoon vanilla
½ cup sugar
Preheat oven to 375 degrees F. Line a 12-cup muffin tin with liner and coat the inside of the liners with cooking spray.
In a large bowl, combine flour, ¾ cup oats, baking powder, baking soda, cinnamon and salt; set aside.
In a medium bowl, combine applesauce, olive oil, brown sugar, egg and almond milk.
Slowly add the flour mixture to the milk mixture and stir just to combine – don't over mix. The batter will be a little lumpy, but that's fine.
Gently fold in the strawberries.
Divide the batter between the 12 muffin tins and with a spoon create a crevice for the cream cheese mixture.
In a small bowl, beat together the cream cheese, egg, vanilla and sugar for the filling. Spoon the mixture into the crevices of the muffins. You may have a little extra filling left over, I did.
Sprinkle the remaining 3 tablespoons of rolled oats over the top of the muffins.
Bake for 15-20 minutes or until a toothpick is inserted in the middle and comes out clean.
Allow to cool for 5 minutes.
Serve immediately or refrigerate.
These muffins can also be frozen to keep longer and microwaved when ready to eat.