Within 2 months, I finished up my big batch of Curry Rempah. Tells you how often I have curry, doesn't it? As I had to replenish my depleted stock today, I remembered to weigh the ingredients for readers who have asked me, "exactly how much is a handful"?
Here it is. Do remember though, that cooking should be creative and free, so don't fret if it is slightly more or less.
Lengkuas (aka Galangal): ~200g
Young ginger: ~100g
Turmeric: ~50g
Shallots: ~750g
Candlenuts: ~100g
Dried red chilli: ~30g
Lemongrass: ~7 stalks
Fresh red chilli: ~450g
Garlic: ~1 bulb
Salt: ~1 1/2 tsp (add when you are frying the rempah)
Sugar: ~1 tsp (add when you are frying the rempah)
Vegetable oil: ~1 rice bowl (for frying the rempah)
By all means, go ahead and adjust the proportions. If you like it more spicy, add more chilli. If you like it more nutty, add more candlenuts. You call the shots 😉
As you pound/blitz the ingredients, adding vegetable oil in small quantities gives you a smoother blend. No measurements for this … just pour a little here and there as you pound/blitz.
Fry over a low flame for about 1 hour, stirring all the time, until the oil floats to the top. Cool completely before scooping into a sterilised container. Freeze.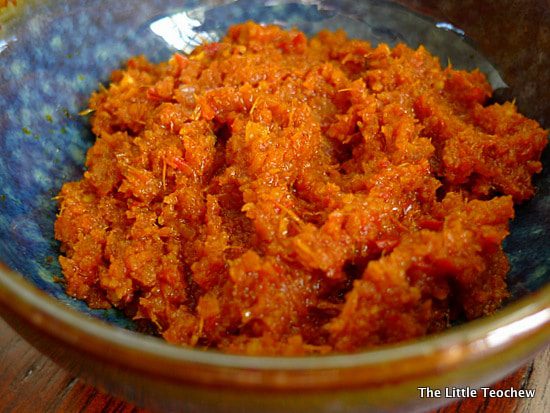 You will notice that this batch of rempah is a lot redder than the previous one I made. The difference is in the dried red chilli. I omitted it the last time because I only remembered them when I was about to start making the rempah, and since they take time to soften in water, I left them out.
I got an "earful" from my granny when I casually mentioned it to her. LOL! She bellowed and chided (in a doting sort of fashion), saying I would not achieve that gorgeous red hue. So, like a good girl, the first ingredient I bought today was the dried red chilli. Yup, granny takes her cooking very seriously, heh heh.
With my freshly made rempah, I made Ayam Lemak. Just 2 tbsp of rempah and 2 tsp of turmeric powder (which explains the yellow gravy). Then add an entire can of coconut cream to 1 chicken. Voila! A tantalising, rich pot of golden goodness. Yummilicious!