I really should start writing an
autobiographical pocket novel called 'The unbearable loneliness of a being on bank
holiday weekends' or 'Izzy's day out' or 'I should have stayed at home' and the
story would go like this. One weekend someone doesn't have time in their life
for vegan cake, and another obviously less antisocial individual escapes to
mainland Europe forcoffee leaving
you all alone staring at the ceiling of your tiny tiny studio flat in a part of
town that's suddenly turned into something too trendy for your
run-away-from-home self to hang out unaccompanied by a freelance jewellery
designer husband and a toddler. But not all is lost. Never mind washing your
hair (it adds to the charm), you jump on a train to dear Peckham, where people's
main concern appears to be the price of plantains and you can wander around middle
Eastern bargain stores that resemble Narnia and art galleries and take photos
of songbirds in alleys and sit in cafés sipping rhubarb tea and writing
postcards to worried parents who now label you as bohemian, then go back home with
a new-found quite concerning feeling of belonging, a bag of blackcurrant sweets
and twelve hundred grams of strawberries for your (almost) raw vegan cheesecake
because as it turns out, you are one of those people who do have time in their
life for vegan cake and I fail at seeing anything wrong with that.
The end.
STRAWBERRIES & CREAM CHEESECAKE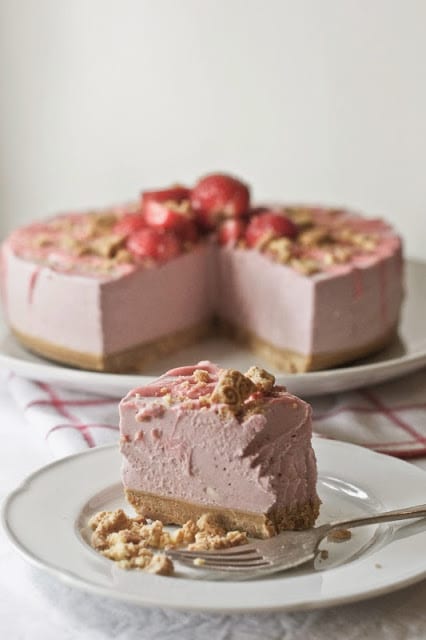 Crust:
420g (15oz) vegan cream sandwich biscuits
(I used these)
2 tablespoons coconut oil, melted
Filling:
Adapted fromThe Post Punk Kitchen
190g (1 ½ cups) cashews, soaked for at
least 3 hours
60ml (1/4 cup) agave syrup
2 tablespoons water
2 tablespoons lemon juice
½ teaspoon vanilla extract
325g (11oz) strawberries, sliced
90g (1/4 cup + 2 tablespoons) coconut oil,
melted
Strawberry drizzle:
1 tablespoon coconut oil, melted
4 large strawberries, sliced
3-4 vegan cream sandwich biscuits,
crushed/chopped
3-4 strawberries, sliced
Lightly grease a 22cm/9" cake tin and set
aside. Place the cream biscuits in a blender and blitz until roughly ground.
Add the coconut oil and keep going until you get a smooth paste. Place the
mixture into the prepared tin, pressing it down evenly and firmly to cover the
base. Put the tin in the fridge whilst you prepare the filling. Blitz the
cashews in a blender until roughly ground then add agave syrup, water, lemon
juice, and vanilla. When the mixture is smooth, add the strawberries, and last
the melted coconut oil. Blend until everything is well combined, smooth and
creamy. Pour the filling over the biscuit crust and return to the fridge until
set (at least 4 hours, ideally overnight).
To make the strawberry topping, blitz
coconut oil and strawberries in a blender until smooth, then drizzle over the
cake with a spoon. For the finishing touches, sprinkle the cheesecake with some
more crushed and/or chopped cream biscuits and top with strawberries.