I love noodle, a special affair any other food couldn't come as close. Slurping the boiling hot strings soaked in whirlpool of flavour decorated with chili flakes is the most luxurious experience food can offer.
One of my favourite noodles that I haven't introduced in my blog yet is the most gentle, thick and sticky type. We called this "Kuay Jab Yuan" (Vietnamese Noodle) in Thailand. It is great for breakfast, the perfect morning soup–hearty and comforting.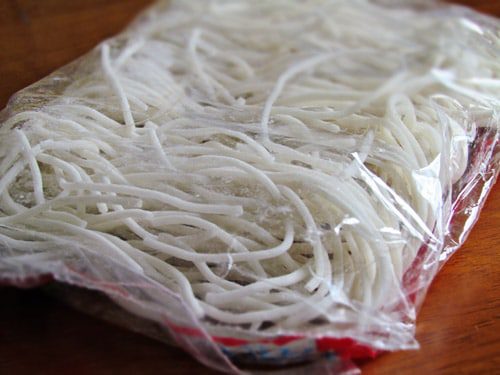 The thick, white, threads are so tender but firm in shape soused in the darkling broth. The noodle slips in the world of sapidity and the glistening surface is the result of fat melted and mended to the luscious pond. There is no need to think about the meat, it melts right of the bones, within every cell carries the tastes and aromas of garlic and coriander roots.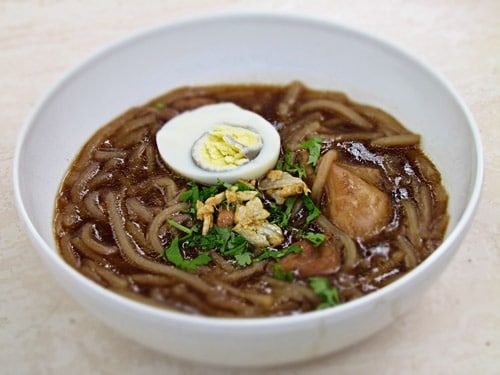 Sticky Vietnamese Noodle Soup (Kuay Jab)
Ingredients: (6 servings)
250 gm dried Vietnamese noodle
500 gm chicken with bones- cut into medium chunks
2 tbsp soy sauce
1 whole garlic- peeled and roughly bruised
4 coriander roots bruised
2 tsp salt
1 tsp ground white pepper
3 hard boil eggs
8 cups water
Few fresh coriander for garnishing
2 tbsp oil
Preparation
Marinate chicken with soy sauce for 10 minutes.
Bring water to boil, add 1 tbsp of garlic, coriander roots and salt. Add chicken and let it boil for few minutes. Simmer further for 15-20 minutes or until chicken is tender.
Break noodle into small pieces, roughly wash in the running water and add it to the stock. Let it cook for 10-15 minutes or until the noodle is tender and become transparent.
Add ground peppers, check the seasoning and remove from the heat.
Sauté the rest of the garlic in 2 tbsp of oil over the medium-low heat until golden brown. Transfer the garlic into the soup and stir well.
Ladle the soup into the bowls, add halved boiled egg and sprinkle some fresh coriander over just before serving.
The soup was very thick and comforting. The thickness was resulted from the starch leaking from the gentle, smooth ribbons. The flavour was balance and settle, yet exciting and exotic. Every spoonful cracked the surface open, rose the delicious steams up the air.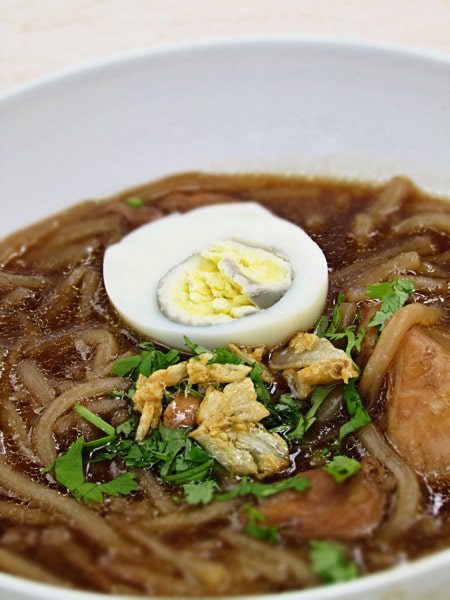 When the mellow aroma of garlic weltered in the soup, my family knews it's time to line up with a bowl in front of the hot stove.
Do you like noodle? What's your favourite noodle?
Have a beautiful day,