So… I hear you're new to the neighborhood.
I can see you there, you're stressed out, you're exhausted, you're surrounded by boxes, you just spent forty minutes tangled in a shower curtain and would consider giving up cookies for life if someone would just give you a manicure. Of course, the salt and pepper shakers are in a box with a bedside lamp and your grandma's quilt, where else would they be? A tuna sandwich sounds good but you can't find your can opener. Do you feel a little lost? Its okay, moving is hard work.
You haven't eaten real food in months, surviving on "Tasty Kabob". It's snowing. You miss your family. Your once curly chocolate locks are now just crooked in this cursed East Coast weather. Are you searching for something familiar in a sea of strange, terrifying and new? I know, you feel like you are going to drop and want to just order a pizza. Don't do it. Please. Wait a minute… and then make this.

You know, I just realized that sometimes I like to pretend that I am talking to you, but I am really talking to me. Maybe you didn't just move across the country, you probably didn't just totally embarrass yourself on your first day at your grown up job because you have never seen it snowing before. (snow flakes are HUGE by the way, I always thought they were tiny like sprinkles on cake, but they're not… they're big and fluffy). Maybe you don't miss California. Maybe your hair was never curly…

Yup. I have to admit it now. All that… that's me. I just did that.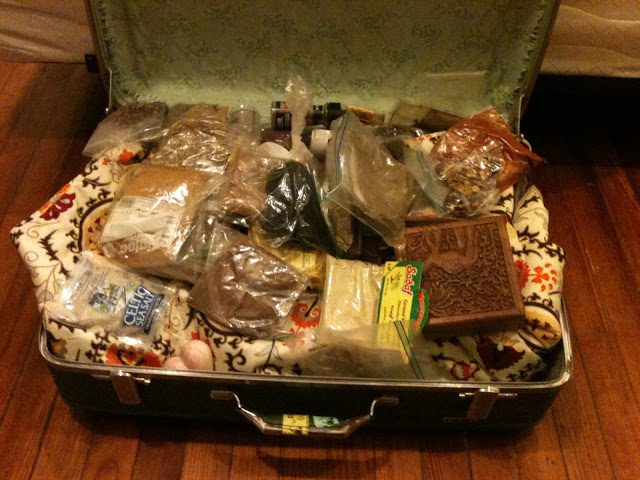 But the hardest part it behind me now. I have moved into my apartment and I can cook again. PAUSE for dramatic effect. All fun from here on and I have room for visitors; think about it, cherry blossoms, DC… that's all I'm saying.
So go and unpack your spice suitcase, it's time for your first meal in your new place. This is a celebration, start it off right! Wait, what do you mean you don't have a spice suitcase??!?! Doesn't everyone? Well I do…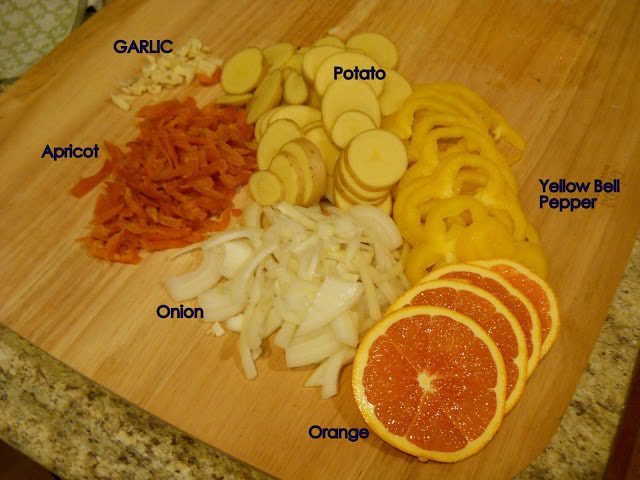 2 Chicken Leg Quarters
¼ of an Onion
4 Cloves Garlic
1 orange, sliced
1 Yellow pepper, sliced
4 Small potatoes, sliced
1 Handful Dried Apricots, yup you guessed it, sliced
2 Cups Chicken Stock
12 Green Olives
Parsley
Paprika
Salt & Pepper
Dredge the chicken in flour and sprinkle with salt and pepper. Lay skin side down in a pan that has been heating with olive oil. Brown the chicken and then flip. Add all the ingredients with the exception of the Olives, Parsley and Paprika. Cover and let simmer on medium/low for about 25 minutes. (This is probably a good time to take a shower, you've been unpacking all day; you'll feel like a new person, trust me). Check your chicken and make sure there is still enough stock in the pan and mix all that business in there around. If the meat starts separating from the bones it's done, if not cook it longer. The longer you cook it the better it will be, just make sure there is enough liquid in there. Add the olives, parsley and paprika. It should be soupy. I like to pull the meat of the bones and mix it real good before serving.
You can also double this recipe and share it with people you love, who probably talked you through that kitchen towel mini-crisis you just had in Target or moved all your heavy stuff for you. This stewed chicken would go well with rice and tart greens, or Israeli cous cous, or some crusty French bread. It also goes well with some sort of plate and some sort of spoon/fork thing and if you can't find that, goes especially well in your mouth.
Welcome to Washington DC!!!