Some dishes just blow you away. Like this Steamed Prawns dish. I thought it would be something on the bland side (tofu, glass noodles), which was fine by me, since I prefer light seasoning anyway. But wow, the moment I took my first bite, I was … well, wowed.
Imagine sweet, crunchy prawns … nestled on a bed of slippery glass noodles … sitting on silken egg tofu … and topped with crispy garlic bits. The contrast in flavour and texture was pure HEAVEN.
Needless to say, I really, really, really enjoyed this dish. It was delightfully delicious and refreshing, and delicious. Did I mention delicious?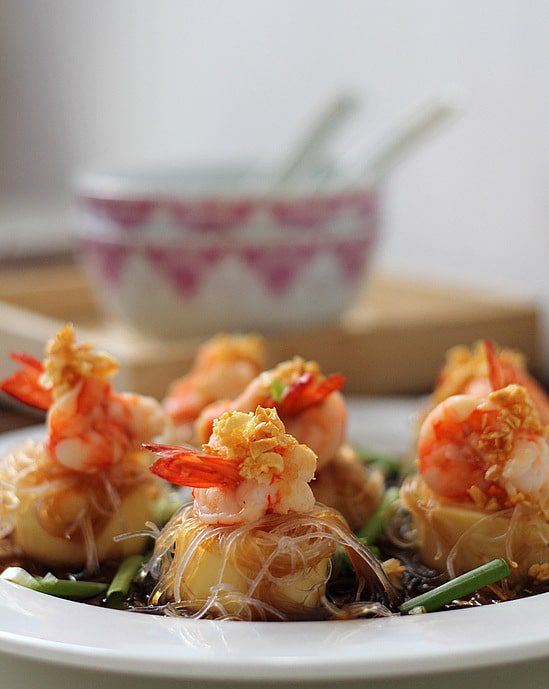 I got this awesome recipe from Suresh'sblog, which by the way, is chock full of unpretentious, everyday, good food. My kind of food! 🙂 I hope you'll all give this dish a try someday. It makes for such a rewarding meal with so little effort.
Recipe
(largely adapted from 3 Hungry Tummies)
Serves 2 to 3 as part of a Chinese meal
– 1 tube silken egg tofu (or any type of tofu you like), cut into 6 equal pieces
– 6 medium size fresh prawns, peeled keeping the tails intact (Suresh says fresh scallops work too!)
– 10g to 15g glass noodles (aka tang hoon, mung bean noodles), soaked and drained
– 1 spring onion, julienned
– crispy garlic and garlic oil (fry this first and set aside)
For the sauce
– 3 tbsp of light soy (I would reduce to 2 tbsp next time … it depends which brand of soy sauce you use)
– 1 tbsp of Hua Tiao cooking wine
– 1/2 tbps sugar
– dash of sesame oil
– dash of white pepper
– a little grated ginger (I omitted and it was still good)
1. Soak glass noodles in hot water for 5 minutes and drain. Set aside. During this time, you can start heating up your steamer. I used a regular wok with cover.
2. Peel prawns, make a slit on each prawn and pierce the tail through, making a little "prawn ball".
3. Drape small mounds of glass noodles over tofu, then top with a prawn ball.
4. By this time, your steamer should be bubbling hot and ready for action. Spoon some sauce over the prawns (no need to use up all the sauce if it appears too much) and place the dish in the steamer. Steam on medium heat for 5 to 8 minutes. I steamed for 5 minutes and it was just right.
5. Top with julienned spring onions and crispy garlic, and drizzle with garlic oil liberally. I was so lazy, I used a pair of scissors to cut the (washed) spring onions directly over the dish! 😛
6. Ready to be served! This dish is best eaten piping hot, so please take the cue from me, and do not spend too much time styling or taking photos! Just snap and EAT.