Now about this soup. Don't know about you but I've worked up an appetite here. I'm loving golden beets these days. I might have loved them all my life except I didn't discover them until a year or two ago. Sad about missing time with these golden beauties.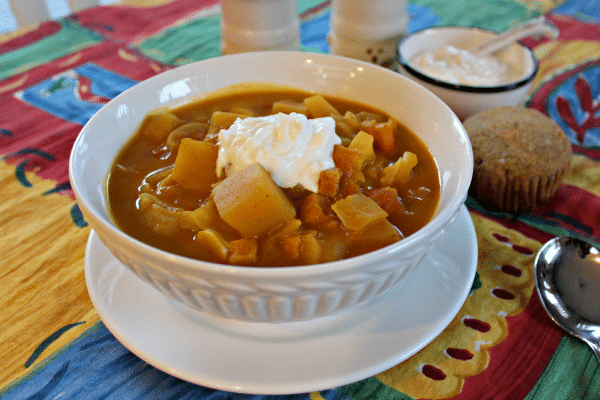 Don't you think this hearty rustic soup and a toasty slice of gluten free bread would be perfect on a cold winters day?
I'm thinking I might try my hand at Coconut Bread. Have you tried grain free bread? Don't think I ever have. I'm intrigued yet reluctant to try this recipe for Crusty Coconut flour Bread (Paleo, SCD) by The Real Food Forager. I've seen it all over the place (social media) lately.
From what I've experienced and read about baking with Coconut Flour, it can sometimes be a tricky business. Oh well, I've got some coconut flour in the pantry. No point letting it sit there until it goes stale. No point in letting it go to waste. Better to invest in some eggs (if you've ever used coconut flour, you'll get my drift) and bake away.
Recipe: Rustic Golden Beet Soup (Chunky Golden Borscht)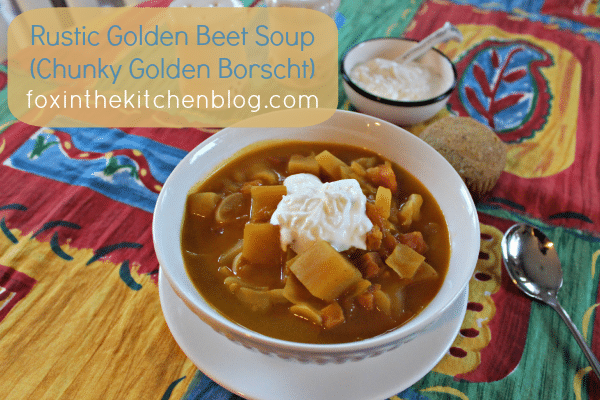 Summary: A warm comforting rustic soup thickened with a vegetable puree instead of heavy starches.
Gluten Free | Grain Free | Dairy Free | Egg Free | Sugar Free | Vegan (option) | Vegetarian (option) | Omnivore | Paleo
Ingredients
*** Always refer to packaging labels for the most up to date allergy information
1 medium onion, chopped and fried until caramelised
2 golden beets, peeled and chopped
2 carrots, peeled and chopped
1 tomato, blanche for 20 seconds, peel and chop
1/4 head of cabbage, coarsely chopped
2 cloves garlic, minced
1 1/2 Cups thick soup stock
1 tsp apple cider vinegar
1/2 Cup cooked ham, chopped (optional)
Instructions
I like to use caramelised onions in my cooking. I always have some in my freezer. You don't need to caramelize the onions but at the very least, I do recommend frying the onions in a dab of oil on medium-high heat for about 5-7 minutes before adding to this soup.
For this soup I also chose to roast the carrots and beets for 20-25 minutes at 425°F, or until brown around the edges. It took about 15 minutes. Again, this is a step you can skip if you want to get into the soup quicker.
Add all ingredients, heat until almost boiling. Simmer for 20-30 minutes until cabbage has wilted and all ingredients cooked through. Taste, season with fresh ground salt and pepper if necessary.