In my house, we rate things in terms of the "smiley" face system.
For example: Pancakes= smiley face. Tofu= flat face (kinda good, kinda not). Blue cheese with truffles= crying face of pain and hatred.
This thanksgiving= smiley face. (I hope you guys all had a pleasant Thanksgiving. If you are like me, it was filled with family and -of course- food.)
But above all, there is the covetedbig smiley face. The one that is associated with warm cinnamon rolls fresh out of the oven or my grandmother's noodle kugel. Until now, only a few savory restaurant dishes have earned said big smiley face– it is just too dang hard to get.
Well, ladies and gentlemen, this soup has been officially given the big smiley face rating by myself and my taste testers.
A creamy "bisque" (minus, you know, all the fat) is created by blending tender cauliflower, delicate yellow onion, sweet roasted red peppers, and smokey paprika into a perfect combination of silky-smooth texture and bold –but not overpowering– flavor. Trust me, you won't miss the heavy cream or butter in this recipe. It is still perfectly creamy and the flavor is a perfect balance of smokey and savory-sweet. I seriously got a second serving because I just could. not. get. enough.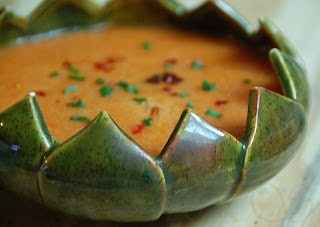 Ughhhh. So good.
Often, I feel like just eating light after Thanksgiving weekend. After so much pie, potatoes, and heavy (but delish!) dishes, I sometimes feel like all I want to do is drink smoothies and broth for the rest of eternity (ok, notthat long). At this point, I feel like my Thanksgiving leftovers have also covered all of my sweet potato, pumpkin, green bean, turkey, and cranberry needs for about the next month.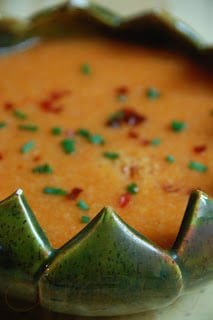 So when I feel such, I know that a bowl of warm Cauliflower and Roasted Red Pepper Bisque is the perfect go-to recipe. It is easy and brings me the warmth I need without a heavy or overly indulgent feeling. I absolutely adore soup, and this is a great one! If you aren't feeling as "oh-my-god-I-need-a-break-from-butter" as I am, then this soup would pair quite well with some thick slices of crusty bread or a nice dollop of creme.
This soup is just so good. If you want a break from the Thanksgiving madness, give it a try!
P.S.
I forgot to mention– adding some leftover turkey into this would be quite yummy, too!
Cauliflower and Roasted Red Pepper Bisque
Serves 4      Serving Size: 1 and 1/2c.              Calories/Serving: 115
Ingredients:
4c. low sodium vegetable broth (or chicken if preferred)
1 small yellow onion, diced (about 1c)
1tbl grated fresh garlic (about 2 cloves)
1 small head of cauliflower, cleaned, florets only (about 1 and 1/2c. florets raw)
4 homemade roasted red bell peppers, skins removed, chopped
1tsp salt
1tsp black pepper
1tsp paprika
Red pepper flakes (garnish)
Chives, sliced (garnish)
Instructions:
In a large pot, combine broth, onion, garlic, and cauliflower. Bring to a boil, and then boil for 15-20 minutes or until cauliflower is incredibly tender.
Add the red bell peppers, salt, and pepper to the pot. Allow to cool, then transfer a third of the soup into a blender or food processor and pulse until smooth. Repeat with remaining soup. To serve, garnish with some red pepper flakes and chives.