Does this look familiar?
That's because you've seen ithere. I made Cotton Soft Japanese Cheesecake this afternoon because I realised, horror of horrors, my Philly Cream Cheese was expiring next week!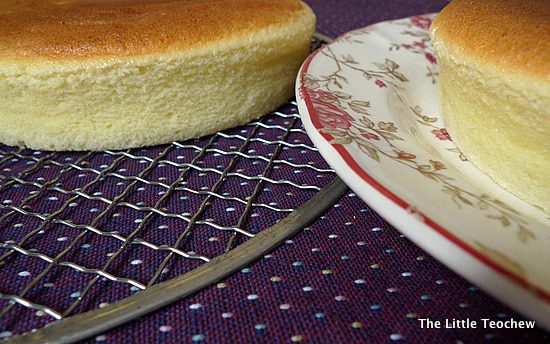 I made 2 smaller cakes this time … and almost had a kitchen disaster of epic proportions! My itsy bitsy teeny weeny oven couldn't accommodate the 2 cake tins comfortably! What was I thinking?!
I had to force the 2 tins in. It was such a delicate act manouevering cake batter in a hot oven. Sigh. Finally, I managed to balance one tin against the other on the rack, all these while allowing hot air to escape from my preheated oven. Thank goodness everything held in place for the baking. Phew, that was a close one!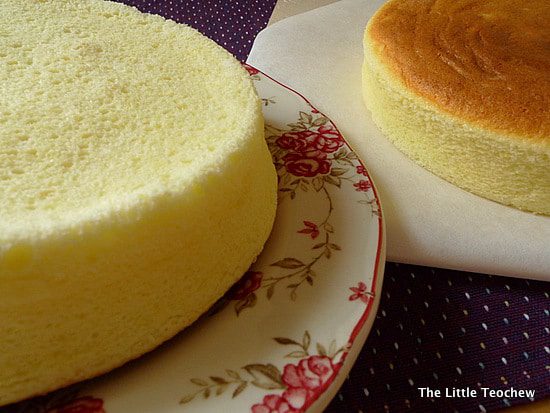 I thought I'd show everyone the baby soft bottom of the cake 😉
I experimented not using a water bath. I was too lazy. I simply placed a tray of hot water at the bottom of the oven for some steam.
I did not use a loose base tin or springform, like I did previously, because I would have to wrap the bottom with aluminium foil to prevent seepage. I was too lazy. I used regular cake tins.
I did not line the tins with parchment paper. I was too lazy. I greased them generously, then floured them, and luckily, they unmoulded just fine.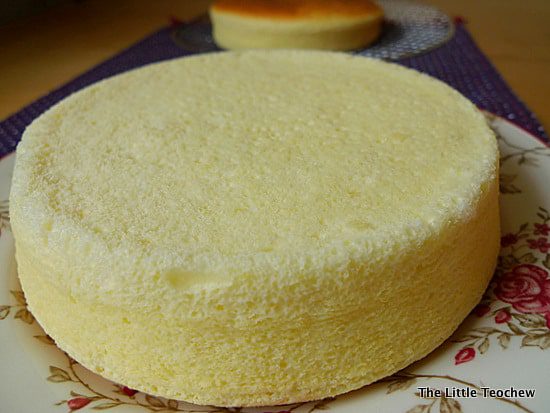 One for me, one for you!
The eating though, made up for the near-kitchen disaster. The texture of this cake is out of this world. So soft and airy … bliss at every bite!
Recipehere.
Notes from The Little Teochew:
1. Make sure you beat the egg whites till soft peaks form. This is critical.
2. I covered the tops with foil during baking to prevent browning. I only removed the foil towards the last 10mins. I also turned the temperature down, to about 140 degrees celsius so that the browning would be gentle and gradual. Know your oven. They all work differently.
3. I turned off the oven the moment the tops browned and left them in there for the next 20mins. After that, I left the oven door slightly ajar.
4. Turn the cakes out for cooling when the edges have separated from the sides of the tins.