Have you ever wanted to make homemade macarons but were too intimidated to try? Don't let all that¬†here say¬†about how difficult they are to make scare you. Honestly, sometimes I think people try to make things more complicated than they really are. In this case, making macarons definitely falls under that category. If you do enough research about them like I did (because I was afraid I would screw them up… see "10 Signs of a Bad Macaron" and "Parisian Macaron Crimes and Misdemeanors"), you'll find several variations as to how to tackle them and the many things that can go wrong.
Some recommend you separate your egg whites at least 24-72 hours prior, sitting in your fridge and then setting out a few hours before incorporating them in your meringue. Some swear that you have to weigh all of your ingredients–almond flour, egg whites, and sugars (I went out and bought a kitchen scale just for that, I'll admit). Some swear that the secret to the perfect shell is to sift the ground almond flour and powdered sugar to "weed out" all of the big nut and sugar chunks. Some emphasize the folding of the food coloring into the egg whites, to handle them gently so as to not ruin the structure of the egg protein. Some recommend you tap the cookie sheets after they've sat for a few minutes to remove some of the air bubbles.
Well let me tell you something. Don't worry about any of that.
When I picked up BHG's special magazine edition of Fall Baking, the first spread I opened to was one of these pumpkin spice macarons. It was the selling point. I hadn't made macarons since January of this year, and I'm in a new (very small) kitchen, but I knew I'd find a way to make them happen. Reading over the recipe, they made it seem too easy. No mention about being gentle with the meringue or separating the egg whites days beforehand. Nope. None of that. I thought it was too good to be true. But I trusted them anyway and went for it.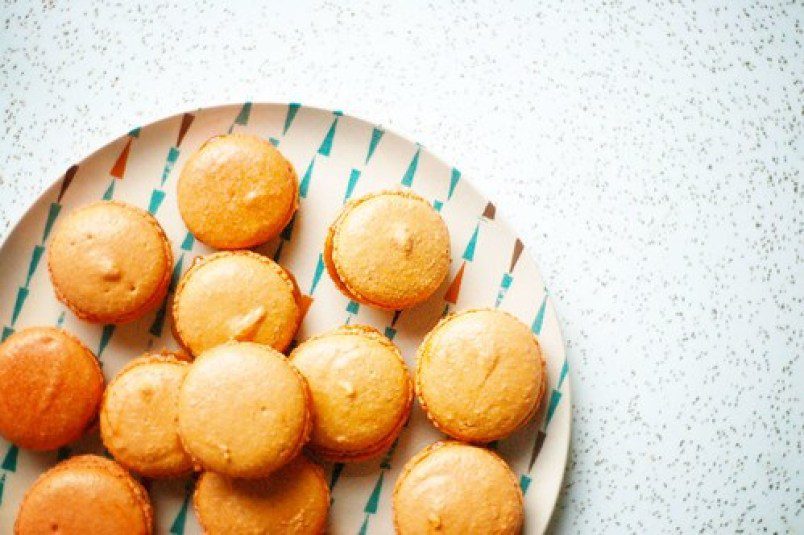 I seriously will not ever deviate from this basic recipe again. They turned out absolutely perfect. At least to me. Maybe it's my oven now, but the first two macaron attempts I tried came out too gooey in the center and didn't puff up as much as I hoped. These didn't do me wrong. And they shouldn't do you wrong, either.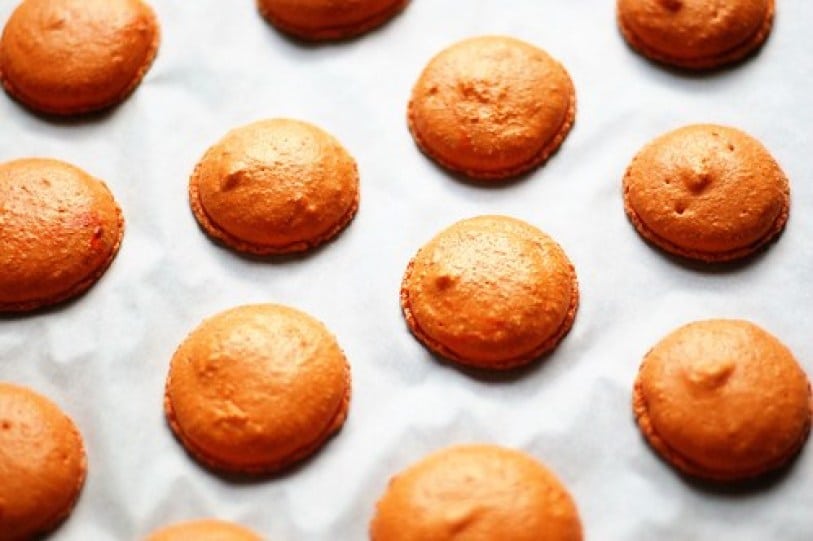 The perfect shell and "foot".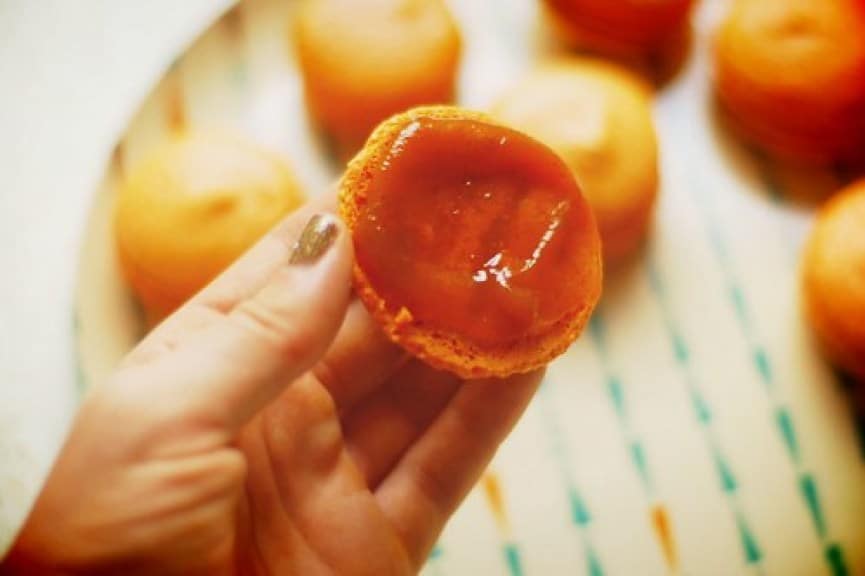 Plus, hello! Pumpkin spice! You'll impress all your friends and they'll be the perfect autumn treat to "spice up" your dining room table. You will love them, and you'll love making macarons. I'm telling you, you'll get addicted.
Pumpkin Spice Macarons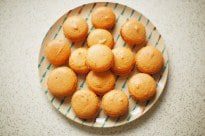 Serves: 28-30 macarons
Ingredients
1½ cups finely ground almonds
1¼ cups powdered sugar
1 teaspoon pumpkin pie spice
3 egg whites
½ teaspoon vanilla extract
dash of salt
¼ cup granulated or caster sugar
8 drops yellow food coloring
2 drops red food coloring (I used a mix of gels: red, orange, and yellow until I got the color I wanted)
½ cup pumpkin butter
Instructions
Line 2 large cookie sheets with parchment paper; set aside. In a medium bowl stir together almonds, powdered sugar and spice; set aside.
In a large bowl combine egg whites, vanilla, and salt. Beat with an electric mixer on medium speed until frothy. Gradually add granulated sugar, about 1 tablespoon at a time, beating on high speed just until soft peaks form (tips curl). Stir in nut mixture and food coloring (I added the food coloring first, but I'm not sure it really matters which one you add first).
Spoon mixture into a large decorating bag fitted with a large (about ½-inch) round tip. Pipe 1½-inch circles, 1 inch apart, onto the prepared cookie sheets. Let stand for 30 minutes before baking.
Meanwhile, preheat oven to 325 degrees F. Bake in the preheated oven for 9-10 minutes or until set. Cool on cookie sheets on wire racks. Carefully peel cookies off parchment paper.
Spread about ½ teaspoon of the pumpkin butter onto bottoms of half of the cookies. Top with the remaining cookies, bottom sides down. You did it!