You know how a certain smell can bring back memories of your childhood? For me, a combination of sweet brown sugar, soft nutmeg, and aromatic cinnamon bring me right back to my Grandmother's house during Passover.

Noodle Kugel started out as a savory dish a long time ago, but gradually developed into a sweet pasta dish (almost like a pasta pudding). My Grandmother always had it our for brunch when we came over, and the aroma filled the house with warmth and welcome. It is absolutely heavenly and decadent! Wide egg noodles are tossed in a rich, sweet, creamy sauce made from sour cream, sugar, butter, and… well… everythingisn't healthy for you.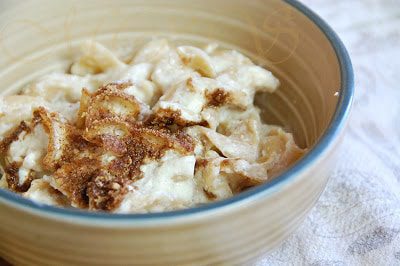 So why is a recipe for Noodle Kugel on this blog? Because, as always, I love tweaking "heavy" recipes by making them healthier while still keeping all the amazing flavor and richness. I was so happy when I managed to do this with Noodle Kugel! It is one of those crave-worthy dishes that is absolutely addicting. Seriously, I could eat the entire dish in 5 minutes.
My version combines lighter sour cream, cottage cheese, eggs, a touch of butter, and applesauce to create a perfect balance of sweetness and delight. Vanilla, nutmeg, cinnamon, and brown sugar are added to make you feel like you are eating the richest noodle puddingever, when in reality this recipe has cut the calories and fat tenfold! Smooth and creamy on the inside, with hints of apple and a golden crust to add some texture and crunch to the top, this Noodle Kugel will not disappoint.
It can be served warm or cold, but I definitely recommend that you let it sit in the fridge overnight after being backed. This allows it to solidify a bit more and for the flavors to really mingle. Either way you eat it, be ready for a deadly delicious dish!
Skinny Noodle Kugel
Serves: 12        Serving Size: 1 square          Calories/Serving: 192
Ingredients:
12 oz wide egg noodles, preferably whole wheat (you can also use Kosher if wanted)
1 container (16-oz) of no salt added low-fat cottage cheese
1 container (8-oz) fat free sour cream
1c. splenda
2 eggs, beaten
3 egg whites, beaten
1tbl butter, melted
1c. unsweetened applesauce
1/4tsp nutmeg
1tbl vanilla extract/imitation
2tbl packed brown sugar
2tsp cinnamon
1 and 1/2tbl crushed graham crackers
Instructions:
Prepare noodles according to package directions; drain and set aside.
Preheat the oven to 350 degrees Fahrenheit.
Combine the cottage cheese, sour cream, splenda, eggs, egg whites, butter, applesauce, nutmeg, and vanilla in a food processor. Blend for at least 1 minute, or until very smooth and creamy.
Place the egg noodles in a large bowl and pour the sauce over the top. Gently fold the sauce into the noodles a few times, being very gentle so you don't break the noodles apart.
Thoroughly spray a large rectangular baking dish with cooking spray, and pour noodle mixture into the pan.
To prepare the topping, combine the brown sugar, cinnamon, and graham crackers in a small bowl. Evenly spread the mixture over the top of the Kugel. Bake in 350 degree the oven for 40-50 minutes, or until bubbling, golden, and mixture is no longer runny.
Allow to cool OR do what i recommend and refrigerate overnight. can be served cold or hot (I like cold).