I had my last pastry exam, consisting of five and a half hours of baking, decorating and nerves. This means that I've officially finished my patisserie scholarship and am now a full-time pastry chef. Ah. It's weird thinking that I'll never have college work every again and that all I have to think about now is working.
I'm also moving out of home and into my very first house. Well… room in a house.
I'm moving into central London, reducing my usual hour and a half commute into 20 minutes. That fact alone just mind boggles me. All I'm thinking is… an extra hour in bed!
I'm nervous and excited at the same time. Part of me is really looking forward to moving out and having a life in London, but most of me is sad to leave behind the house I grew up in. I mean, I'll only be a short journey away. It's not like I'm moving to the other side of the world.
I can't wait to suss out the good eating spots around where I live; my mum and I have already seen lots of fresh fruit and veg shops near my house. Score! Also a potential market. Extra score!
I've been chomping at the bit to post this dessert to you. I love Panna Cotta, but it can sometimes be a bit too rich. By adding in buttermilk you keep the creamy smooth texture but add a slight edge to the taste, making it taste a bit like yoghurt.
That sounds weird but seriously, its delicious.
If you haven't had Lavender Shortbread before then you need to get in your kitchen and bake up a batch. The Lavender doesn't overwhelm your taste buds like you think it will. It's sweet and subtle; it really compliments the Panna Cotta.
Don't even get me started on figs. Even if they didn't taste any good I would still buy them because they're just so beautiful. I love how their skin is such a moody purple yet when you break into the centre, your hit with a fresh burst of green and pink. To top it all off, they are bloody delicious; especially roasted with honey.
Yah huh. I said honey, roasted and figs people.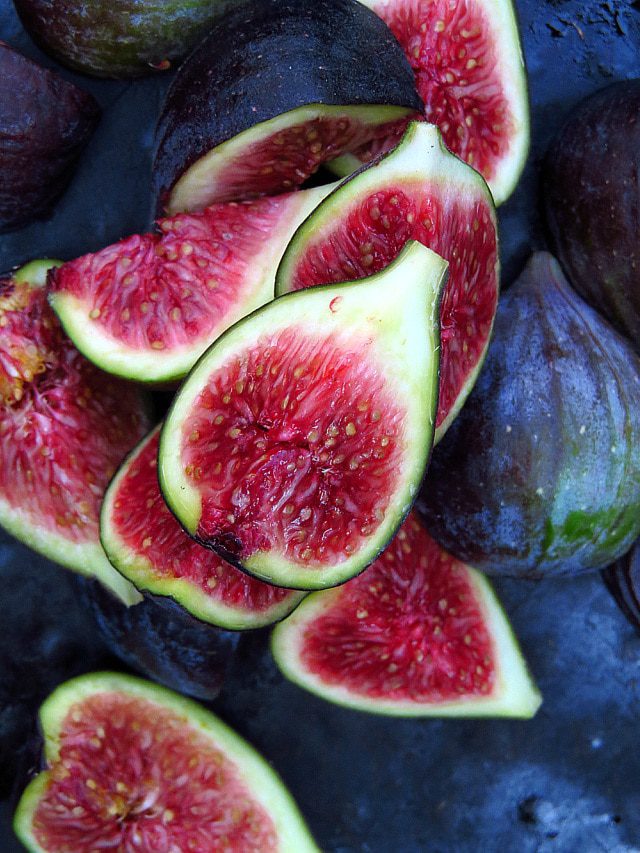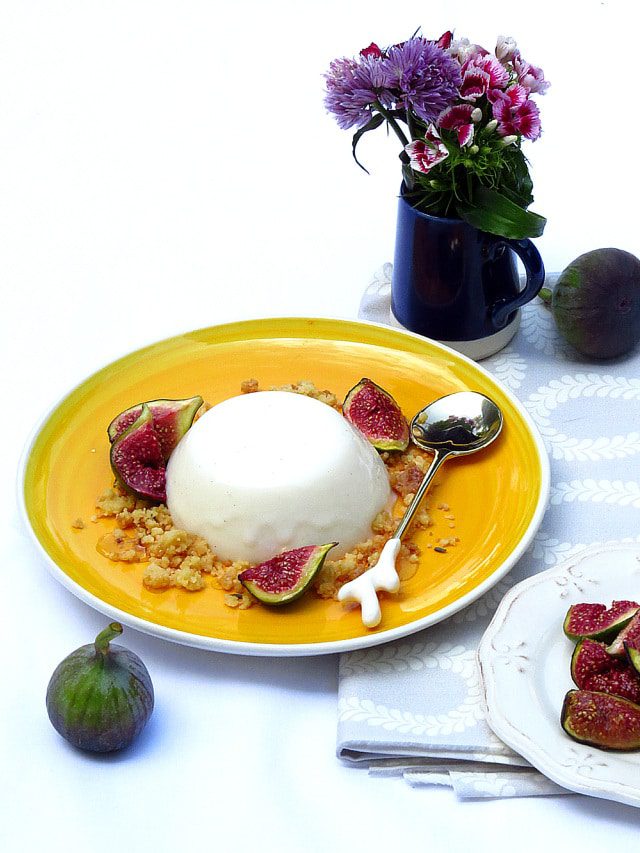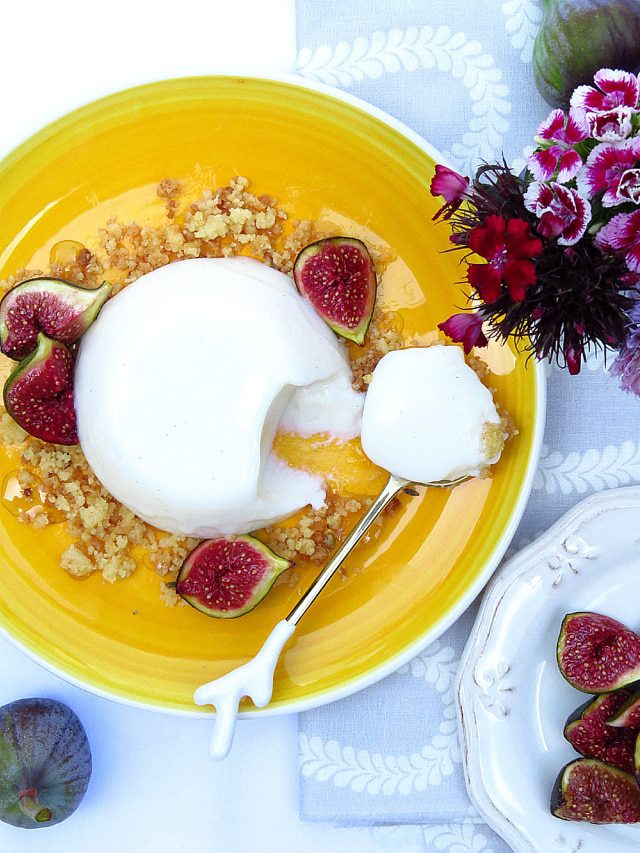 Ingredients – Makes 8 Panna Cotta's (3 inch deep by 3 inch wide)
Buttermilk Panna Cotta
80 ml warm water
12g powdered gelatine (you can buy this from many big supermarkets)
250ml single cream
220g caster sugar
2 tsp. vanilla paste (You can use extract but a vanilla pod or paste is better)
380ml milk
380ml buttermilk
Lavender Shortbread Crumb
45g lavender caster sugar*
125g all-purpose flour
1 tsp vanilla extract
pinch of salt
115g cold unsalted butter, cubed
1/2 lemon, zest
*You can buy lavender sugar from some supermarkets. You can also make your own by mixing 500g of caster sugar with 1 tbsp. of lavender flowers (or more if you want the sugar to be very pungent)
Honey Roasted Figs
8 ripe figs
2 tbsp. honey (plus extra for garnishing plate)
Method
The night before (or the morning of the day that you're going to serve):
Place 8 of your desired Panna Cotta moulds onto a baking tray that will fit into your fridge (I used 3 inch wide by 3 inch deep moulds.)
Place the powdered gelatine in a small bowl and pour over the warm water. Stir this together and leave to sit for five minutes. After this time, the gelatine should have absorbed the water.
Place the cream, sugar and vanilla into a medium-sized saucepan. Bring this to the boil and stir in the soaked gelatine. Take the pan off of the heat and pour through a sieve into a bowl. Add in the milk and buttermilk and stir until it is all combined.
Divide the mix between the eight moulds and cover with a loose piece of cling film. Refrigerate overnight (or roughly 4 hours.)
Lavender shortbread:
Pre-heat the oven to 175C.
Place all of the ingredients into a bowl and begin to rub the butter into the dry ingredients using your fingers. Continue to do this until the mixture resembles bread crumbs. Now using your hands, clump the mix together until a dough is formed.
Get a baking tray and break the shortbread dough into small pieces all over the tray.
Bake in the oven for 10-15 minutes.
Halfway through baking, take the shortbread out of the oven. It will look like a big, messy piece of shortbread. Take a fork or palette knife and toss the mixture around the tray to break it up. Continue to bake and repeat once fully baked until you have a chunky crumb.
Honey Roasted Figs:
Turn the oven down to 150C.
Cut the figs into quarters and place onto a baking tray. Drizzle over the 2 tbsp of honey.
Roast for 5-10 minutes until soft.
Assembling the dessert:
Have your plates ready.
Fill a deep baking tray with about 2 inches of hot water. Place one of your Panna Cotta moulds into the water for a few seconds (this will loosen the Panna Cotta.) You will know when the Panna Cotta is ready to come out when the mould is no longer cold, but not warm either as this will make the Panna Cotta begin to melt. Take the mould out of the water and turn out onto the plate. You may have to wobble the mould slightly to encourage the Panna Cotta to come out. Repeat with the rest of the moulds.
Sprinkle the lavender shortbread around the Panna Cotta and place four quarters of honeyed fig around this.
Finish with a drizzle of honey on the shortbread and figs.