Earlier last week, I took a poll on social media and asked what you wanted to see for a Valentine's day treat – a raw cheesecake or a healthy cupcake.  I have so many exciting new recipes in the works so I wanted to see what you were looking for!  Of course, as chance would have it, Facebook votes were strongly leaning towards cupcakes, while Instagram and Twitter had an overwhelming desire for cheesecake.So I made both.  And they are absolutely perfect.

While I had every intention of sharing the incredible cheesecake first, I ended up eating maybe 3 of these cupcakes yesterday and didn't feel even the slightest bit guilty – Best. Feeling. Ever.  Where they lack in looks, they make up for in taste.  Plus I'm ok if my cupcakes don't look exciting.  I mean it's a vanilla cupcake, what's it supposed to look like?
Exactly.
Since Valentine's Day is just days away, I thought I'd share just a few things I love, and that you should too.  About these cupcakes that is.
♥ They are made with coconut flour, which is an amazing gluten-free flour.  It is incredibly absorbent so while you do need plenty of wet ingredients, you can bet your coconut flour will last you quite a while – you only use 1/2 c. for 9-10 cupcakes!
♥ They come together fast!  Since this batter is gluten-free, you don't have to worry about over mixing and therefore can mix it in a food processor or blender to make it very quick and easy.
♥ My absolute favorite part about these cupcakes – they have a secret and very healthy ingredient!!  And yes, it truly is a secret.
I'm pretty sure I did a happy dance when I tasted these cupcakes for the first time, knowing that the secret ingredient was there and I still wasn't able to distinguish the taste.  Now that is when you know you've hit the jackpot!  That being said, please don't hesitate when you read the ingredient list – you read it correctly!  And guess what, you'll never know it's there after these cupcakes are in the oven 😉  So get ready to enjoy!
Slightly adapted from this recipe.
Ingredients
1/2 c. coconut flour
1/2 c. zucchini (about half of a small zucchini)
4 eggs*
3 tbs. coconut oil, melted
2 tbs. almond milk
1/3 c. pure maple syrup (or agave)
1 tsp. vanilla
1/2 tsp. baking soda
1/4 tsp. sea salt
*In a recipe with this many eggs required, I would generally not recommend attempting to substitute with flaxseed or chia eggs, as the result will probably be gummy or not cooked through properly.  I am in the process or working on creating a vegan alternative though!
Directions
Preheat the oven to 350 degrees.  Prepare your muffin pan with cupcake liners and spray to prevent sticking.
If using a food processer, place peeled and diced zucchini in first to puree as much as possible.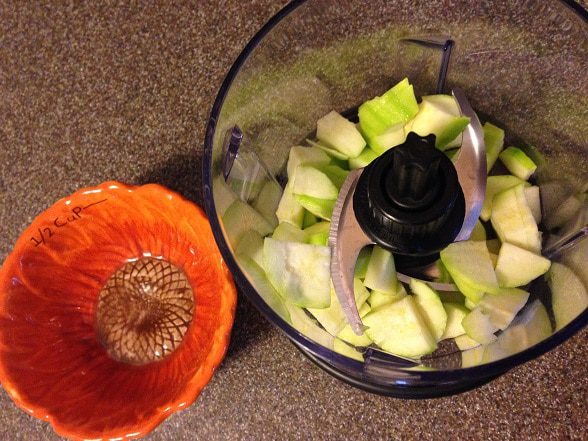 Add all remaining ingredients and mix until thoroughly combined and smooth in texture.
If using a blender, just toss all ingredients in and blend until smooth!
Generally speaking, when baking cupcakes you want to fill the cups 2/3 full but with this recipe only fill them 1/2 full!  Trust me on this one.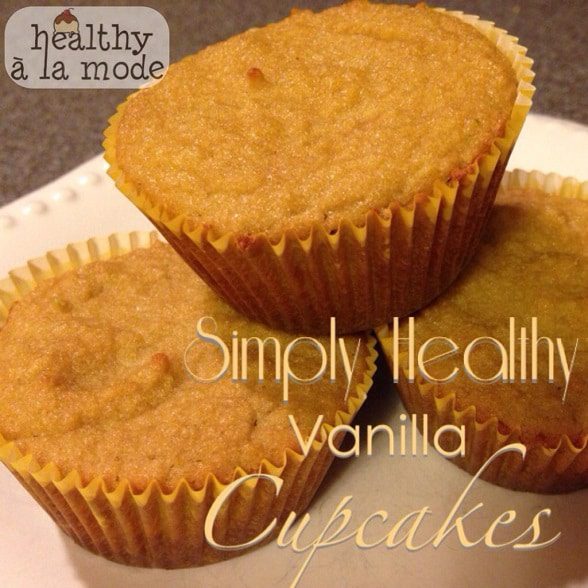 They will come out light and fluffy and oh so perfect, I promise.