I am crazy about warm salads, or any salad in general that has interesting ingredients.  I eat salads most days for lunch.  Our work restaurant makes a different salad every day, often with such delicious ingredients such as duck, lamb, lentils, goat's cheese, feta, watermelon, or mango.  I love that they are able to constantly invent new and delicious salad combinations and so it's impossible to get bored eating salad everyday for lunch!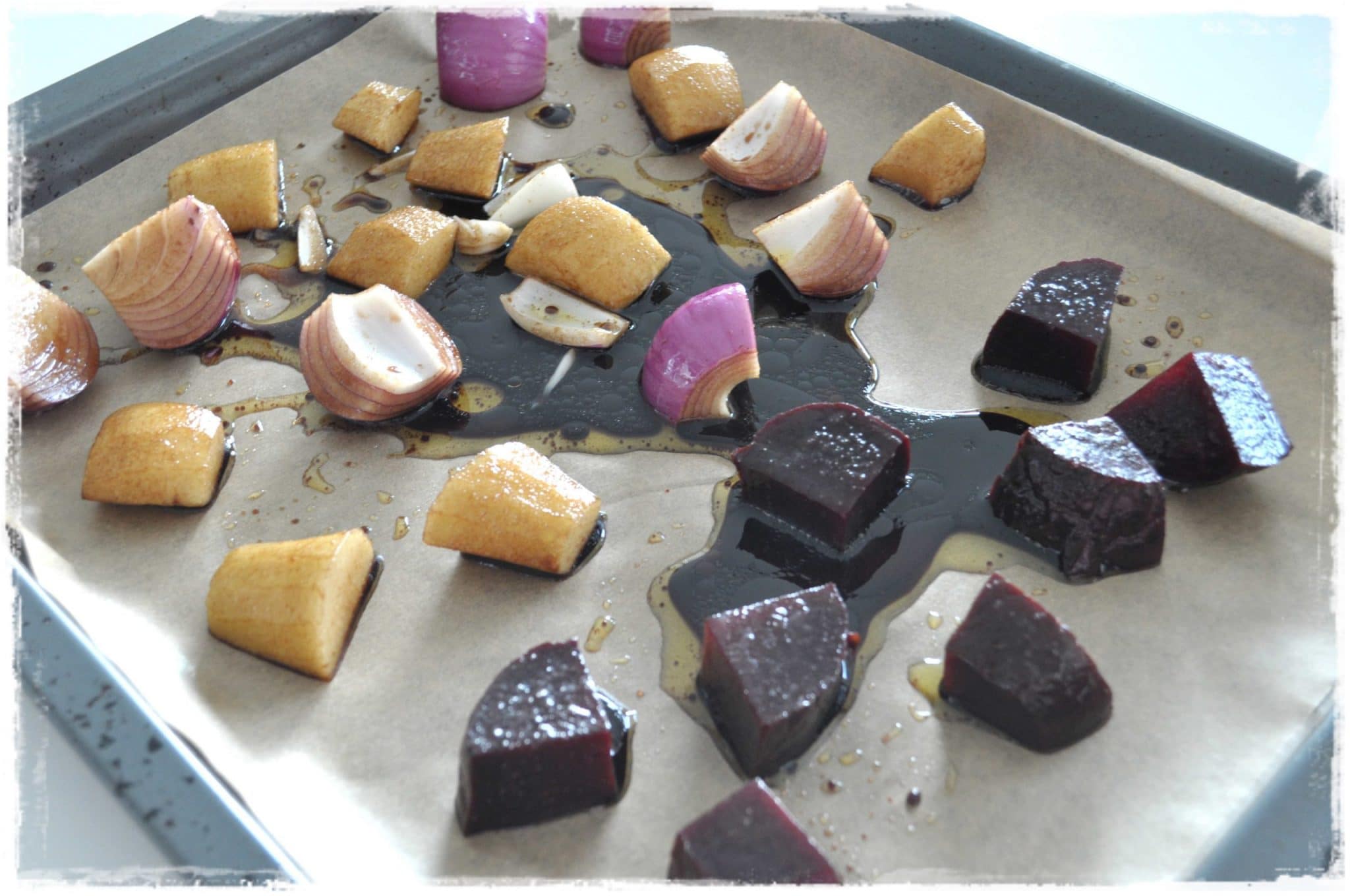 This recipe is my salad of the moment.  The roasted beetroot and roasted pears are simply to die for, while the contrast of the crunchy and sweet roasted red onions with the soft and creamy goat's cheese is exquisite.  And then to top it all off, the amazing aroma and intense flavour from the fresh basil pesto dressing brings it all together into an incredibly delicious salad.  Nothing boring going on here!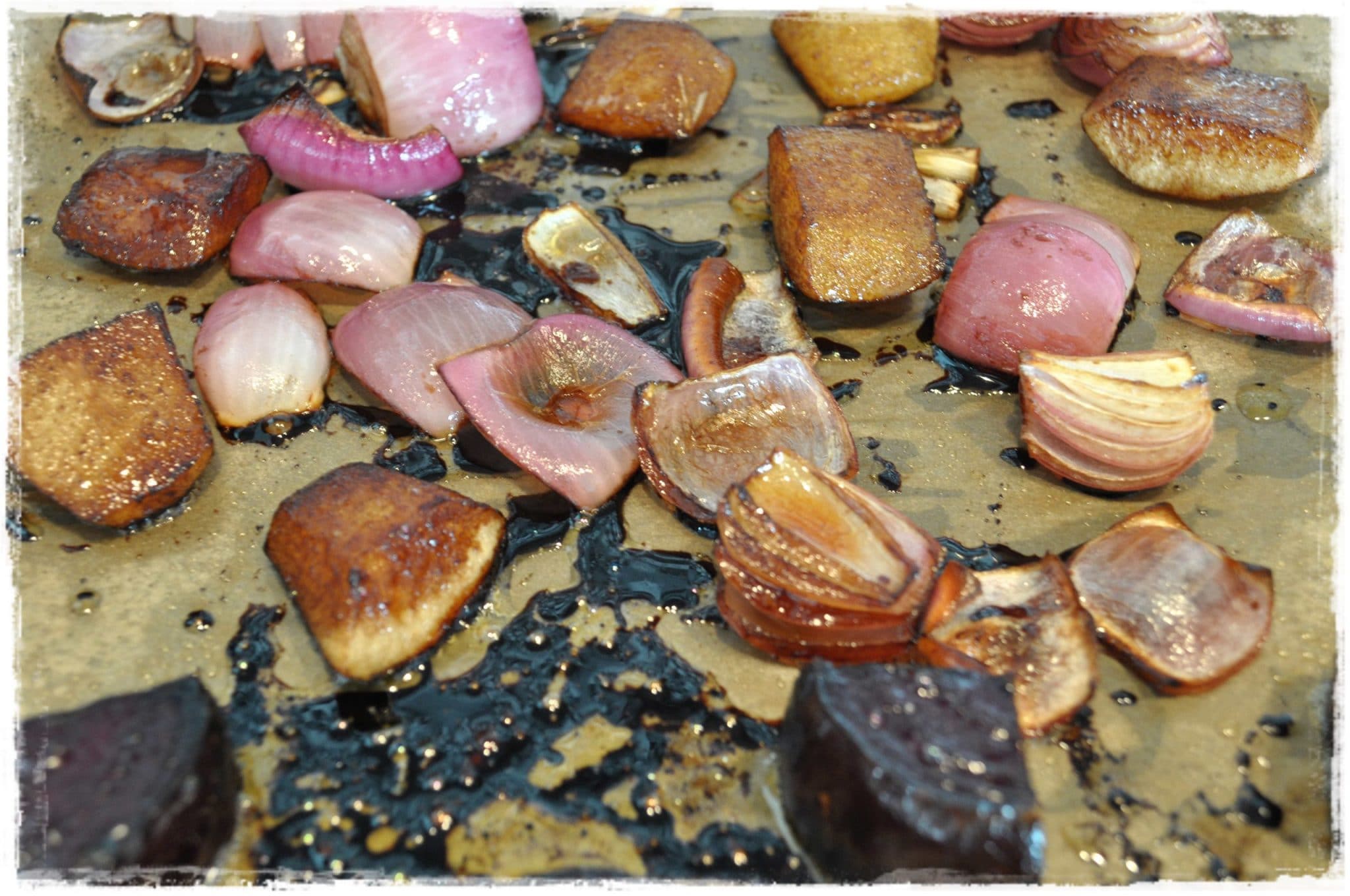 This salad is a good enough meal to serve by itself.  But if I'm serving it for dinner for my hubby, then I like to whip up some of my potato nests to serve next to the salad (recipe coming soon!).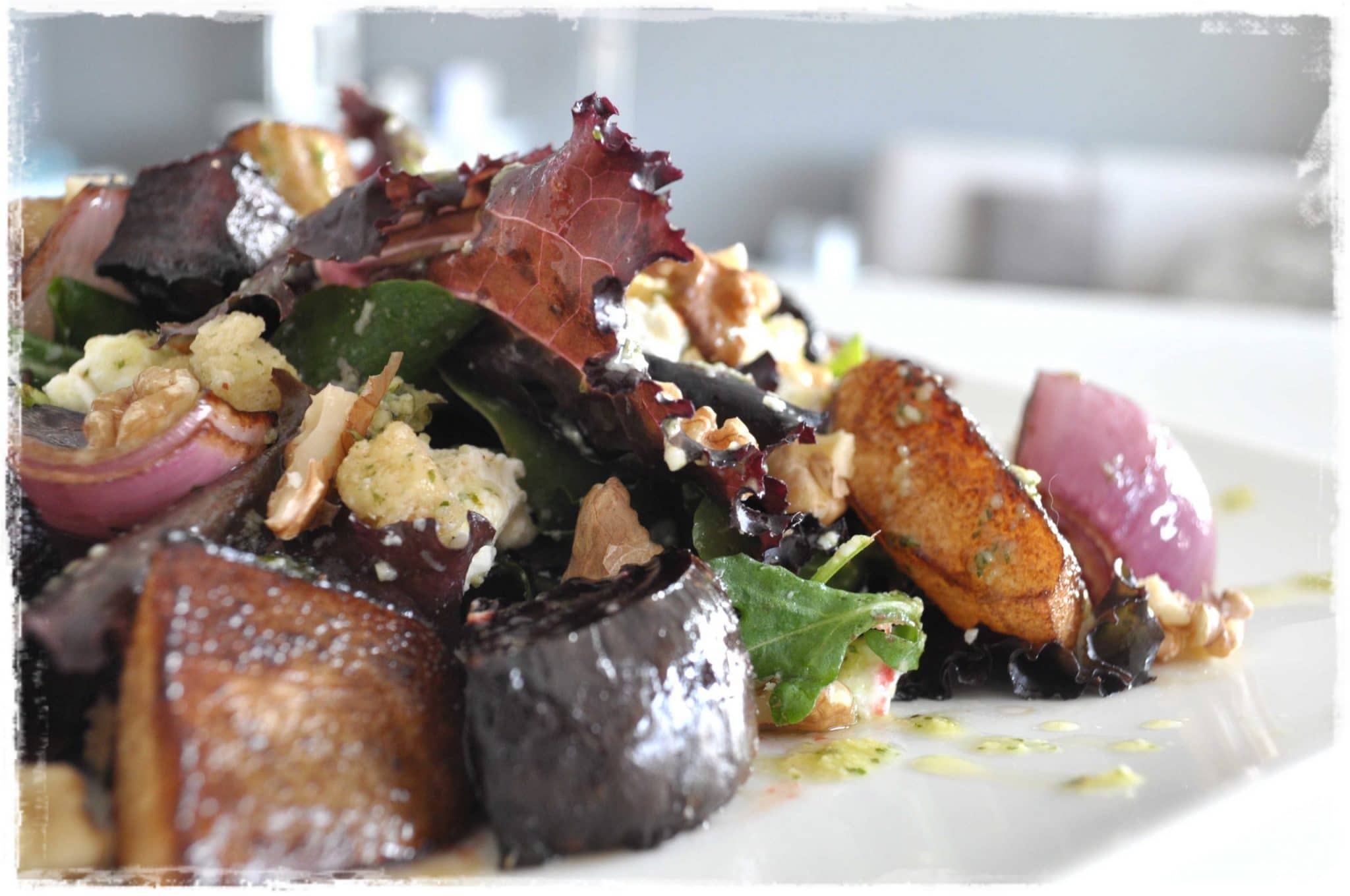 Roasted Beetroot, Pear & Goat's Cheese Salad with Basil Pesto Dressing …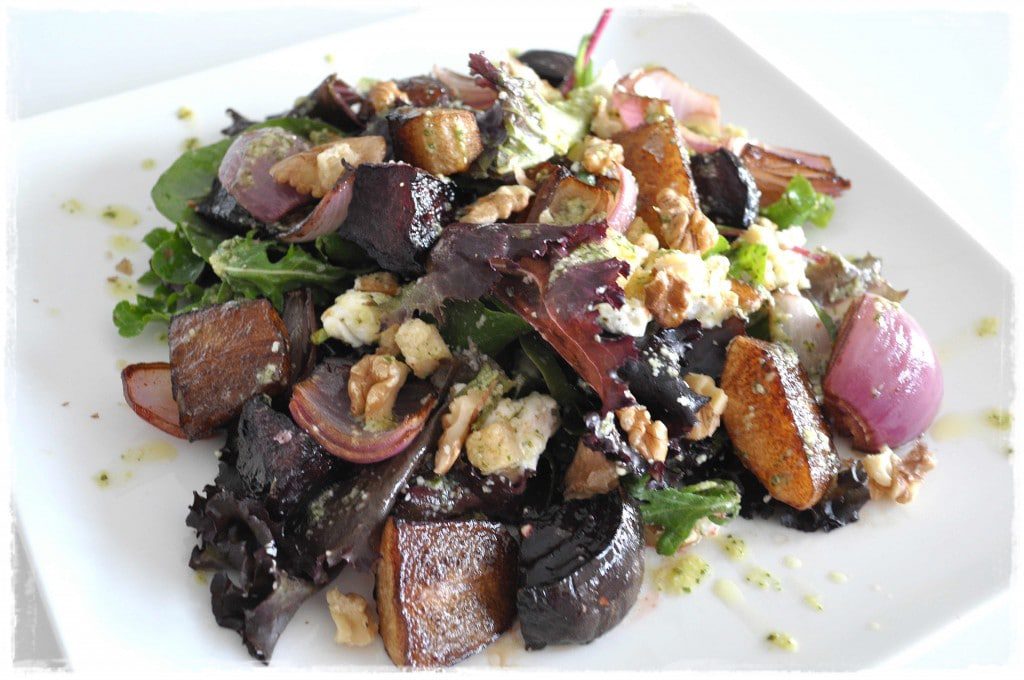 Serves 4
Ingredients
for the salad …
2 large beetroots
2 medium red onions
2 large pears
olive oil
brown sugar
balsamic vinegar
freshly ground salt & pepper
2-3 handfuls of salad leaves
1/2 cup croutons
150g goat's cheese (preferably chevre, but you can also use feta)
1/2 cup walnuts
for the pesto …
2 cups of basil leaves
2 large cloves of garlic
3/4 cup of extra virgin olive oil
1/4 cup of grated parmesan cheese
freshly ground salt & pepper
1/4 cup pine nuts
for the pesto dressing …
1 tablespoon pesto
2 tablespoons lemon juice
3 tablespoons extra virgin olive oil
Instructions
Preheat the oven to 220 degrees Celsius.
Peel the red onions and pears. Cut into quarters and then half the quarters before placing together into a small bowl.
Peel the beetroots. Cut into quarters and then half the quarters before placing them into a separate small bowl (you want to keep the beetroots separate from the pears and onions, otherwise you'll get the red dye everywhere).
Give both bowls a good slosh of olive oil, a tablespoon or so of brown sugar, another tablespoon or so of balsamic vinegar, and a generous smattering of freshly ground salt and pepper. Mix to combine.
Line an oven tray with baking paper and pour the beetroots, pears and onions onto the tray including the liquids. Spread out evenly on the tray.
Place in the pre-heated oven and bake for 15 minutes.
Meanwhile, prepare the rest of the salad by throwing the salad leaves, croutons, and crumbled goat's cheese into a large bowl.
After the beetroots, pears and onions have baked for 15 minutes, pull out the tray and turn each piece over to ensure even browning. Place the tray back into the oven for another 15 minutes or until they have finished roasting and are caramelized and golden.
Meanwhile, you can prepare the pesto by chucking all of the pesto ingredients into a (mini) food processor and blitzing until it forms a paste.
To make the pesto dressing, take 1 tablespoon of the pesto and mix in a small bowl with the lemon juice and extra virgin olive oil.
When the beetroots, pears and onions are ready, pull them out of the oven and let them cool slightly.
Meanwhile, lightly toast the walnuts in a small frying pan (no oil needed).
Combine all salad ingredients into the large bowl, including a good drizzle of the pesto dressing and toss well before serving.