Have you noticed that when in season, blueberries taste just like candy?  I think this is true of many of the fruit family.  I recently read a book by Dr.Perricone who has been coined, the "blueberry and salmon" doctor because he wholeheartedly promotes the consumption of both for radiant health and beauty.  In his book, Forever Young, he promises that with a few changes to your diet, you can decrease wrinkles, dramatically improve the appearance of the skin, have more energy, less fat, and an improved mood.  Not that I'm particularly worried about wrinkles, yet. (Though, I don't mind getting a head start.)  Nor did I really need another reason to absolutely love fresh, organic blueberries.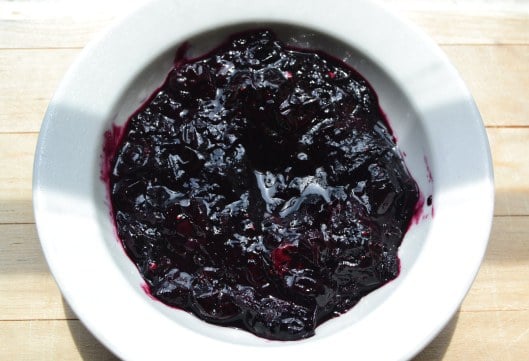 Even so, after reading his book, I felt compelled to buy and eat all the blueberries I could get my hands on.  Once I started, I couldn't stop.  There are some foods that just make me feel cleaner as I'm eating them.  Giant salads with a drizzle of olive oil and a squeeze of fresh lemon juice are one, grilled salmon is another.  Blueberries fall into this category as well.  I love eating foods that are alive, and right now, blueberries are so alive.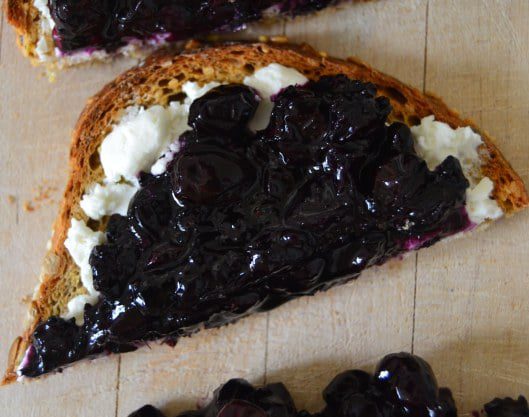 The blueberries I bought were plump, juicy, and absolutely delicious.  They didn't need any reworking, but I've already given you one overly simplistic fruit recipe. (First, cherries!)  I imagine you don't read blogs to find out that fresh fruit is delicious eaten as is, right out of the bowl.  I got the idea to put blueberry jam on a goat cheese crostini on this blog via Foodbuzz, but the jam recipe is a bit of a combination of ideas.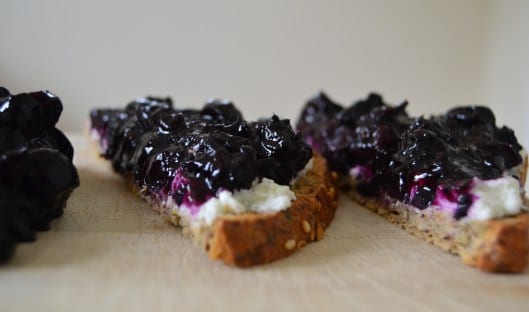 It was delicious spread on a piece of toast slathered with goat cheese and even as an interesting addition to my peanut butter toast.  It makes just enough for 2-4 servings, so it would be perfect as an easy starter for a summer dinner for two.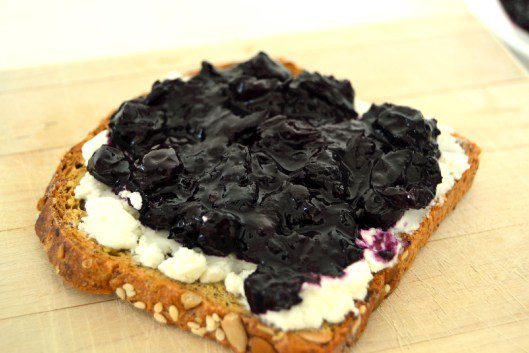 *The bread in the picture is Men's Bread.  I generally eat Ezekiel bread, but I used this as it's what I had on hand.  Both are wonderful and nutty and a great choice with this jam.
Blueberry Ginger Jam
1 1/2 cup blueberries
1 tablespoon honey
1/2 tablespoon natural cane sugar
peel of 1/2 a lemon (sliced off, not grated)
1 teaspoon grated ginger
In a small saucepan, combine all the ingredients.
Bring to a boil and reduce heat to low.  Simmer for about 20 minutes, until thick.  Discard the lemon peel.