Before I get to the amazingness that is this scallop salad, can I vent for a minute?  Pretty please.  Just a smidge of blowing off the steam from my afternoon commute.
It took me an hour to get home.  As in 60 painful minutes.  As in over twice the time it usually takes me.  I think I averaged a speed of 15 mph in a 60 mph speed zone.  The good Lord did not give me the patience to drive 15 in a 60; he gave me a lead foot and the good sense to invest in a quality radar detector.  It literally puts me in borderline crazy person mode to be in traffic where the only cause is people gawking at the scenery or each other.  I cannot take it.
Now before any of my fellow locals start wagging their finger at me, I realize that our economy thrives on tourism, and that bike week pours millions in.  In fact, I make a living from tourism.  It's just a little hard for me to remember that when I am sitting in standstill traffic behind a woman in a thong who, bless her heart, should have a little something more covering up her curves.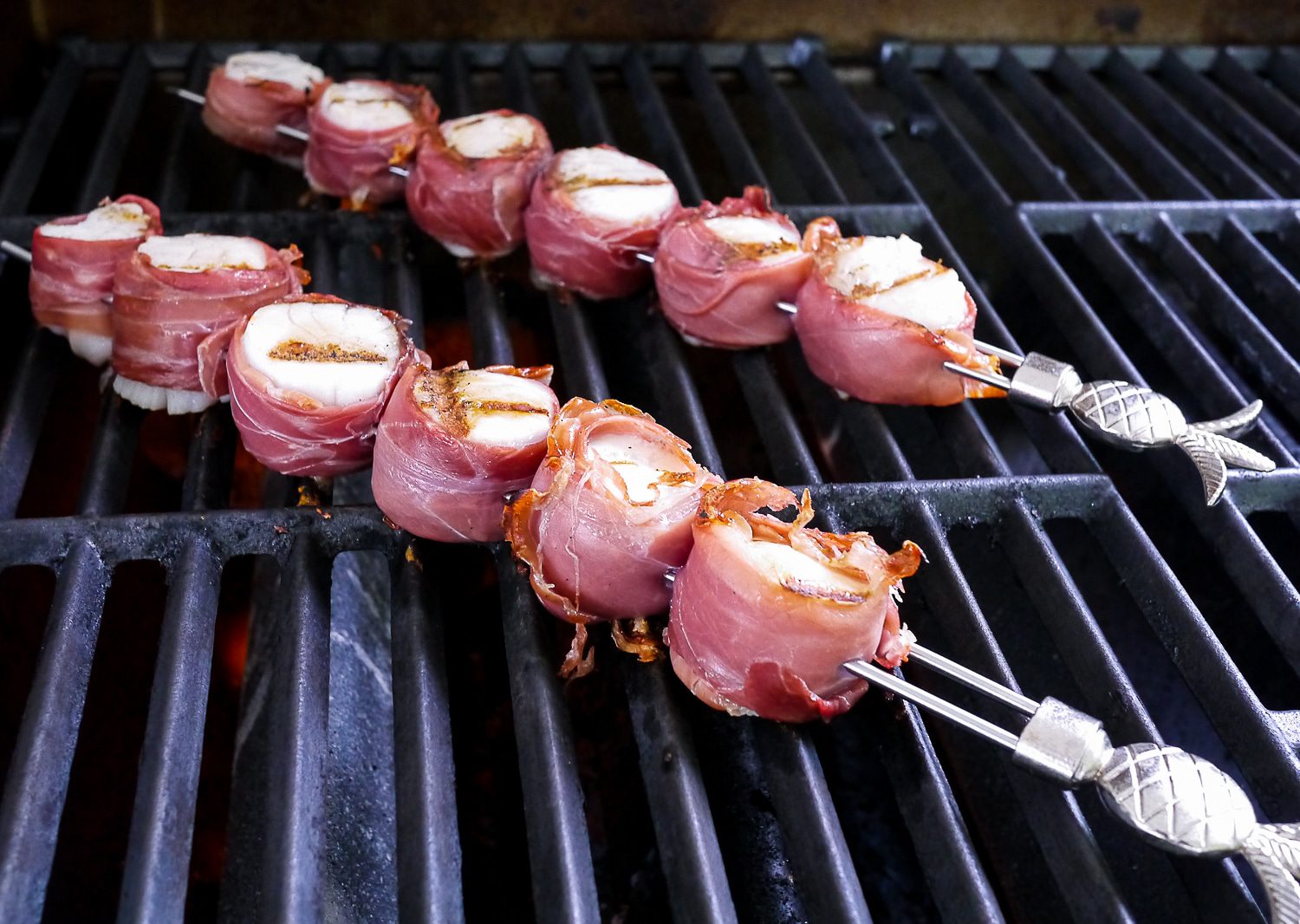 Ok, I'm done.  Short but sweet as promised.
Back to the salad.  I realize I just shared a salad with you less than a week ago after no salads ever, and I promise I won't  start bombarding you with meals centered only on leaves.
However, I had to share this salad now because it is the perfect follow up to theGrilled Pesto Encrusted Tilefish I posted on Tuesday. The basil recipe I included with the fish makes more pesto than you will need for the fish (if you are only making enough fish for two – double or triple the recipe if cooking for a larger party).  So, if you plan to cook these two meals in the same week, you can save yourself the time making the pesto on this dish and have dinner (or lunch) ready in 15 minutes.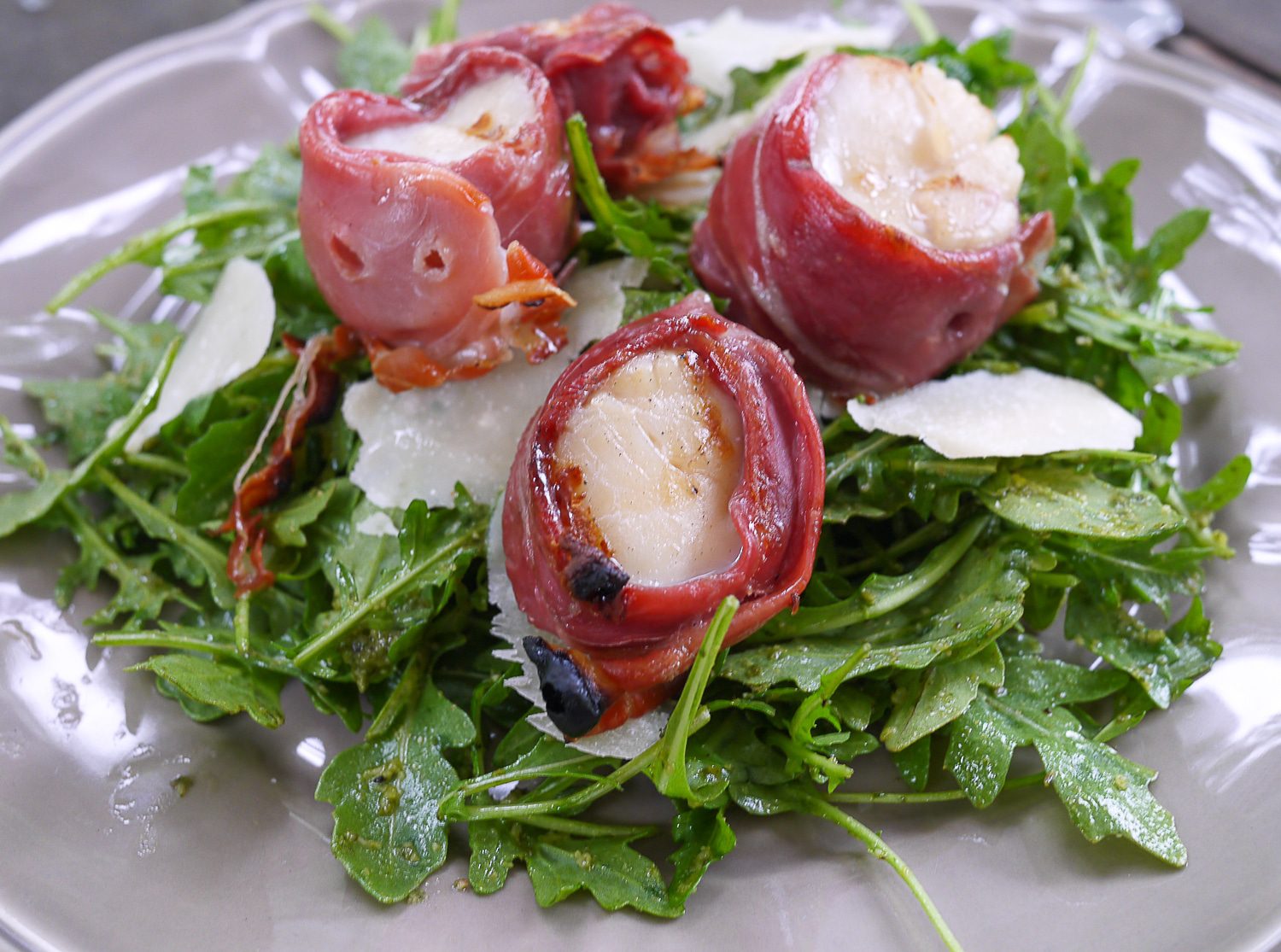 Not to mention it will knock your socks off.  When you taste the combination of the spicy and earthy arugula, the saltiness of the prosciutto and parmesan, the buttery flavor of the scallops, the sweetness of the basil, you will forget all of your doubts of my recent salad pushing ways.
If only I had the ingredients on hand tonight, we'd be having this instead of heading to Quigley's.   That's right, the combination of the traffic and my road rage caused me to close the kitchen.  I'm having an off week.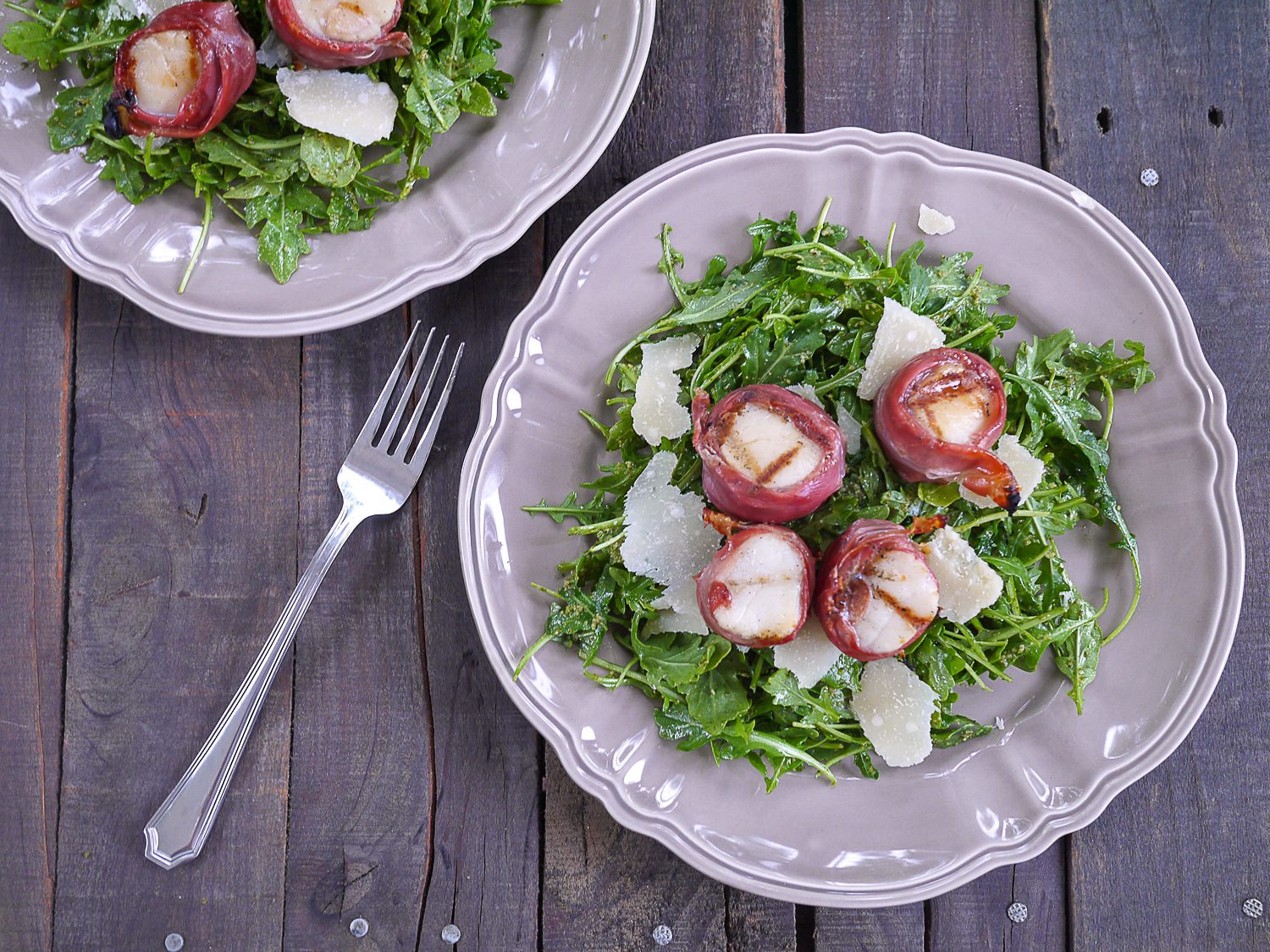 Grilled Prosciutto Wrapped Scallops Over Arugula, Pesto and Parmesan Salad
Serves: 2
Prep Time:  25 minutes
Cook Time:  6 minutes
Total Time:  30ish minutes
Ingredients:
1 pound of fresh dry scallops
8 ounces of fresh arugula 
12 ounces of prosciutto
5 ounces of fresh shaved Parmesan
1/4 cup of Pesto
Lemon wedges for taste
Salt and pepper to taste
Directions:
Preheat grill on high heat.  Pat scallops dry.  Cut prosciutto into two inch strips (cut parallel with long edge so that the two inch strips are the length of the original slices).  Wrap scallops with prosciutto and thread scallops onto skewers (if using wood skewers, be sure to soak for at least an hour before grilling).  Grill scallops over high heat for three minutes on each side.  Remove from heat and remove from skewers.   In a large bowl, toss arugula with pesto until leaves are coated.  Plate pesto coated arugula, top with Parmesan and grilled scallops.  Spritz with a lemon wedge