Ah, blogging is a merry thing. What do other peeps do when they sit down to write their posts or edit their photos?
I often like to have the radio on in the background for the latter. It provides entertainment during this otherwise potentially tedious task. If you visit my Twitter page at all you'll know that I'm an inveterate Radio 4 listener, with a particular fondness for the 6.30 comedy (that's 6.30pm, folks. 6.30am and I've yet to enter the land of the living), Gardeners' Question Time (don't ask. I hate gardening) and The Bottom Line which I found out (thanks to research for you lovely people) is presented by the same guy who does Dragon's Den.
My joy is complete.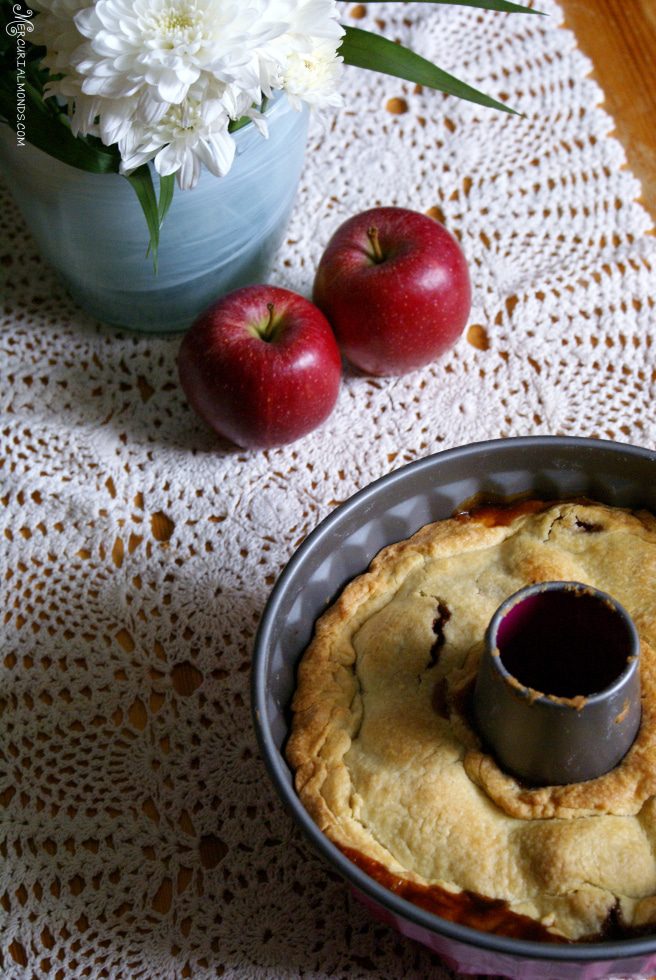 But this morning I sat on the old bed and hummed away to myself in the way I do occasionally, usually when:
a) I've got precisely the correct amount of sugar inside me. Just enough to make me zingy without sending me overboard into an exhausted, refined-carb slump.
b) Spring is in the air (which isn't to say I spend the whole season in an irritatingly jolly mood. Just more than in Winter, say).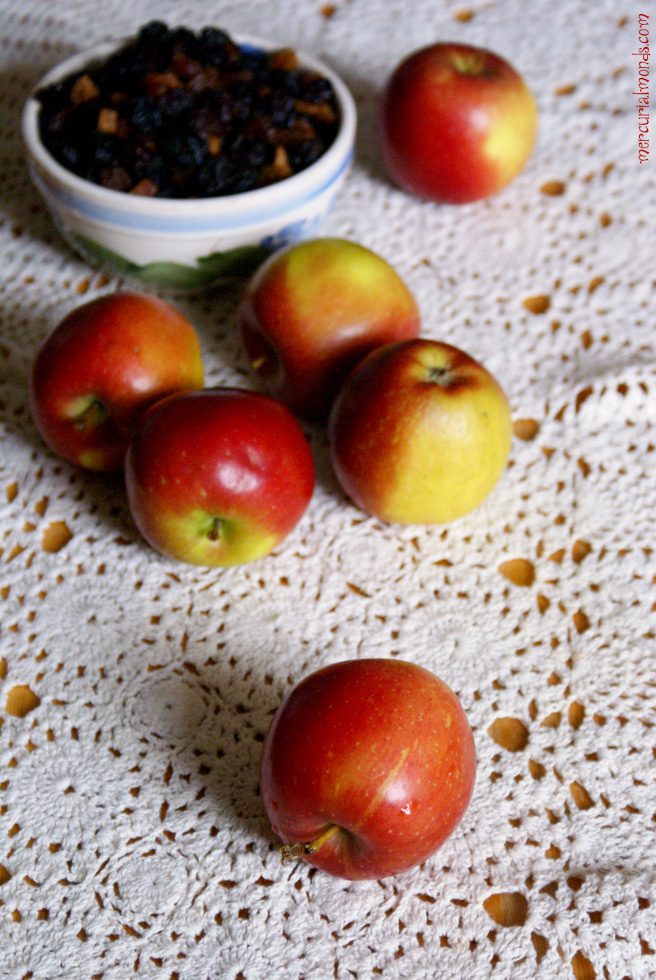 Today I think I might just about have got the sugar sorted (thank you fruit and home made granola) and it is most definitely spring time, no? So hum I did, with a few lahs and the odd lyric thrown in for good measure. Clemmie lay there watching me with a mixture of concern and apprehension: in this mood she has no idea if I'm going to scoop her up for indulgent hugs and it would be really nice if I would just shut up and let her sleep. When I started clicking my fingers it was almost too much for her.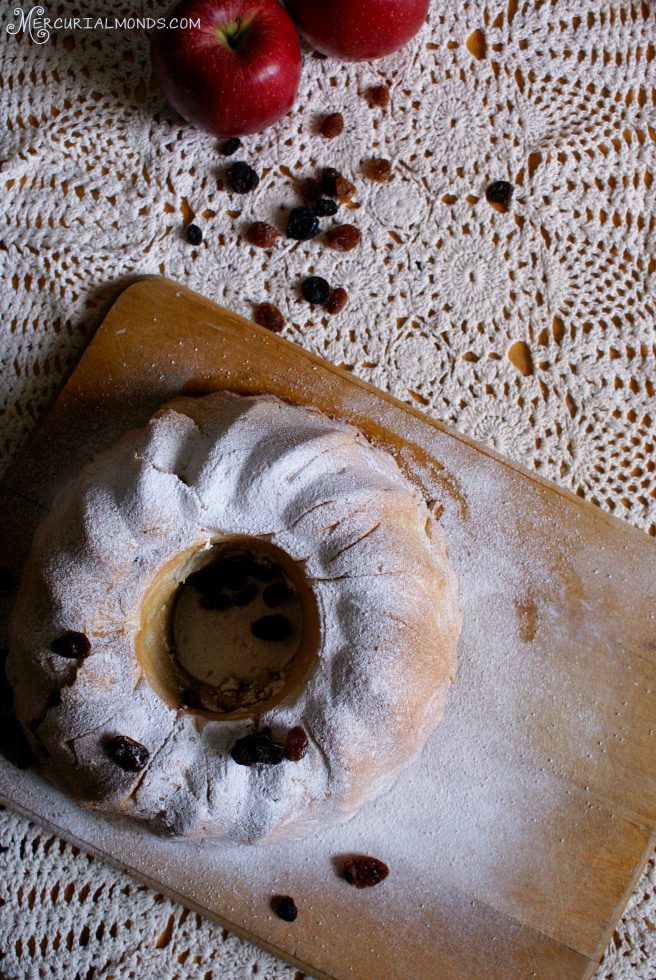 Perhaps strangest of all with these moods is the mixture of music I've covered this morning. A few little ditties of my own bridged the gaps between Beautiful soup from Alice in Wonderland (it's a lovely tune, do listen) and Bang Bang, which has almost as many YouTube views as my blog gets a day (joking). It's a wildly inappropriate song for a vicar's daughter to be mumbling, but it's catchy so clearly I can't blame myself.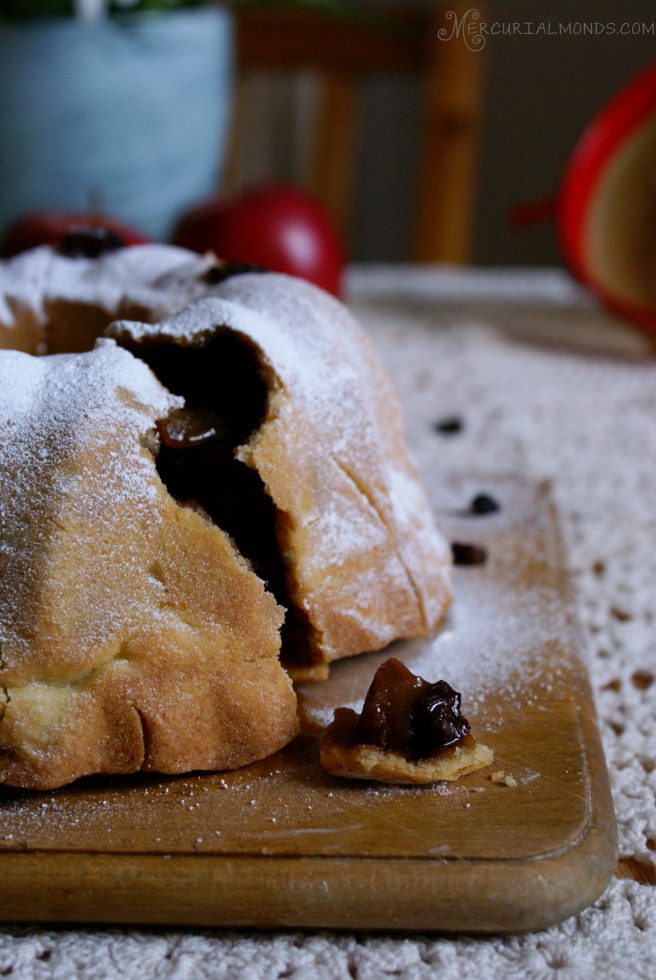 Anyway, none of this is relevant to the recipe. It's just what you get with spring fever (there's another tune).
A note on the recipe: Inevitably, the bundt form creates slight difficulty in both shaping the pastry and later turning the pie out but I think it's worth it for the appearance. You could always use a normal pie form. The filling is my favourite of any apple pie filling I've yet made so do give it a go if you want a luscious, rich mixture.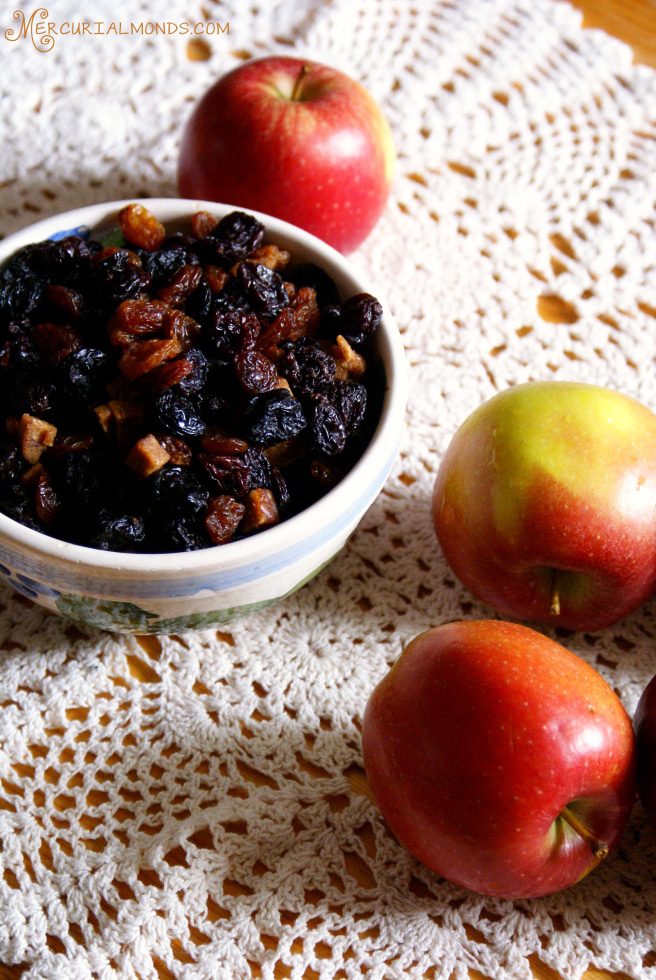 Ingredients
6 medium-small dessert apples (800g)
40g butter
100g dark soft brown sugar
75g caster sugar
1 tsp cinnamon
100g sultanas or raisins
For the pastry
400g plain flour
pinch salt
150g caster sugar
225g butter, at room temperature (or 150g butter, 75g lard)
Enough cold water to bind
To finish
Icing sugar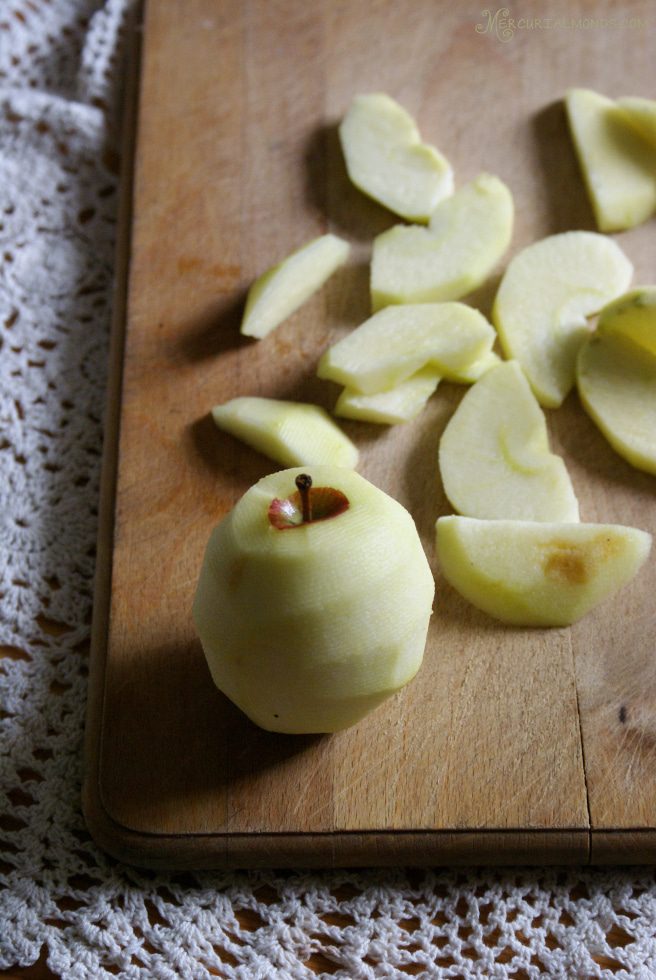 Peel the apples, cut them into quarters, core and then slice each quarter into three (top to bottom). Place them in a saucepan with nothing else added, put the lid on and cook on a medium heat for 5-10 minutes, stirring occasionally until softened but still with some bite. Drain off any liquid and then stir in the sugars, butter, cinnamon and sultanas/raisins. Set aside and leave to cool.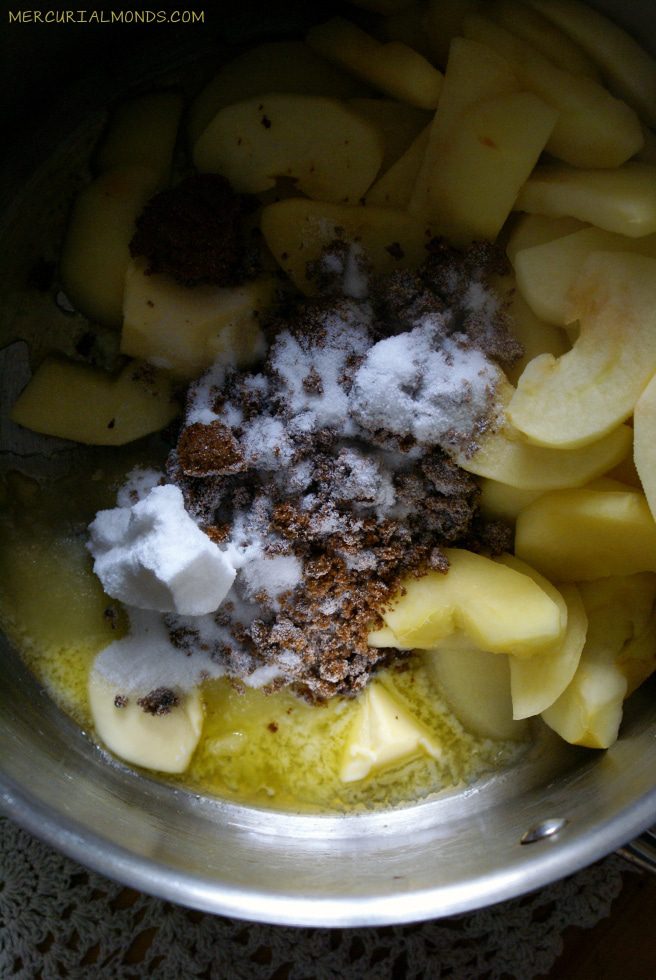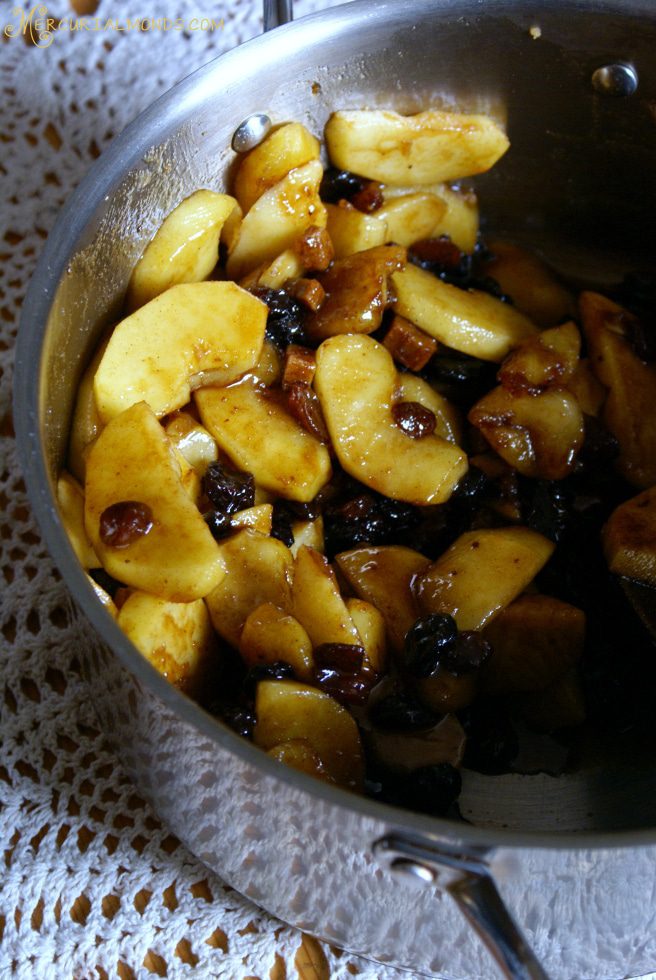 Make the pastry. Place the flour, salt and sugar in a bowl. Add the cubed butter and rub in using your fingertips until you have a fine breadcrumb texture. Drizzle over a small amount of cold water and use a blunt ended knife to bring the dough together. It should be pliable but be careful not to overwork it. Set aside 1/3rd.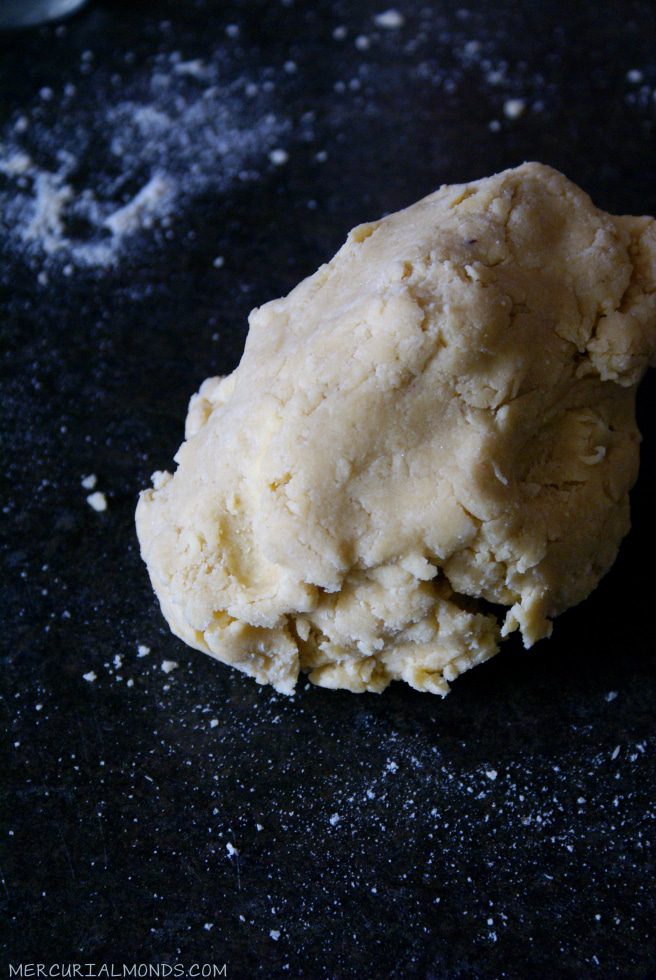 Roll out remainder to a medium thickness (between 50p and £1 coin thick), cut  cross in the centre for the bundt tin pole to go through and drape loosely into the bundt tin. Gently lower sides and press into the bottom, around the central pole and up the sides (it needn't reach the top). There will be some gathering and puckering but don't worry. Just press this down with your fingers and ensure the pastry is firmly in the tin. Make sure there are no cracks because syrup oozing through will make the pastry stick to the tin.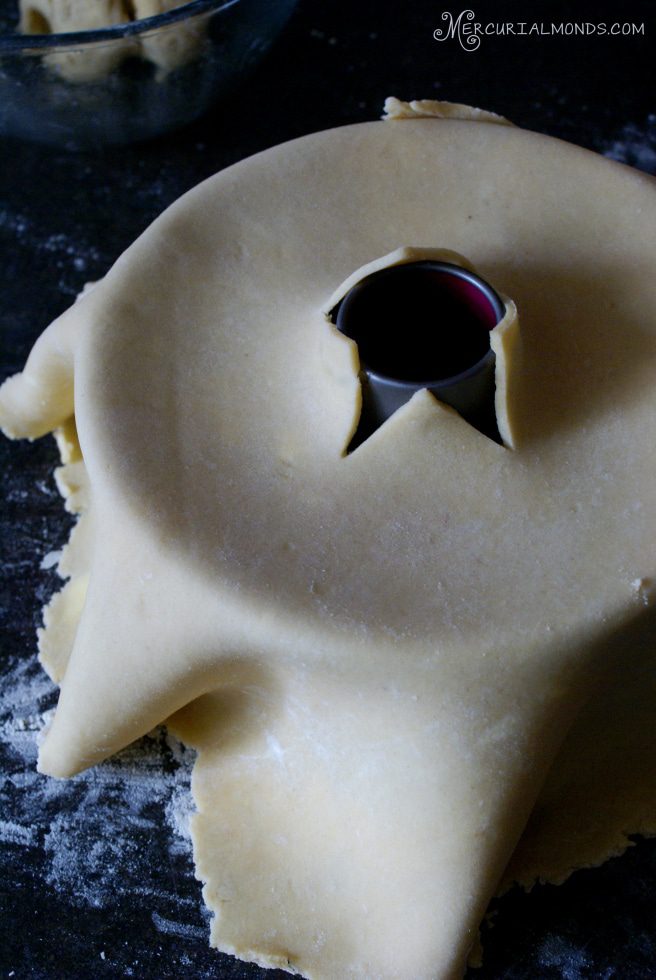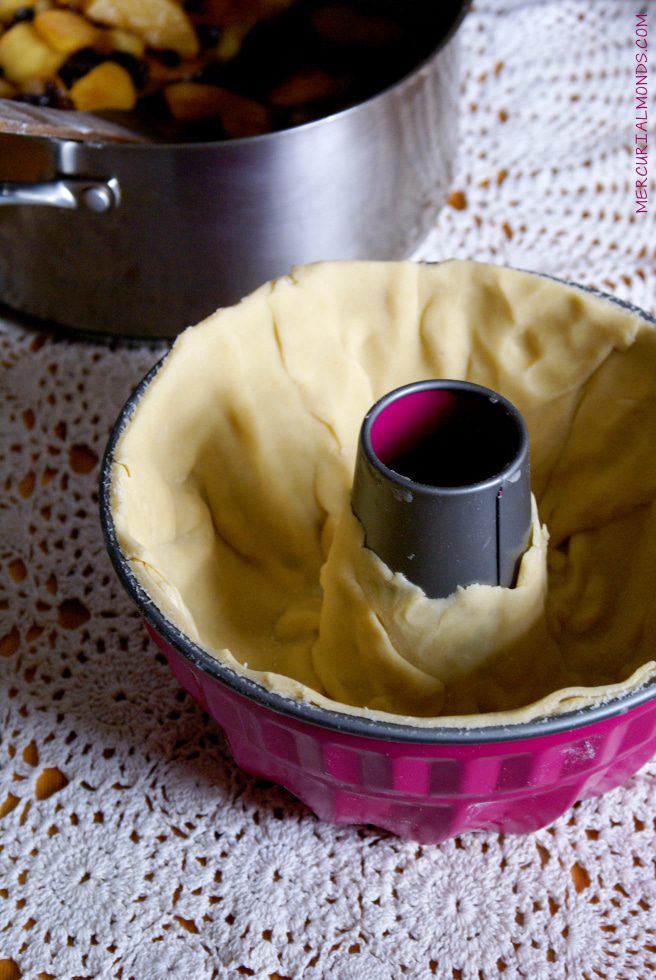 Fill with the apple pie mix and half of the liquid (reserve the rest to put in a cake, tip over ice cream or to drizzle on the finished pie) and then roll out the reserved 1/3rd of pastry, slightly thicker than the first layer as this will be the base. Press it down over the top of the pie, allowing the central pole to piece through, Trim most of the overhanging pastry from the lining, leaving a little lip. Brush the lip with water and then press it down over the pastry lid.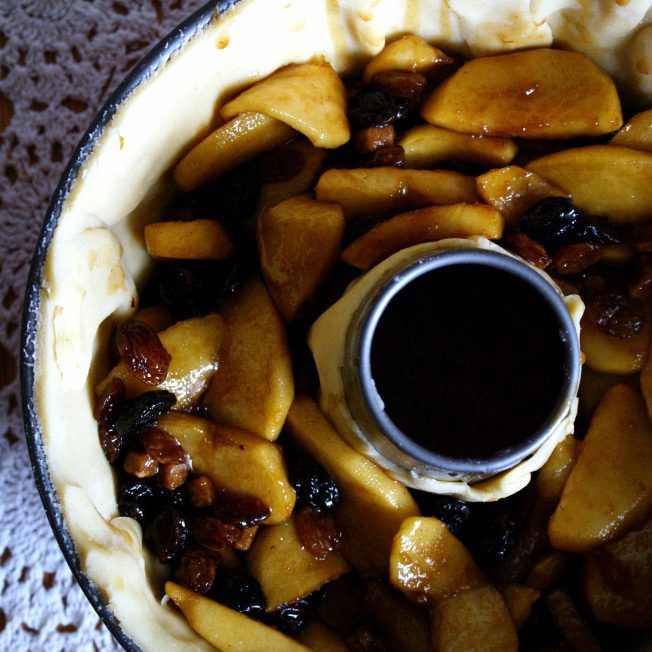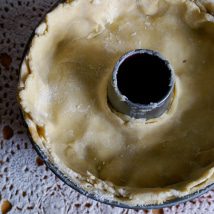 Top with lid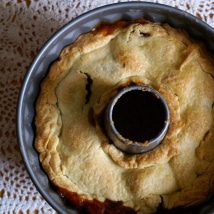 Bake at 170 C degrees fan (190 C conventional oven) for 50 minutes, turning occasionally if your oven cooks unevenly. It should be golden brown on top. Leave to cool almost completely in the tin then turn it out onto a plate. If the pie sticks try to ease a knife down the side of the pastry to loosen it.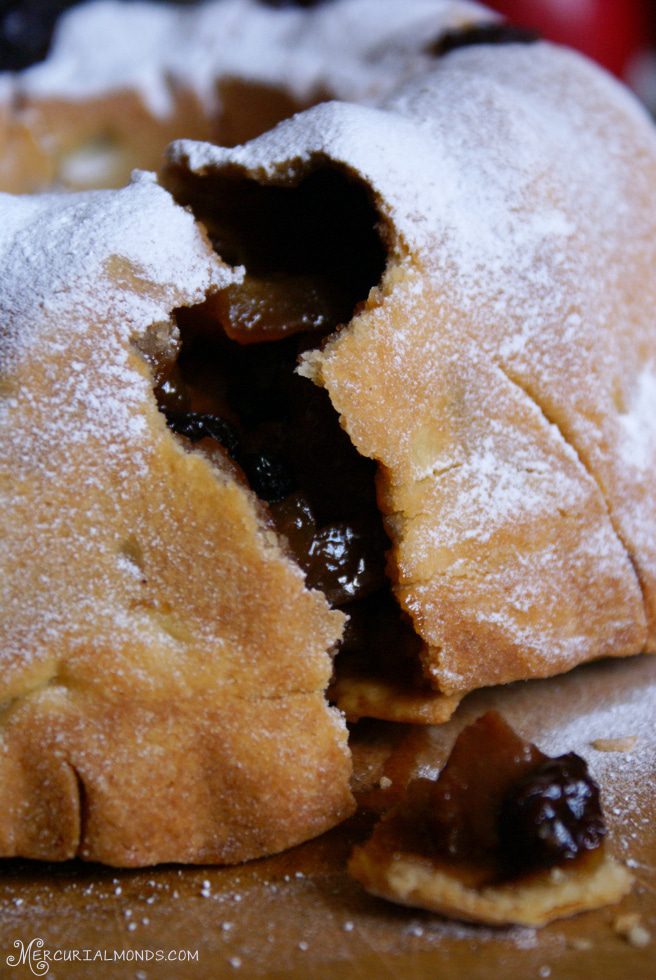 If you like your pie warm, place it in an oven on about 150 C degrees fan (170 C conventional oven) for 10-15 minutes before dusting with icing sugar and slicing.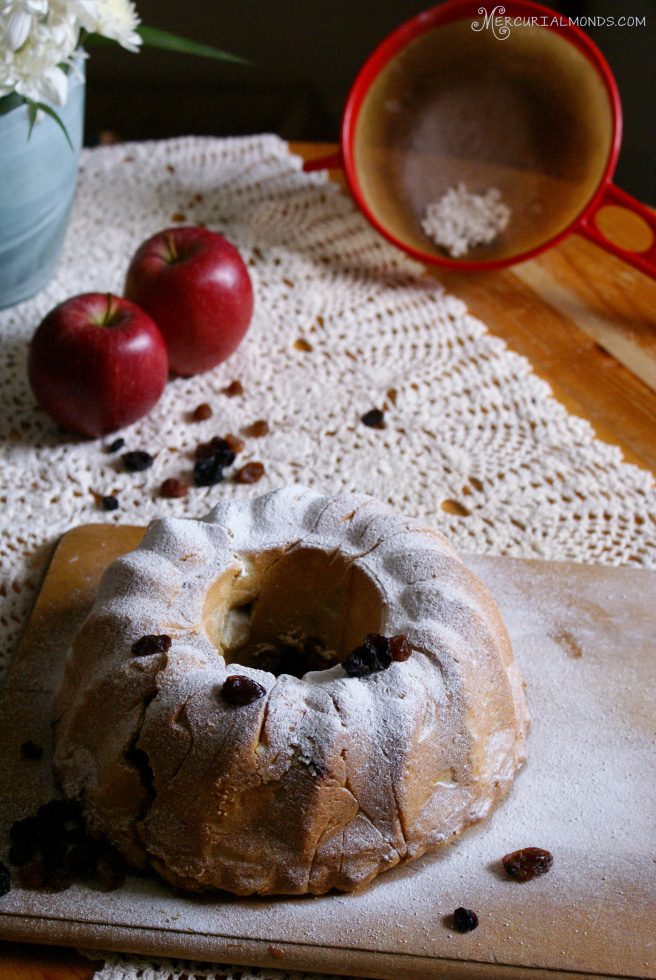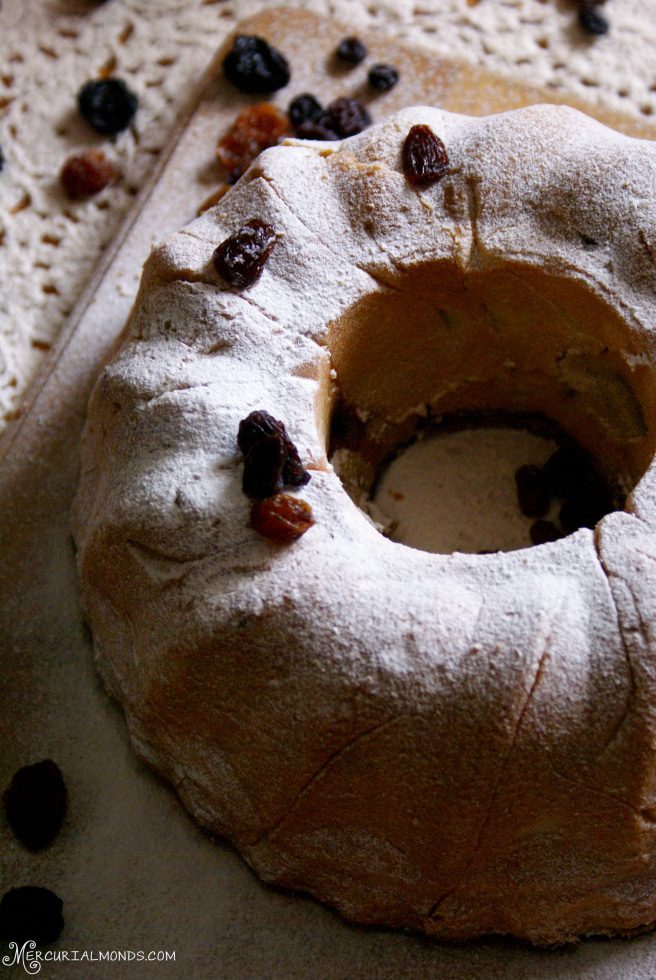 The toes are tapping now. Poor old Clems.