We have had a spell of cooler weather here in North Texas.  I say spell, because it will be short lived.  I am confident in my statement due to the fact that this is Texas after all.. and tomorrow it may snow, freeze, and/or ice over, and next Tuesday is will read 108 on my porch temperature gauge.  So tacky to tease me, Texas.  But, the 50 degree mornings has made for delightful snuggle time with my comfiest sweatshirt and fancy mug-o-coffee.  A slight change in pace from 84 degrees before the sun comes up.  Although the days are still somewhat stifling, it is now September, the first kick off of football season has come and gone, and my spaaakley slow cooker has made it's permanent spot on the kitchen island.  I am all about this comfortable cooler weather.  My slow cooker likes to be the center of attention, too.  Just like her momma (..that would be me.  It is somewhat weird that I've personified my kitchen appliances, but to each his..err..her own.)  I die for this time of year.  I adore comfort food- mainly because it brings me back to my childhood.

My daddy makes a killer chili.  Killer.  I'm made mention before of this (slow-cooker) chili, Cowboy football, and a 12 year old's (me) very own sleeve of saltines- sitting happy, and practically in his lap for Sunday in it's entirety.   12 or 28- I'll still sit in his lap with those crackers and a bowl of chili.  My mom is visiting this week for some bed rest and baby belly time with me- and made mention of my Dad's chili making before she left for Dallas on Sunday afternoon.  Hunger and slight envy reared its ugly head in the pit of my stomach.. Couldnt he have shared the wealth with a care package or something?  Something.. anything.
I settled for  peanut butter and banana toast- but what I would do for that chili right about now.  Recipe, you ask?  Yea- there isn't one really. All in his head.  But I probably couldn't repeat his chili-making, even if I tried.  It is better when he makes it.. just like my coffee is best when my Fireman makes it.. and his spaghetti (or any dinner that he makes..) is more delicious than mine (fact.)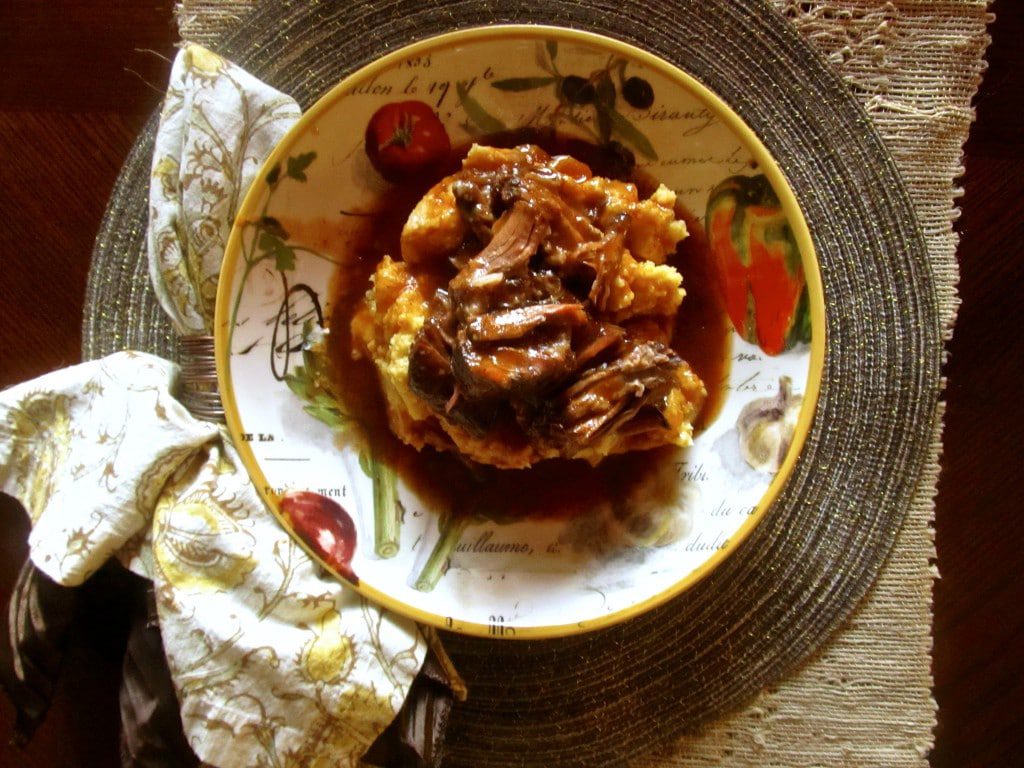 Winding back from all this Daddy-chili-talk.. slow cooker.  The art of fall and winter cooking. This kitchen appliance should have its own season.. in my world she does.  For the past three weeks in a row, the CB house has enjoyed at least one, actually, two, genius meals to come from her gorgeous steel every week.  Like I said- from now until March she has her place for all to see, rather than behind a closed cabinet door.  Monday I swooned over summer produce, but now I'm in need of something to warm my belly.
BBQ Pot Roast with Cheesy Cheddar Grits
Adapted from Plain Chicken
Ingredients
Pot Roast
2 teaspoons garlic powder
1/2 teaspoon kosher salt
1/2 teaspoon ground black pepper
1 (3-pound) boneless chuck roast, trimmed
1 (12-ounce) can regular coke
1 (12-ounce) bottle chili sauce (such as Heinz)
2 tablespoons Worchestershire sauce
2 tablespoons hot sauce
2 tablespoons cornstarch
1/4 cup skim milk
Cheese Grits
1 cup corn grits (such as Bob's Red Mill)
1 2/3 cup skim milk
2 cups fat free, lower sodium chicken broth
2 teaspoons garlic powder
1/2 teaspoon kosher salt
1 cup (4-ounces) shredded reduced fat sharp cheddar cheese
Instructions
Pot Roast
Place trimmed roast in a large 6-quart slow cooker. Sprinkle with salt, pepper, and garlic powder over top. Combine coke, chili sauce, worchestershire, and hot sauce; pour over the roast. Cover and cook on low for 8-9 hours.
Remove roast from slow cooker, reserving juices in the slow cooker; keep warm.
Combine milk and cornstarch, stirring well into the cooking liquid in the slow cooker. Cook, uncovered on HIGH 15 minutes or until thickened, stirring occasionally. Serve sauce over roast.
Corn Grits
In a medium pan bring chicken broth and milk to a boil. Slowly stir in grits, reduce heat to medium low, stirring smooth, without any lumps. Cook 5 minutes. Stir in cheese, garlic powder, and salt- mixing until cheese is melted. Serve with beef and sauce.