When I lived near Seattle, one of my favorite treats was deep-fried falafel in a pita wrap atFalafel King near Pike Place Market. I always ordered it with hummus AND baba ghanoush. I never finished it in one sitting and I always left the table covered in chickpea-licious mess.
We all know that fried things are not so good for you (and your waistline) and I've made baked falafel a few times in the past with varying results. One of my favorite methods is actually using a waffle iron to make, yeah, falafel waffles. But that's more a favorite because it's fun to say than because it's uber delicious.
When I learned that Isa Moskowitz's new bookAppetite for Reduction
contained a new baked falafel recipe, I was dying to give it a test run. I'm so glad I did. The method is easy, fairly low-mess, and makes enough falafel for 4 servings. Since baked falafel keeps amazingly well, this means good things for my work day lunches. If you want the recipe, go pick up the book!
You can't eat falafel plain, though. (Well, you could, but why would you?) So I whipped up a super simple savory yogurt sauce to adorn my baked falafel patties and mixed greens. It's almost too simple to warrant a recipe but I like to show thecondiments a little love from time to time.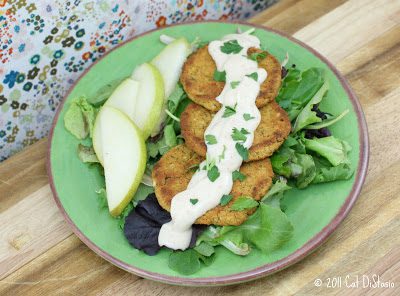 Savory Yogurt Sauce
Yield: 1/2 cup or 4 servings
1/2 cup plain non-dairy yogurt
1/2 tsp cumin
1/2 tsp sweet paprika
1 tsp lemon juice
Stir ingredients to combine.
Serve cold alongside hot falafel, sweet potato or yam fries or your favorite veggie burger.