I am allergic to gluten which means no wheat for me, but that doesn't mean I don't crave the taste of delicious warm cereal. One night when I was making cauliflower rice I thought, why not use cauliflower to make my own hot cream of (no) wheat?!
This turned out better than I imagined- the key is to make sure every last cauliflower florette is riced because big chunks of cauli aren't particularly appetizing in this dish. Oh, and the whole large serving is a mere 60 calories.
This is the perfect breakfast or snack that you can totally customize with your own spices, toppings and add ins! For some added protein swirl in some pea protein (vegan) or greek yogurt. For added nutrition and flavor top with seeds, nuts and fruit- seriously endless possibilities. My favorite breakfast combo is vanilla pea protein, chia seeds, hemp seeds, raspberries and a drizzle of raw honey- yumm.
Serves 1
Ingredients:
1 heaping cup of small cauliflower florets
½ cup milk of choice (I used cashew)
¼ cup water
1 teaspoon ground flaxseed
¼ teaspoon pumpkin pie spice.
Splash of vanilla extract
Sweetener of choice
2-4 tablespoons pure pumpkin puree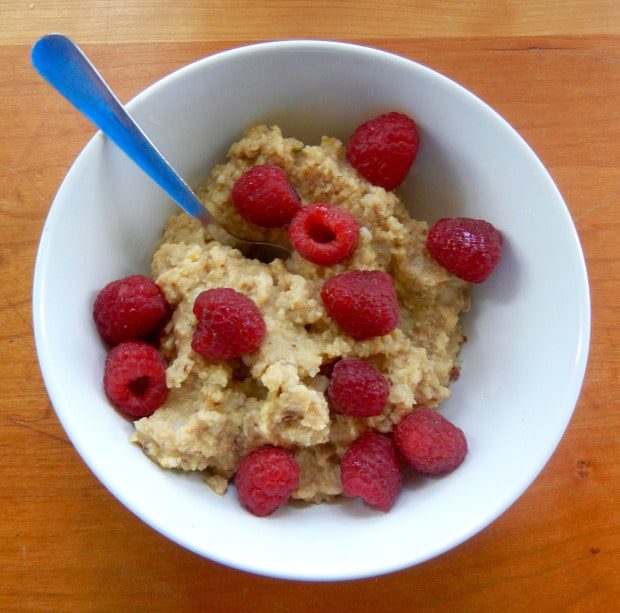 Directions:
Place cauliflower in blender or food processor and blend until consistent rice texture is achieved. Place riced cauliflower in a small saucepan with all other ingredients except pumpkin puree under medium heat.

Stir mixture in saucepan fairly frequently as cauliflower cooks and mixture thickens.
Continue to stir as it comes to a boil.
Keep occasionally mixing until water is absorbed and desired consistency is achieved (4-8 minutes).
Turn flame off and add in pumpkin puree and stir to combine.
Can be enjoyed hot or cold!