Sometimes there aren't many things in life that can beat how wonderful cinnamon rolls are. Regardless of the somewhat tedious process, they always end up being worth the effort. I like to space out my cinnamon roll efforts to recharge my dough-rising patience, but when it's all over with, I think, well that wasn't so bad.
Now that I have one of those "life-changing" power machines, I don't have much of an excuse to put together some dough. To be honest, I haven't used my KitchenAid much. This was about the 6th or 7th time I'd used it in a year and a half. Terrible, I know. I'm ashamed to admit it. The first few things I mixed up weren't all that impressive, and I much preferred my electric hand mixer instead. But for this, I gave it another chance… with the dough hook. And my goodness, it is life changing. I stood there gasping in awe. The twists and turns and punching of the dough was quite a magical experience I was able to witness right before my eyes. Much more graceful than my sticky dough covered hands trying to knead the yeast, flour and sugar together. It was gorgeous, and came together so smoothly. Miss KitchenAid, I will never doubt your mixing capabilities ever again.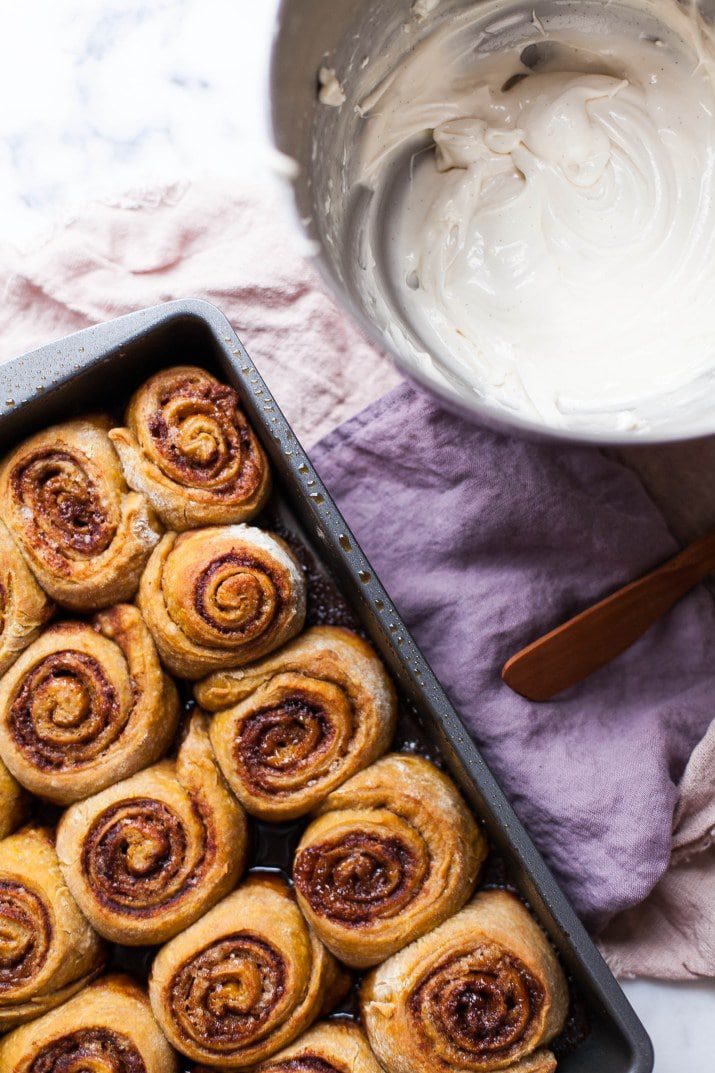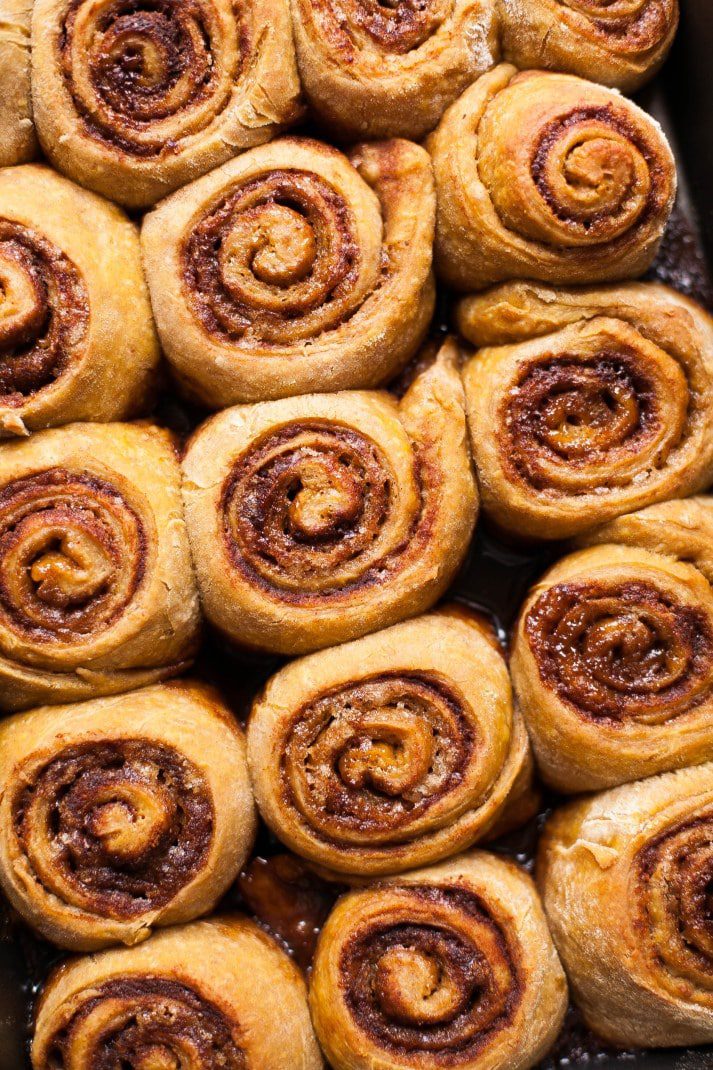 Despite not having enough daylight to complete these rolls all in one day, they turned out pretty darn fantastic. Averie Cooks is a pumpkin-baking powerhouse (she even has a cookbook of all things pumpkin!), so I knew her recipe for "Best Pumpkin Cinnamon Rolls" wouldn't let me down. Even by making a few alterations, they were moist pillowy pumpkin rolls. I made up a unique vanilla bean (Kraken) spiced-rum cream cheese frosting just for kicks, and it complimented the pumpkin spices quite nicely. These would be great for a Thanksgiving brunch (hint hint!) or for a lazy Sunday baking project. Have fun!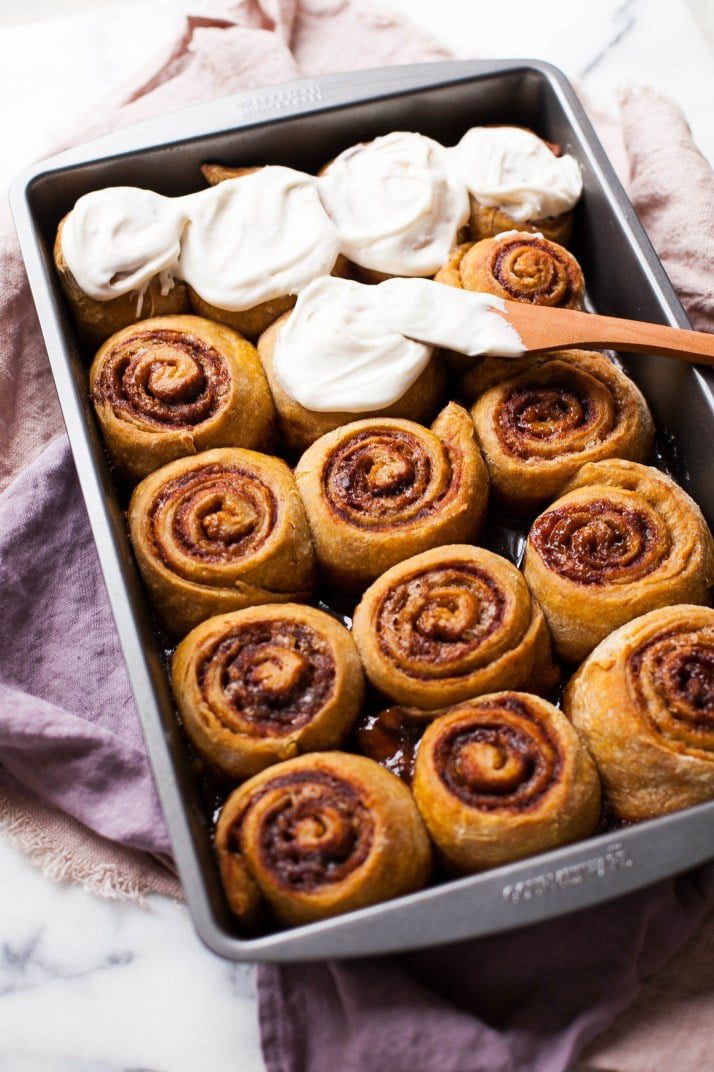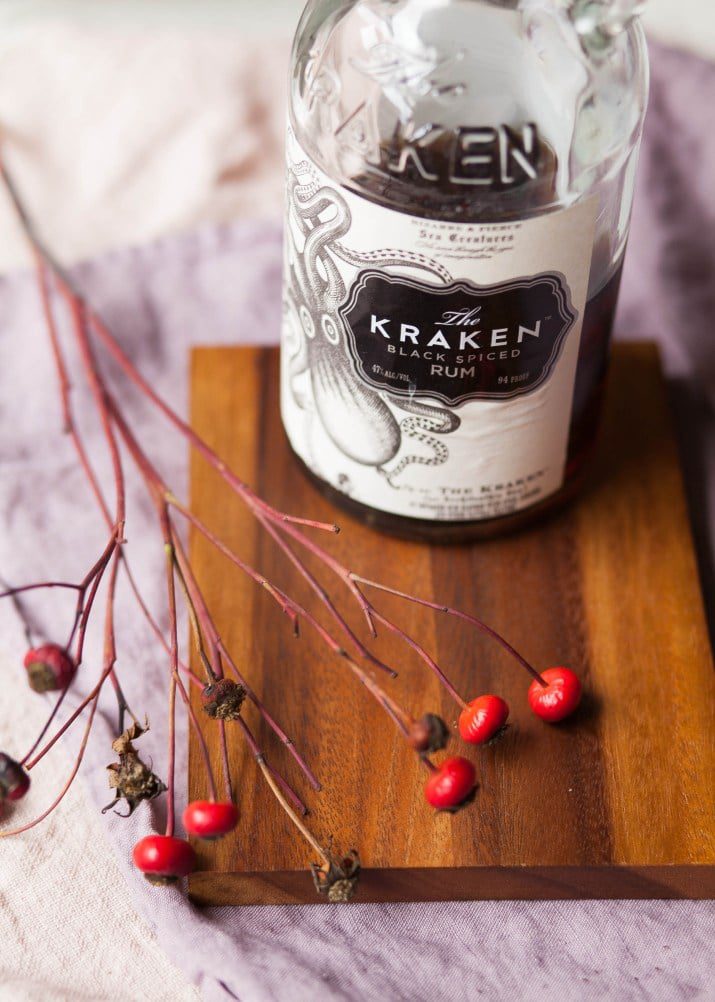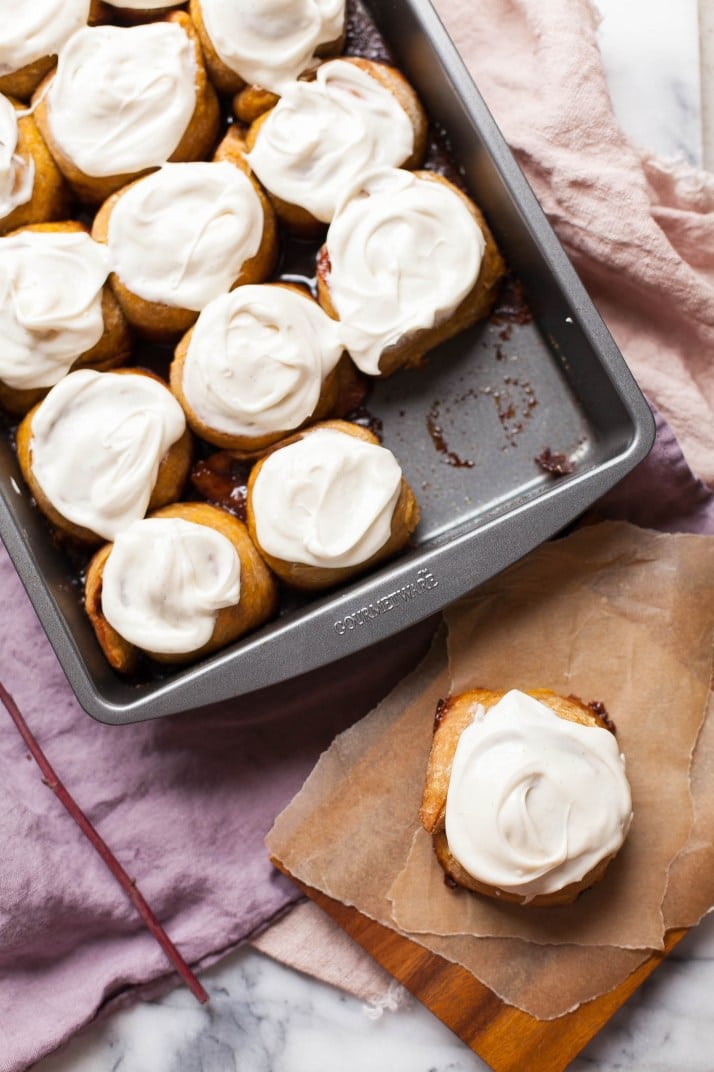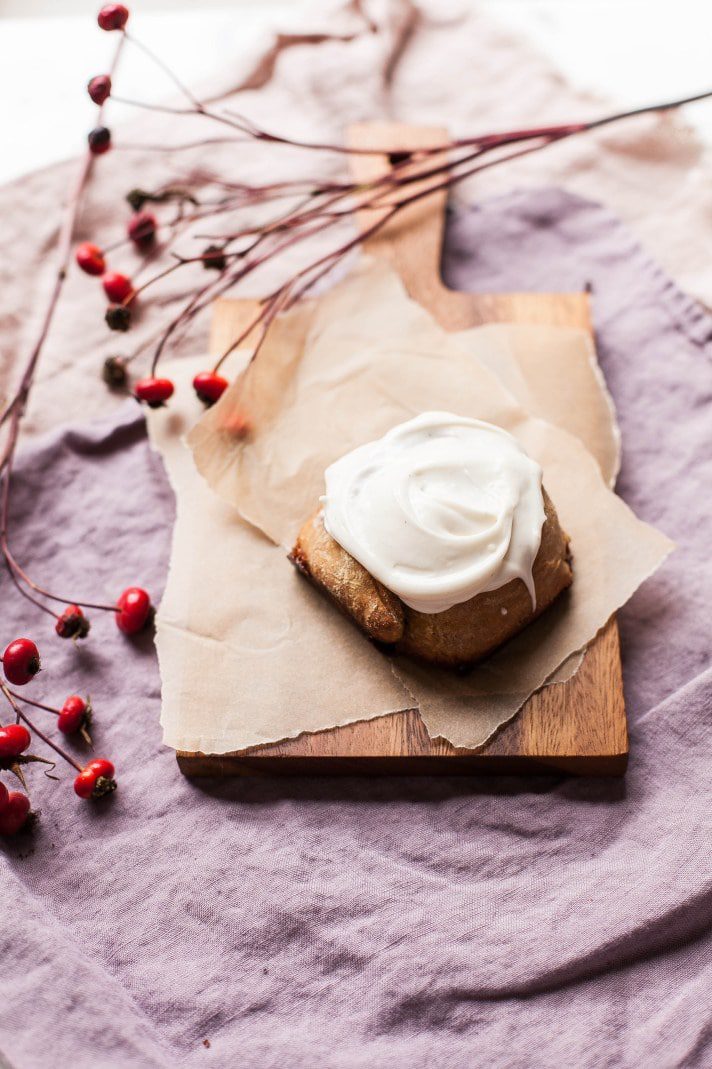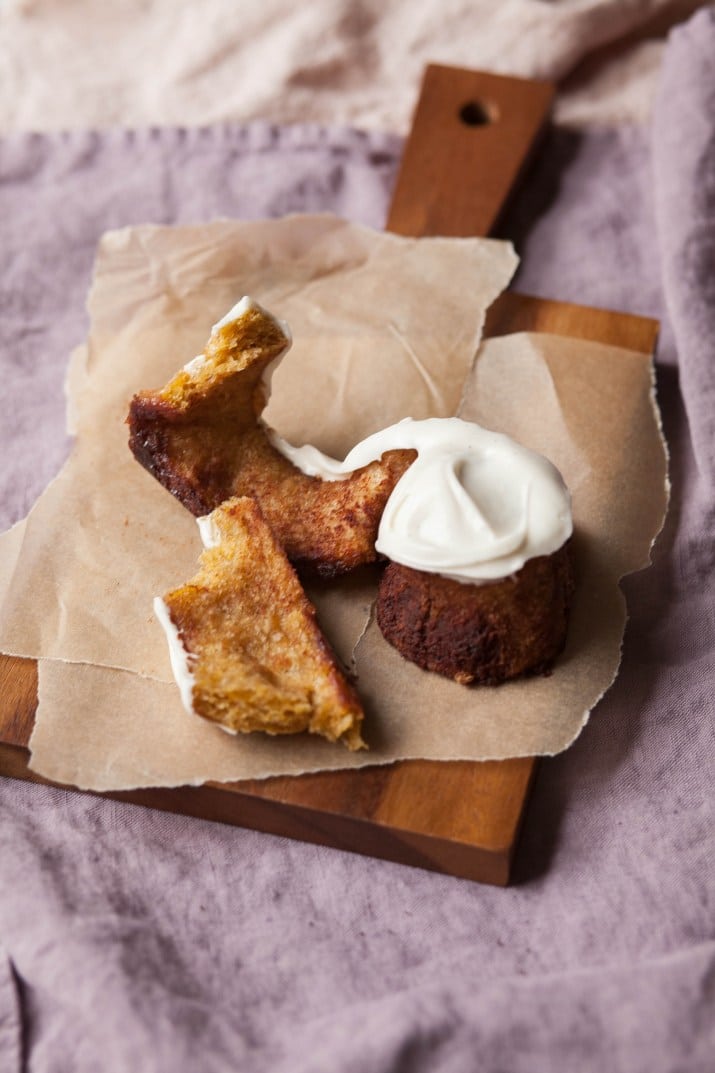 Pumpkin Cinnamon Rolls with Vanilla Bean Rum Frosting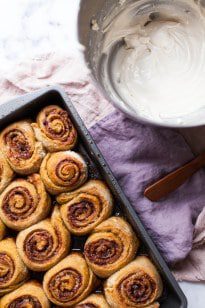 Serves: 15-16 rolls
Ingredients
For the Dough:
3¼ cups all-purpose flour, or as needed
¼ cup granulated sugar
2 tablespoons pumpkin pie spice
2¼ teaspoons instant dry yeast
pinch salt, to taste
½ cup unsalted butter, melted (1 stick)
½ cup coconut or almond milk + 2 Tablespoons apple cider vinegar = "buttermilk"
¾ cup pumpkin puree
1 large egg, lightly whisked
For the Filling:
6 tablespoons unsalted butter, very soft – let it sit out while dough rises
1¼ cups brown sugar, packed
3 Tablespoons ground cinnamon
Dashes of cardamom and nutmeg
For the Frosting:
4 ounces cream cheese, softened
2 cups confectioners sugar
½ vanilla bean pod, halved and scraped
2-3 tablespoons spiced rum, to taste
2-3 tablespoons heavy cream (or enough until achieved consistency that is not too thick nor too runny)
Instructions
Dough– To the bowl of a stand mixer fitted with the dough hook (or use a large mixing bowl and wooden spoon and your hands), add 3¼ cups flour, sugar, pumpkin pie spice, yeast, salt; set aside.
In 2-cup glass measuring cup or microwave-safe bowl, and the butter and heat to melt, about 1 minute on high power.
Add milk-vinegar "buttermilk" mixture and pumpkin to melted butter and warm to temperature, about 45 seconds on high power in the microwave. (Based on the type of yeast used, temperatures will vary.) If the milk separates or gets a little funny looking after being warmed, whisk it to smooth it out.
Add butter-"buttermilk"-pumpkin mixture to the dry ingredients in mixing bowl.
In a small bowl, crack and lightly whisk the egg, and add egg to mixing bowl.
Turn mixer on low speed and allow it to knead dough for about 7 minutes (about 7 to 10 minutes by hand using a wooden spoon and then switching to your hands). If dough is sloppy after a few minutes, add up to ¼ cup flour, or as needed until it does come together. However, the more flour added, the denser and heavier the rolls will be; wetter dough is preferred to overly dry. If dough is dry or crumbly, drizzle in buttermilk until it comes together.
Remove dough from the mixing bowl, spray a large bowl with cooking spray, place the dough in the bowl, and flip it over once so it's lightly oiled on both top and bottom.
Cover bowl with plastic wrap and place bowl in a warm, draft-free place to rise for about 2 to 2½ hours, or doubled in size. I kept my bowl inside a powered-off oven that I preheated for 2 minutes to 400F, then it's powered off. Do not, repeat do not, keep the oven on. The pre-heated, warm oven creates a nice 85F-ish environment, ideal for yeast. If your rising spot is cold, rising will likely take longer than 2½ hours.
While dough rises, line a 9×13-inch aluminum pan with aluminum foil or spray with cooking spray and set aside.
Rolling Out the Dough – After dough has doubled in size, punch it down. Turn dough out onto a floured countertop. With a rolling pin, roll it out to about 26-by-13-inches. Use the 13-inch side of the 9-x13 pan to eyeball it, no need use a ruler.
Filling – Using a knife or spatula, evenly spread softened butter over dough, leaving a ½-inch bare margin.
Evenly sprinkle the brown sugar and then the cinnamon over the top, and lightly pat it down with your fingertips to help it adhere.
Slicing the Dough – Starting with a long edge (the 26-inch side), roll the dough into a tightly wound log, with the seam side down.
Using a knife, make small hash marks about 1 to 1½ inches apart (yields 20 to 24 rolls); or make bigger rolls and yield 12 to 16. Hash marks create less guesswork once you start slicing and things get messier and harder to eyeball where to slice; the hash marks are nice place-markers. Then cut your rolls with a knife in a gentle sawing motion, or use unflavored unwaxed dental floss! (the hygienist in me loves the irony of this)
Arrange the rolls in the prepared pan (I made 5 rows of 4 or 5 rolls across, and not all rows have same number of rolls; crowding is okay). Cover with plastic wrap.
Make Straight Through – Let rise in a warm, draft-free place until the rolls have nearly doubled in size, about 1 hour.
Or…Make as Overnight Rolls – Don't let rolls rise after they've been sliced and placed in covered pan. Place pan in refrigerator for up to 16 hours. Before baking, let the rolls rise at room temperature until they have nearly doubled in size, about 1 hour. (It took at least 3 hours for them to rise for me)
Baking -For either version, bake at 375 degrees F for about 15 to 17 minutes, or until lightly golden on top and cooked through (ovens, dough, and climates vary and so will baking duration, but 1 to 2 minutes matters in this recipe). Watch rolls like a hawk and don't overbake or they won't taste nearly as good. It's good if they're a little doughy still.
Cream Cheese Glaze – In a medium bowl, add cream cheese, confectioners' sugar, vanilla bean seeds, rum, and cream, and whisk or beat with a handheld electric mixer until smooth and combined. Add cream or more powdered sugar as needed until desired consistency is reached.
Evenly spread glaze over rolls, it should be a little thick.
Serve immediately. According to Averie, rolls are best warm and fresh, but will keep airtight at room temp for up to 4 days; reheat in micro for about 5 seconds to re-soften or as desired. I am comfortable keeping glazed rolls at room temp and do not recommend storing them in the fridge because they will dry out. Rolls can be made and baked to completion, and then frozen for up to 6 months; unthaw and glaze immediately prior to serving. I recommend baking them from start to finish and then freezing, rather than trying to freeze unbaked dough, if you want to make in bulk in advance.