I've been mixing chocolate with a lot of things lately.  A while back it was these chocolate and beet cupcakes and this week I'm twisting my brownies with some beautiful, citrusy oranges.
Really, oranges and chocolate have been friends for years.  I can remember eating those chocolate shaped oranges that broke into individual slices and had a wonderful hint of orange.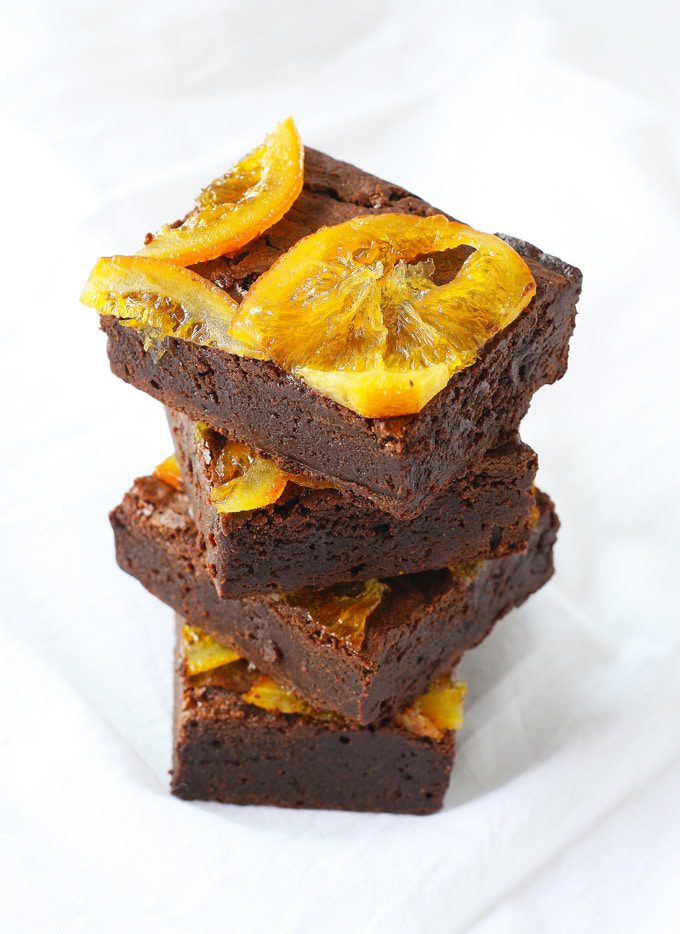 Well, these dark chocolate and orange brownies are basically just like that but they are fudgy, gooey and oh so chocolatey!  To add that beautiful orange flavor I've added some orange syrup (made with the candied orange slices) and zested a ton of fresh orange peel right into the batter.
All that orange flavor (including topping the whole thing with candied orange slices) really brings out that deep, dark chocolate flavor.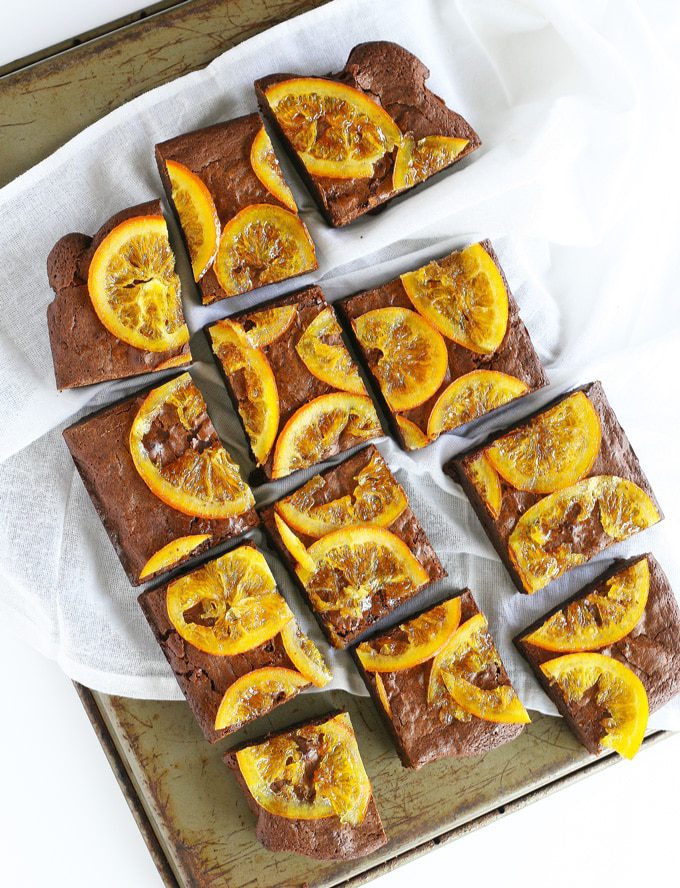 This brownie recipe is my ALL.TIME favorite brownie recipe.  They almost resemble a fudge and are not cakey at all.   I used this same recipe for these dark chocolate and raspberry brownies (which just so happen to be my all-time favorite brownie.)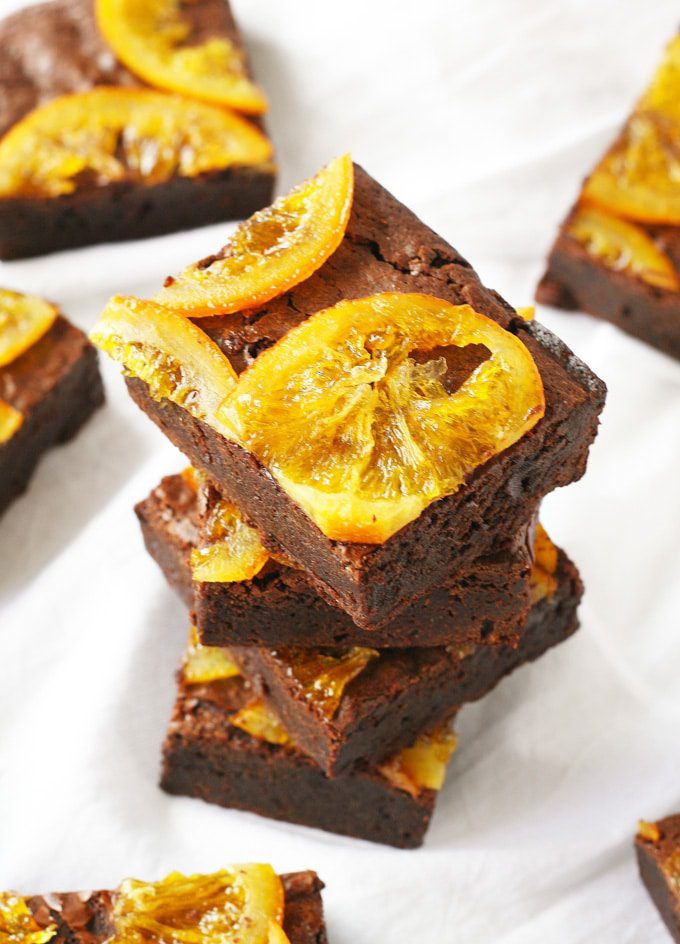 Does that make sense?  The base recipe is my all-time favorite recipe but the dark chocolate and raspberry brownies are my all time favorite variation.  Confusing, I know, but just grab a brownie and everything will be alright.
ingredients
candied orange slices
1 large navel orange, sliced into thin wheels
1 cup sugar
2 cups water
brownies
¾ cup dark chocolate chips
½ cup milk chocolate chips
1 cup (2 sticks) unsalted butter, cut into pieces
2 teaspoons kosher salt
1½ cups brown sugar
½ cup orange simple syrup
1 tablespoon vanilla
4 large eggs
1 cup flour
½ cup cocoa powder
zest of one orange
Instructions
candied orange slices
In a large saucepan over medium high heat, stir together water and sugar until dissolved. Add orange slices in one single layers, reducing to a simmer.
Let orange slices cook in simmering sugar mixture, flipping once, until mixture thickens into a syrup. About 20 minutes.
Remove orange slices and place on parchment paper. Once cool, transfer to a wire rack to dry.
Reserve orange simple syrup for brownie mix.
brownies
Preheat oven to 350 degrees F. Butter, flour and line a 13″ x 9″ baking dish with parchment and set aside.
In a glass bowl, set over a pan of boiling water, mix together dark chocolate, milk chocolate and butter. Stir mixture until completely melted and then remove from boil water.
Add salt, sugar, and orange simple syrup to mixture and beat well. Stir in vanilla.
Add eggs, one at a time, beating well after each addition.
Stir in flour and cocoa powder until just combine.
Add orange zest and give one final stir.
Transfer the mixture to the prepared pan. Bake for 25-30 minutes or until a toothpick is inserted into the middle and comes out with moist crumbs. If the toothpick comes out dry, you've over baked your brownies.
Allow to cool, then remove from pan. Top with candied orange slices and cut brownies into 12 (or 24) squares.
Brownies are best kept refrigerated.