This recipe is courtesy of my sister Katie. We went to Sowa Market today and bought fresh vegetables, and more gluten free spinach fettuccine, my new obsession. We spent the majority of our walk home talking about what she should make for dinner using the eggplant she just bought. She lives in the North End and has the luxury of fresh cheese and Italian spices right at her finger tips – yes we should all be jealous. So when she got home she picked up a few more ingredients and made a layered baked eggplant dish with tomatoes, spinach and mozzarella, our take on eggplant Parmesan without breadcrumbs, and then put it on top of fettuccine to make the meal complete.
Ingredients:
1 eggplant, sliced into 1/4 inch thick pieces
1 large tomato, sliced thinly
Mozzarella Cheese ( or whatever kind of cheese you prefer)
Fresh Spinach
Spices: Basil, Oregano, Garlic
Your favorite marinara or pasta sauce
Olive oil
Gluten Free Spinach fettuccine
Preheat oven to 350 degrees.
Mix garlic, basil and oregano with the pasta sauce.
Spread pasta sauce on the bottom of a baking pan. Layer eggplant, more sauce, cheese, spinach, and tomato. Drizzle olive oil and spices over the top of each eggplant stack.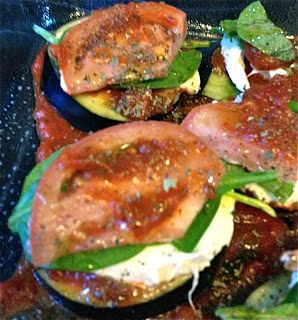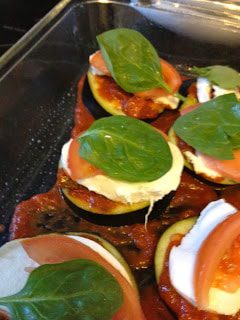 Cook for about 25 minutes or until the eggplant is soft and starts to brown.
Use the leftover pasta sauce in the pan to mix with the spaghetti, then place the eggplant layers on the pasta and enjoy!