I've been doing some thinking about what I want to bake in the future, and I've come to a conclusion. I want to only bake and blog about cookies in the month of December. Can you imagine a whole month of cookies?! It's going to be great, I tell you.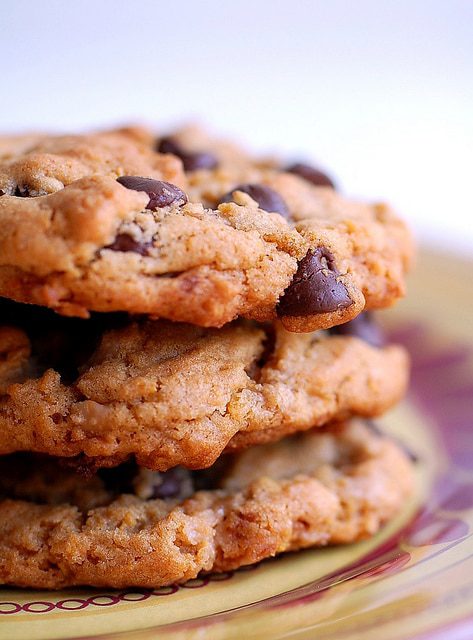 I will try and have some creative and different cookie recipes for you; hopefully ones you've never heard of before. Right now I'm baking a small, experimental batch of cookies. Cross your fingers they turn out okay! They're malty, chocolatey, crispy, and filled with a flavored buttercream. That's all I'm giving you right now.
Just a few fun ingredients makes these Peanut Butter-Toffee Chocolate Chip Cornflake Cookies unique. I guess I really don't have to tell you what's in these cookies now; it's all in the title!
Toffee bits, peanut butter, chocolate chips, and corn flakes. Using corn flakes in a cookie is different, but not unheard of. You might have heard ofranger cookies?
I love the texture of the cornflakes in cookies; they make them crispier. Plus I love the corn-flavor they bring to the party.
You could SUBSTITUTE corn chex cereal, as well. Mmm chex mix. That's one of my favorite snacks. I filmed my mom making chex mix at Christmas time one year. She pretends she's Martha Stewart. It's hilarious. I'd show you but she'd kill me.
Peanut Butter-Toffee Chocolate Chip Cornflake Cookies
1/2 cup unsalted butter
1 cup packed brown sugar
1/3 cup peanut butter
1 large egg
1 teaspoon vanilla extract
1 teaspoon baking soda
1/2 teaspoon salt
1 cup finely ground corn flakes
3/4 cup all purpose flour
3/4 cup toffee bits
1 cup semi-sweet chocolate chips
Melt butter in a small saucepan over medium heat; cook 2 minutes, whisking frequently, until butter foams and starts to turn golden. Pour butter into a large mixing bowl.
Add brown sugar to mixing bowl. Mix, using a mixer on medium speed, for 2 minutes. Mix in peanut butter, egg, vanilla, baking soda and salt until well combined – about 1 minute. Reduce mixer speed to low and beat in corn flake, flour, toffee bits and chocolate chocolate chips until just combined. Chill dough in refrigerator for 20 minutes.
Heat oven to 350 degrees F. Coat cookie sheets with cooking spray.
Drop rounded tablespoons of dough onto cookie sheets. Bake 10-12 minutes or until light golden brown. Cool 1 minute before transferring cookies to wire racks to cool.
Makes about 10-12 big cookies