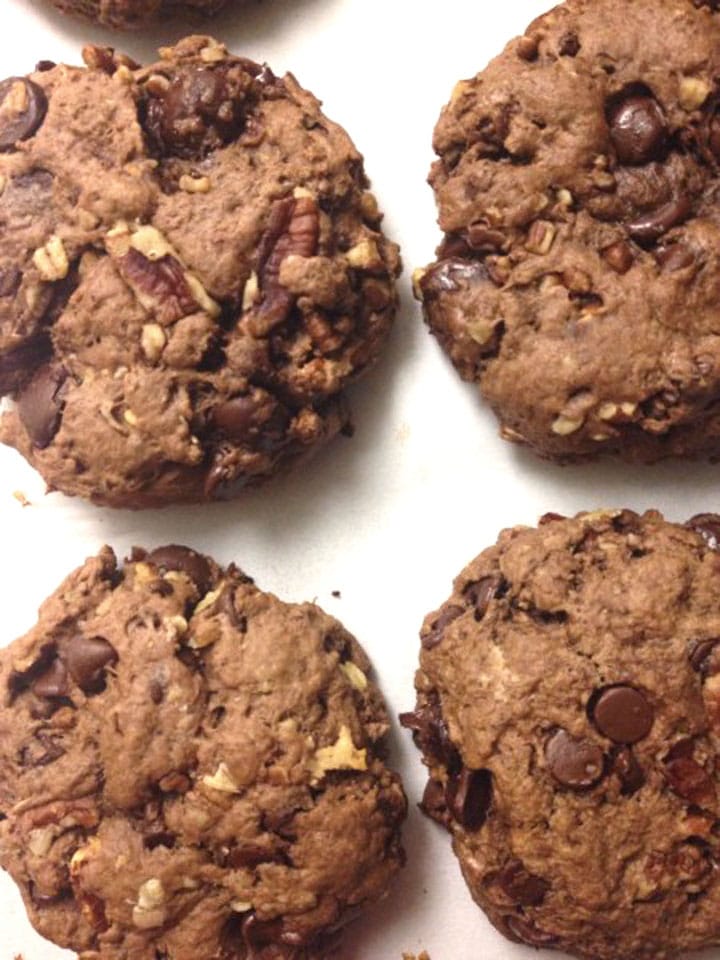 I like my cookies jampacked with chocolate. I'm talking Ghirardelli chocolate chips and baking bars. It's a $3 expense I'm willing to take on in the name of great baked goods. I only in the last few years discovered how much I love pecans with chocolate (and even my chicken salad) which is how these cookies were thought of in a dream. The oats just add more texture and a nice flavor to the chocolate. Oh and in these cookies I also used Greek yogurt to make the cookie softer and almost cake-like.
DOUBLE CHOCOLATE PECAN OAT COOKIES
2 c unbleached flour
1/4 c cake flour
2 sticks of butter
1/4 c brown sugar
1 teaspoon vanilla extract
1/4 c sugar
1 teaspoon baking soda
1 teaspoon baking powder
2 tablespoons Greek yogurt
3 eggs
1 c chopped pecans
1/2 c pecan bits
1/2 c rolled oats
2 tablespoons cocoa powder
1/2 bag Ghirardelli 60 percent cacao chocolate chips
1 whole bag Ghirardelli Semi-Sweet Chocolate Chips
DIRECTIONS
1. Pre-heat oven at 400 degrees.
2. Melt butter in microwave for 30 seconds or over stovetop. Pour into your main bowl.
3. Pour regular flour, cake flour, sugar, brown sugar, baking powder and baking soda over butter and begin stirring until butter is fully mixed.
4. Add eggs, the bag of semi-sweet chocolate chips and pecan bits and continue stirring until dough is thick.
5. Add Greek yogurt and oats and continue stirring until fully mixed into the dough.
6. Add the 60 cacao chocolate chips and chopped pecans into the batter and with a spoon press into the dough all around the batter. The idea is to leave as much pecans and chocolate chips on top as possible.
7. On parchment paper lined pan, begin spooning dough out. The dough will be very thick at this point. To spread the cookies into a bigger circle use either the back of a spoon or the bottom of a cup and press into the top of your spooned out cookie dough.
8. Place cookies in oven for 11-12 minutes and allow to cool.