If you walked into my kitchen at my moment, your eye would go directly to one "thing" that takes the center stage. Upon noticing this "thing", you might be quick to judge… not that I really care if you judge, because it is what it is, you know how it goes. So you know those bar carts? The perfectly decorated, only-place-what-is-absolutely-necessary stylish ones with two or three liquor bottles? Well, my bar cart is pretty full… to the brim. To the point that you'd likely assume that I'm a part-time alcoholic. I can't keep it all minimalistic and whatnot. I need variety. To be prepared for any occasion. I like to be a prepared Girl Scout.
Honestly, as I was making these (amazing/outstanding/over-the-top wonderful) ice cream sandwiches this weekend, I realized something. I realized that 90% of the time the booze I have purchased is used in my baking concoctions. Seriously. My half-full/empty bottle of St-Germain has been dedicated to all things non-cocktail related. I prefer to spike up popsicles (coming soon!), bundt cakes (one, two, three and four), your grandma's pumpkin pie and banana bread… wait I already have four bundt cake recipes up with booze in them? See, this is out of control…
This is no exception. Have you ever added a few tablespoons of whiskey to whipped cream or really anything sort of bland and taken it to a whole new level? You know what I'm talkin about. Don't be shy.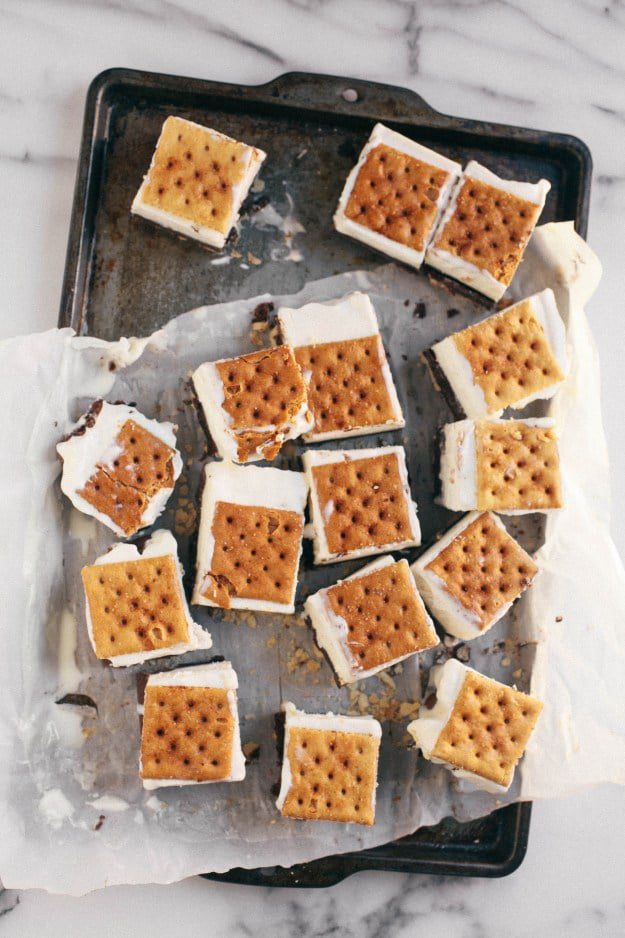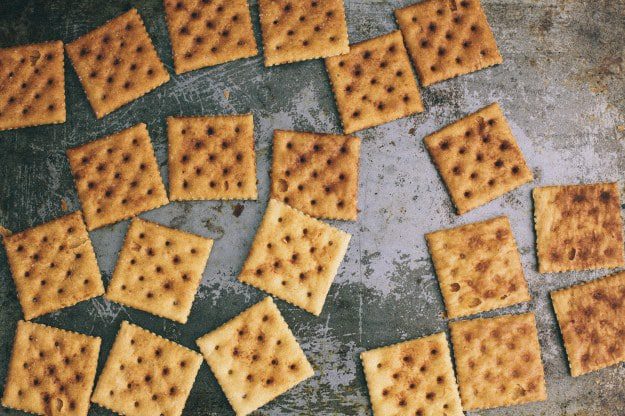 If you're anywhere near the planet Earth and are experiencing this dire heat wave that is keeping sun-shy people like me cooped up in the bedroom with the AC cranked on high, then you need to quietly sneak out to your closest grocery store (just for a few minutes!) and buy all of the ingredients to make these "Please Help Me Survive This Heat Wave Saltine Brownie & Bourbon Ice Cream Sandwiches". That is the extended version title.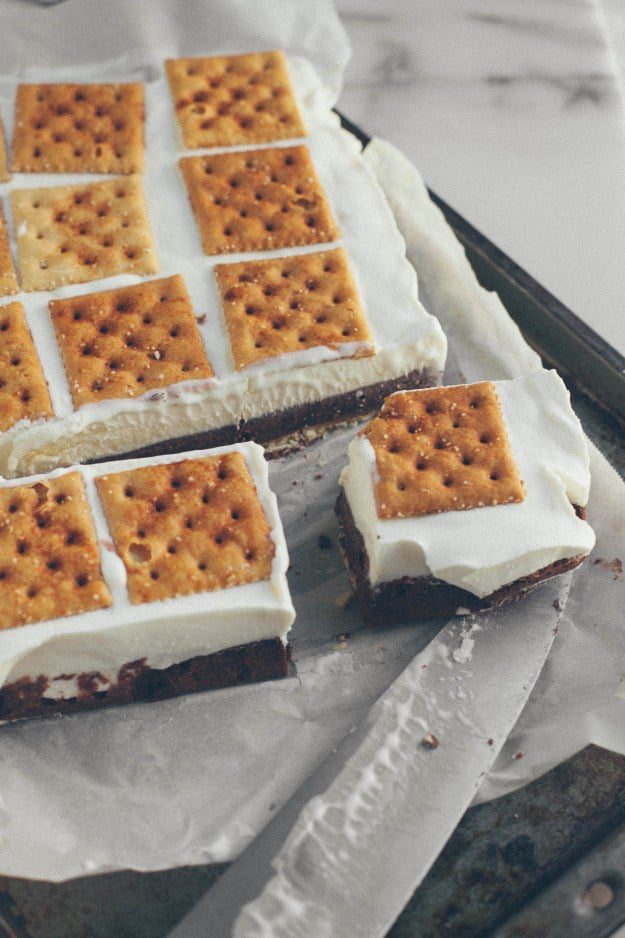 Don't be intimidated by all of the steps. I assure you, it's one of those only seemingly daunting recipes that is super simple to make, once it's all said and done. In a nutshell, it's two salty and buttered crackers sandwiching some chocolatey rich espresso brownies and bourbon whipped cream. What more do you need to know? My job here is done.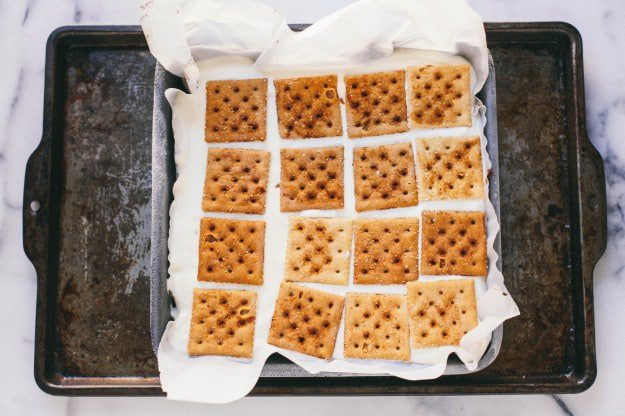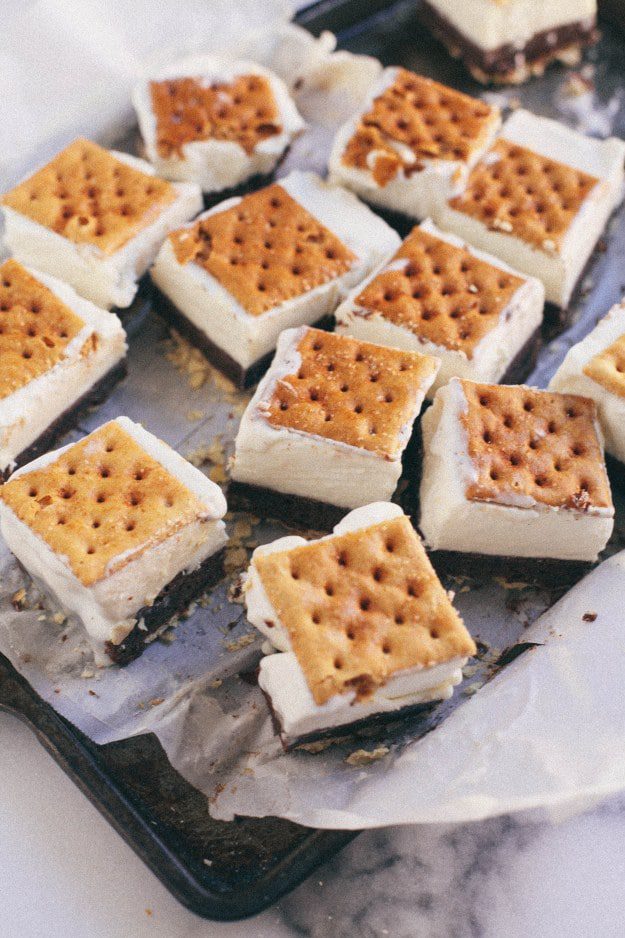 Also, last little note: unless you have teeth made of steel and a grill better than Nelly, I'd highly recommending letting these sit out of the freezer for at least 15-20 minutes before you try to eat (and initially cut) one of these squares. I learned the hard way. Trust me.
Also, second last little note: If you want to wait until the heat wave is over (but don't hesitate too long), at least try to make these the night before the 4th of July. They'd feed and please an entire crowd and are the perfect summer cool-down treat. Just sayin!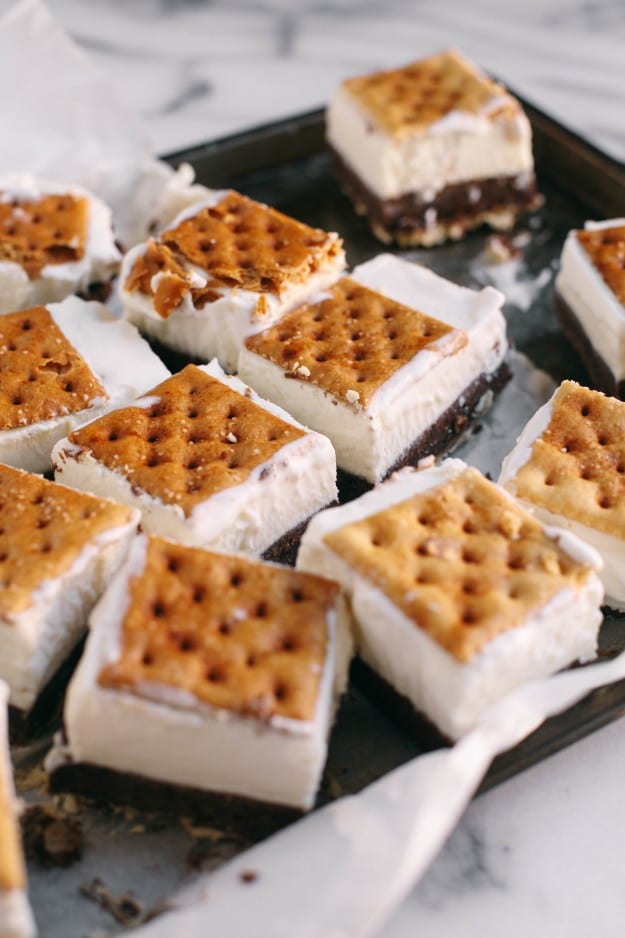 Saltine Brownie & Bourbon Ice Cream Sandwiches
Serves: 16 square sandwiches
Ingredients
Outside Layers:
32-36 salted saltine soda crackers
2 tablespoons unsalted butter, melted for brushing
Brownie Layer:
¾ cup semi-sweet chocolate chips
1 stick unsalted butter, cut into cubes
⅓ cup granulated sugar
⅔ cup brown sugar
2 large eggs
2 tablespoons ground espresso bean
1 teaspoon vanilla extract
⅓ cup all-purpose flour
⅓ cup coconut flour (or more all-purpose)
2 tablespoons cocoa powder
½ teaspoon fine sea salt
No Churn Ice Cream Layer:
1 cup sweetened condensed milk
1½ teaspoons vanilla extract
2 tablespoons bourbon whiskey (I used Maker's Mark)
1⅓ cup heavy cream
Instructions
Preheat the oven to 350ºF.
With a 9-inch square baking pan, measure out how many pieces of crackers you'll need to cover the bottom and top layers. I only needed 16 crackers for the top and bottom, each, so 32 total. It's ok if they don't fit perfectly. The brownie layer will seep through the crackers regardless so what's the point in fighting it. Add a few more crackers to allow for breaking errors and set aside.
Melt 2 tablespoons of butter in the microwave and brush the crackers on both sides. Set aside.
Make the brownie batter: Combine the semi-sweet chocolate chips and cubed unsalted butter in a large microwave safe bowl. Heat until the ingredients have melted (about 2-2½ minutes), and mix until combined. Add the granulated sugar, brown sugar, large eggs, ground espresso, and vanilla extract. Whisk until smooth and slightly fluffy. Add in the all-purpose and coconut flours, cocoa powder, and sea salt into the bowl. Fold the ingredients with a spatula until smooth. Set aside.
Assemble the brownie and cracker layer: Spray the pan with canola oil and line with parchment paper. Arrange 16 of the crackers on the bottom of the pan, and then pour the brownie batter into the pan and smooth the top with a spatula. Scatter the rest of the crackers on another flat baking sheet to brown. Place the brownie square pan on the middle rack and the crackers on the lower rack.
Bake in the oven for 20-25 minutes. The brownie may be slightly underdone and that's ok. A wooden toothpick should come out with some moist crumbs.
Remove the brownie pan and the crackers. Let the brownie cool for at least 20-30 minutes before putting in the freezer to chill for at least 30 minutes, up to an hour or so. The pan and brownie should be completely cold before proceeding.
Assemble the ice cream layer: Evenly combine the sweetened condensed milk, vanilla extract and bourbon together in a small bowl. With an electric or stand mixer, whisk the heavy cream on medium-high speed until soft peaks form, about 3 minutes. Better to under-mix than over-mix. Usually it is best to stop when you see ripples forming after the trail of the whisk.
With a spatula, evenly fold the sweetened condensed milk-mixture into the whipped cream until combined.
Pour the ice cream batter on top of the brownies and smooth the top with a spoon. Arrange the additional 16 crackers on top of the ice cream batter. Place pan back in the freezer to harden, at least 8 hours or overnight.
Cut between the crackers to make little sandwiches (I had to wait at least 15-20 minutes until the brownie layer would soften otherwise it's nearly impossible to cut). Wrap each with plastic wrap and keep in the freezer for anytime you crave one!