Have you ever tried peanut butter and bananas together? What an incredible combination! I used to love making peanut butter banana sandwiches, which are what inspired this peanut butter banana smoothie bowl! Add some chocolate to the mix, and you are surely in for a treat. This peanut butter banana smoothie bowl goes great with a variety of chocolate toppings, from cocoa nibs to chocolate rice cereal. I added fresh bananas, a swirl of chocolate syrup, and dark cocoa nibs to this peanut butter banana smoothie bowl. I like to make this bowl for a yummy dessert treat after dinner, but have peace of mind that there are a lot of healthy ingredients in this delicious smoothie bowl.
//The Bowl//
This peanut butter banana smoothie bowl contains the following ingredients: frozen bananas, milk, peanut butter and honey.
//The Toppings//
The toppings on this peanut butter banana smoothie bowl include dark cocoa nibs, chocolate syrup, and fresh sliced banana.
//The Benefits//
Bananas are high in fiber, and have a nice mix of low glycemic carbs, vitamins and minerals. This makes them a great post-workout snack!
Dark chocolate is high in antioxidants, lower in sugar than milk chocolate varieties, and good for the soul.
Peanut butter is high in protein content, making it a good addition to your post-workout snack or meal.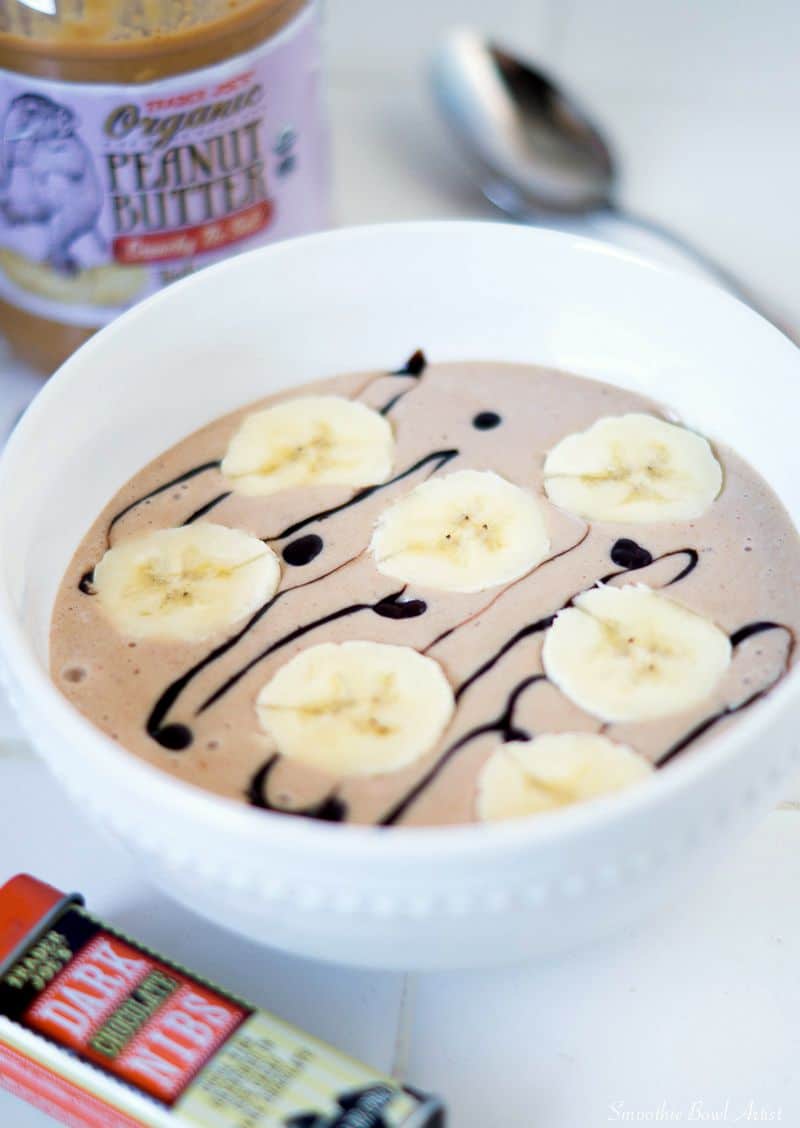 Peanut Butter Banana Smoothie Bowl
Ingredients
1 cup low-fat milk

1 banana, sliced and frozen
1 tbsp honey
3 tbsp peanut butter
Toppings
1 tbsp dark cocoa nibs
1/2 banana, sliced
Chocolate syrup
Instructions
Add the milk, banana, honey, and peanut butter to a blender and pulse until smooth.
Pour into a chilled bowl and top with cocoa nibs, banana slices, and chocolate syrup.