It's bread/carb week here on Eat Bake Drink Cook!  First bagels, now focaccia!
You need to make this focaccia for 2 reasons.
1. It's easier than most yeast breads.
2. It's delicious.  It tastes 10 times better than any focaccia you have ever had.  I promise.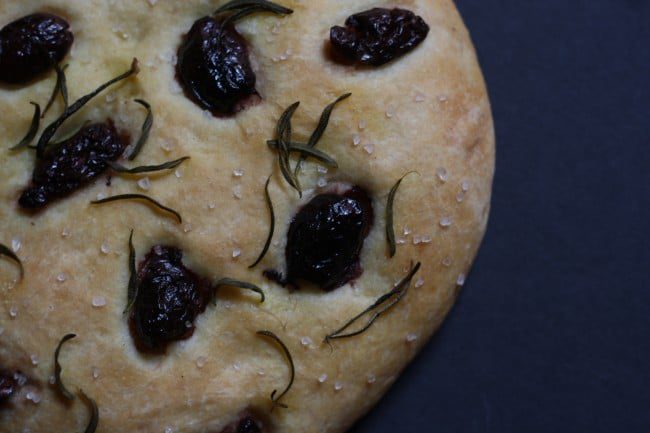 Most focaccia you have had is probably not fresh from the oven.  It may be a day or two old and while still good, it has lost it's magic.  There truly is nothing like bread fresh from the oven.  I originally made this focaccia in a bread making class and everyone in the class was blown away.  It tastes much lighter and airier when the bread comes right out of the oven.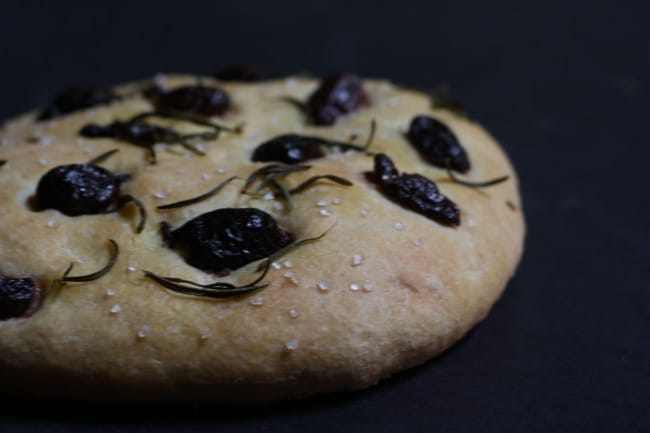 When the lovely OXO sent us some supplies to prepare for Big Summer Potluck, I knew immediately that I wanted to make this.  We were asked to select whether we wanted to be a baker, a cook, or a cocktail maker.  The baking tools looked pretty amazing so I jumped right on that and pretty soon my awesome tools arrived.
And here are the fruits of my labor…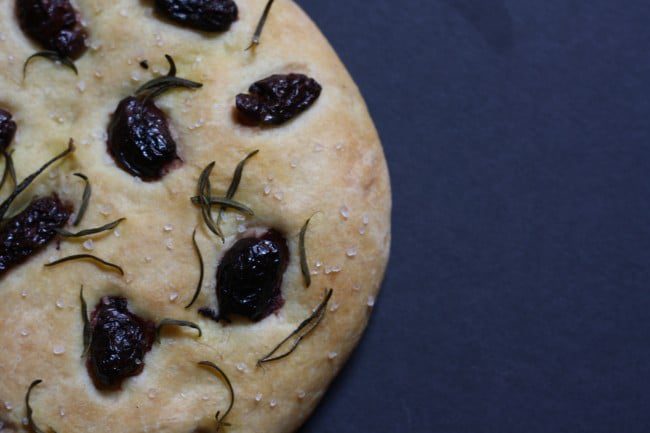 Bake: Rosemary Olive Focaccia
Ingredients
3 cups unbleached bread flour, plus more as needed
2 teaspoons instant yeast
1 1/2 teaspoons kosher salt, plus extra for sprinkling
4 tablespoons extra virgin olive oil
1 cup lukewarm water, plus more as needed
2 tablespoons cornmeal
1 tablespoon chopped fresh rosemary
10-15 kalamata olives, pitted and sliced in half.
Combine the flour, yeast, 1 1/2 teaspoons salt, and 2 tablespoons of olive oil into a food processor. Turn the machine on and process for about 15 seconds. With the food processor running, add the water through the tube.
Process for about 30 seconds until the mixture forms a ball that is slightly sticky. You may need to add more water or flour depending on the consistency of your dough. Do so, just a little at a time, until the dough is slightly sticky.
Turn the dough onto a floured surface and knead for a minute to form a smooth, round ball.
Grease a bowl with 1 tablespoon of olive oil. Place the dough ball in the bowl, cover, and let rise until the dough has doubled in size, about 1-2 hours.
When the dough is ready, divide it evenly into 2 pieces. Form each piece into a ball and place on a lightly floured surface. Sprinkle with flour, cover lightly with plastic wrap and let them rest for 20 minutes.
When the dough is ready, on a lightly floured surface, press the dough balls into two 1-inch thick rounds.
Place each round on a cornmeal dusted cookie sheet, cover lightly with plastic wrap, and let rest for another 30 minutes.
Preheat the oven to 425 degrees.
Uncover the dough and dimple with your fingers. Brush each round with remaining olive oil and top with a sprinkle of salt.
Use your fingers to press in the rosemary and olives.
Place dough rounds in oven and reduce temperature to 375 degrees.
Bake for about 30 minutes or until the bread is golden brown.
Allow to cool before serving. If you want to serve warm bread, let it cool first, then heat it up.
This is best eaten the day it is baked, but if you would like to save it, wrap it in plastic wrap, then place it in a ziplock bag.