I cannot believe I've never posted this recipe.  I've been cooking for my Fireman for over 7 years now.. and we have eaten this on more than one occasion, thats for sure.

Maybe I was just being stingy with my Mexi-Casserole recipe.  Stingy for 7 years, that is up until my sweet friend, Lauren emailed me looking for something simple enough to make for a sick co-worker.

Bingo.  Look no further, my dear.

I have a couple different types of salsa recipes in my brain files, and this is one of them.  Roasting seems so high maintenance- but give it a chance.  20 minutes under a broiler is all you need.
While your salsa ingredients are doing the roasting dance, start your casserole filling in a large non-stick skillet coated with cooking spray.
You can sub out ANY veggie you please.. except the oni0n.  You must have the onion.  What is Mexican food.. err..TEX-Mex without onion?
As for the rest of the veg, I most often will choose a mixture of bell peppers, zucchini or yellow squash, corn, and for a tad bit of heat, my Fireman's favorite- the poblano.  Those always get in there, too.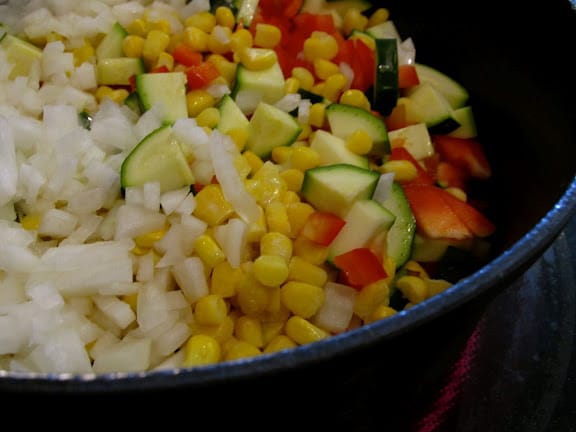 I used a store-bought rotisserrie chicken.  You can boil or slow-cook your chicken, too.. I just didn't want to pay either any mind, today.
But wait.. the simplicity gets even better- A small can of green enchilada sauce.
I used hot.  You can use the mild variety.
Wimps.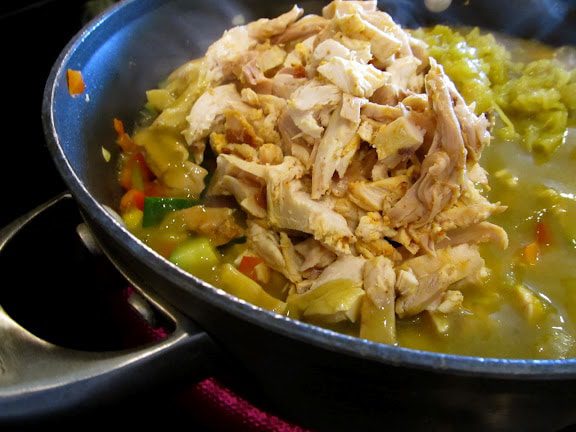 After 20 minutes, remove your tomato mixture from the oven and transfer into a food processor or blender.
Add the cilantro, lime juice, zest, pepper, and a touch of salt.  You don't need a whole lot of the salt.. since we used the canned enchilada sauce.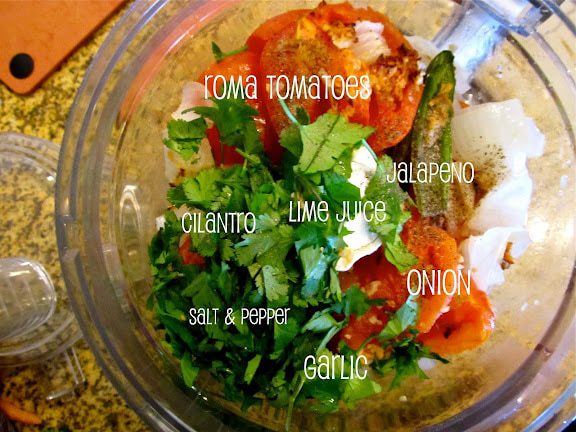 Oh, Nelly.  Hold on.. I have to search for a chip to taste test.
Yep.. delicious.  How many times have I used this recipe for salsa.. skipping out the whole casserole step?
A million.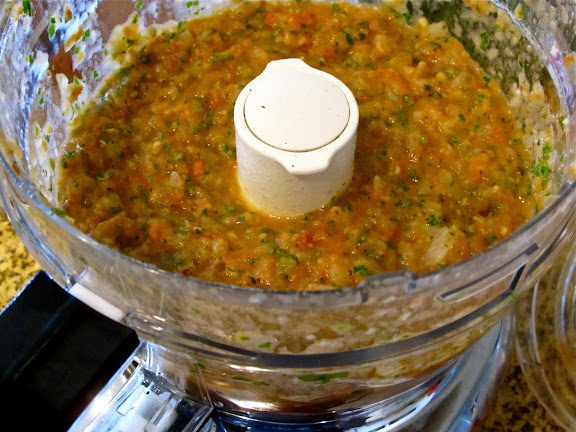 Corn tortillas make the best for layering in a mexican casserole.  The flour turn gummy and hard to cut through, if you ask me.
I'm in love with the texture of a soft corn tortilla after it has been bubbling in the midst of a spicy veggie sauce.
I could only find a package of 30 tortillas.  You don't need 30.. good thing they are easily freezable.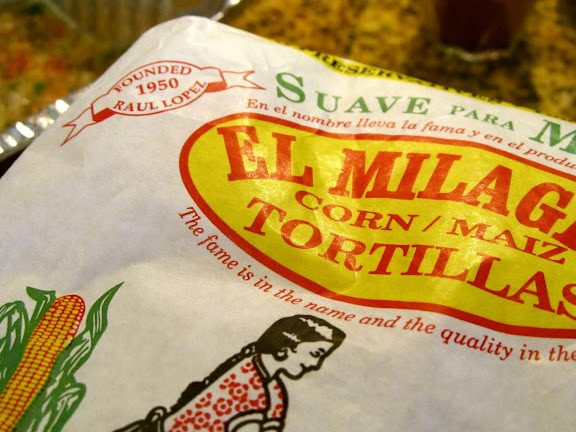 Step by step.. here we go, folks.
Layer your salsa.  I did individual dishes for my Fireman and me.  That man needs portion control.  And.. not to just throw him under the boat like that, I need it, too.
You can surely use a larger casserole dish for this recipe.  Thats what I typically use anyway.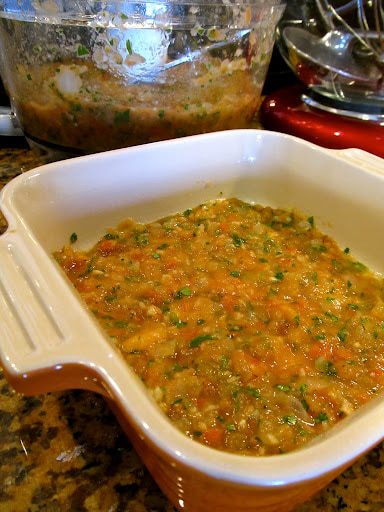 Cut your tortillas into quarters and layer to fit evenly over the bottom of your dish.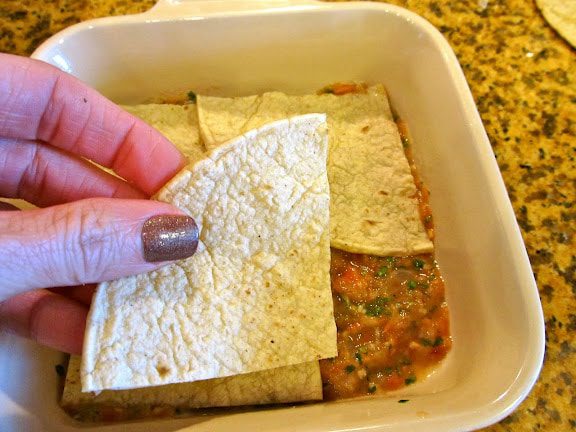 Next is the chicken and veggie mixture.
CHEESE.  Two types of cheese!  Montery Jack and crumbled Cojita.  Feta works here, too.
Bake at 350 degrees for 25 minutes, or until bubbly.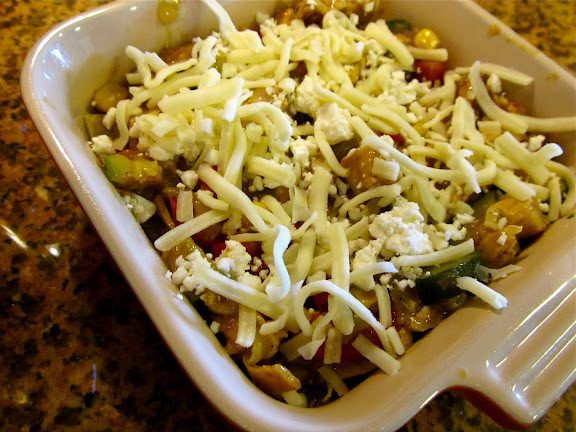 To prevent a scalded mouth, allow the casserole to rest a bit before diving right in like I did.
I can't really taste my food at the moment.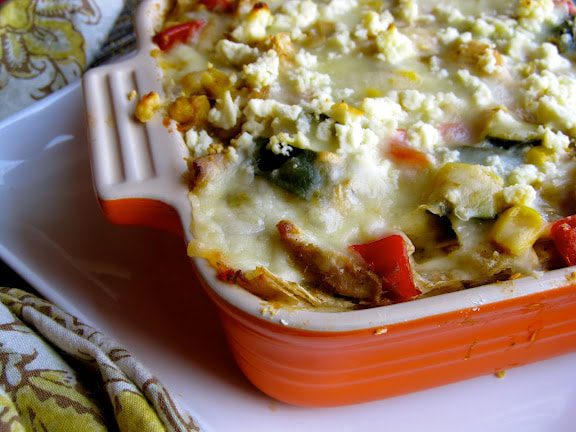 That is so unfortunate because look how good this looks.
I promise you don't want to make my mistake.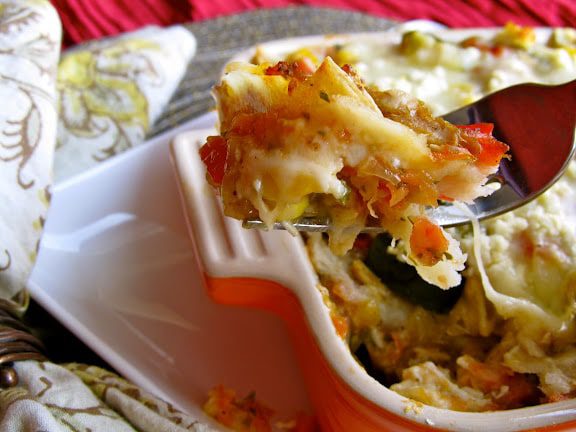 Luckily I made a larger casserole out of the remaining mixture and popped it into freeze for another time.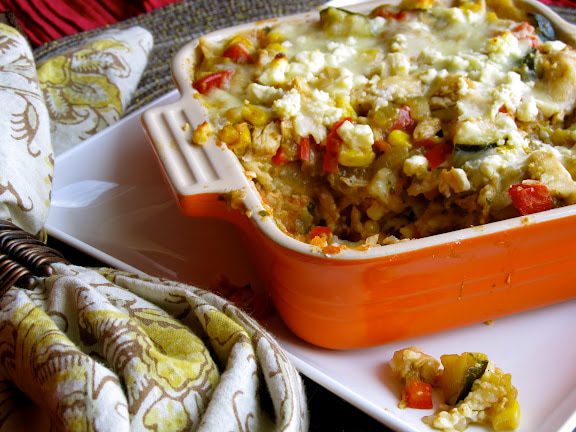 Thank goodness for that.
Mexican Chicken Casserole
Yield: 8 servings
Ingredients
Salsa:
8 plum tomatoes, halved and seeded
3 garlic cloves, peeled and crushed
1 small onion, peeled and chopped
2 seeded jalapeño pepper, quartered
Cooking spray
1/2 cup chopped fresh cilantro
3 tablespoons fresh lime juice, about 1 lime
1/8 teaspoon black pepper
1/8 teaspoon kosher salt
Casserole:
1 cup chopped onion
1 cup frozen corn kernels
1 cup diced zucchini
1 cup chopped red bell pepper
3 large chopped poblano peppers (about 12 ounces)
2 cups shredded cooked chicken breast
1 tablespoon minced garlic
2 teaspoons chili powder
1 teaspoon ground cumin
1 (10-ounce) can green chile enchilada sauce
12 (6-inch) corn tortillas, cut into quarters
1 cup (4 ounces) shredded Monterey Jack cheese
1 cup (4 ounces) crumbled Cojita or Feta cheese
Instructions
Preheat broiler. To prepare salsa, combine first 4 ingredients on a baking sheet coated with cooking spray. Broil 20 minutes or until charred, stirring once. Remove from oven; cool slightly. Place tomato mixture in a food processor; add cilantro, lime juice, salt and pepper. Process until smooth. Set aside.
Preheat oven to 350°. While salsa ingredients roast, heat a large nonstick skillet over medium-high heat. Lightly coat pan with cooking spray. Add 1 cup onion, corn, zucchini, poblanos and bell pepper; sauté 6 minutes or until tender. Add chicken and next 4 ingredients (through green enchilada sauce); sauté 2 minutes or until thoroughly heated. Remove from heat.
5. Spread 1/2 cup salsa over the bottom of a 13 x 9-inch baking dish coated with cooking spray. Arrange half of tortillas over salsa. Spoon 2 cups chicken mixture evenly over tortillas. Top with 3/4 cup salsa. Sprinkle with 1/2 cup of each cheese. Repeat layers, starting with remaining tortillas and ending with remaining cheeses.
Bake uncovered at 350° for 25 minutes until bubbly.
Nutritional Information:
Calories 315; Fat 11 g; Carbohydrate 30 g; Fiber 4 g; Protein 24 g