When I first saw this cake at Almost Bourdain, I immediately wanted to try my hand at it because I adore citrusy scents and flavours. I knew I would love this cake even without tasting it. This is my third time making it, actually 🙂 The previous 2 occasions, I didn't have time to take pictures 🙁
The star ingredient, clearly, is the orange. I used Navel Oranges and they were so sweet and juicy.
Although the recipe called for icing, I skipped it because my family prefers it plain. But still, the cake sans icing was divine. It was rich and moist without being heavy. And the fragrance! Oh, the fragrance was unbelievable!
This cake goes beautifully with tea. One slice is not enough.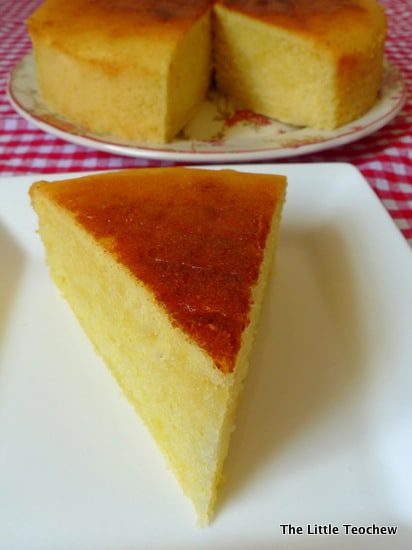 Here's the recipe which I lifted verbatim fromAlmost Bourdain.
谢谢 Ellie!
Recipe
(Adapted from Rick Stein's Mediterranean Escape)
Makes 1 x 22-cm cake, to serve about 8
– 250 g lightly salted butter, at room temperature, plus extra for greasing
– 250 g caster sugar
– 4 medium eggs
– 1 1/2 tsp finely grated orange zest
– 250 g self raising flour
– 85 ml freshly squeezed orange juice
For the icing:
– 125 g icing sugar
– 5 tsp freshly squeezed orange juice
1. Preheat the oven to 170C. Grease and line a 22-cm clip-sided round cake with non-stick baking paper.
2. Using an electric whisk, cream the butter and sugar together for 4-5 minutes until very pale. Beat in the eggs, one at a time, beating very well between each one, if necessary adding a spoonful of flour with the last egg to prevent the mixture from curdling. Beat in the orange zest. Add the flour all at once and mix in well, then slowly mix in the orange juice.
3.Spoon the mixture into the prepared tin and bake on the middle shelf of the oven for 45-50 minutes or until a skewer, inserted into the centre of the cake, comes out clean. If it starts to brown too quickly, cover loosely with a sheet of lightly buttered foil.
4. Leave the cake, in its tin, to cool on a wire rack, then carefully remove the sides and base of the tin and peel off the paper. Put it onto a serving plate.
5. For the icing, sift the icing sugar into a bowl and stir in the orange juice until you have a spreadable consistency. Spread it over the top of the cake, letting it drip down the sides, and leave to set. Serve cut into slices, and store any leftovers in an airtight container.