School's almost out and I have been taking it real easy. My kids and I go out a lot more these days, and naturally, we end up eating out too. As such, I haven't been cooking much, but I managed to sneak a cake in this week.
I have been wanting to make this cake for way too long. But I kept putting it off because I didn't have sour cream – the supposed magic ingredient touted by Nigella. So it stayed on my to-do list … and would have continued staying there if not forZ of ovenhaven. She baked this cake and her photos immediately jolted me into finally baking it.
Ironically, I didn't use sour cream eventually! I had half a packet of creme fraiche, and I thought I could sub, since both were sour and creamy 😉 Haha! I also didn't use the frosting recipe, because it called for golden syrup and I was not about to go out and buy a bottle just for that. Instead, I opted for a creamy chocolate frosting (a light, chocolate malt-coloured cream as opposed to a dark, glistening ganache).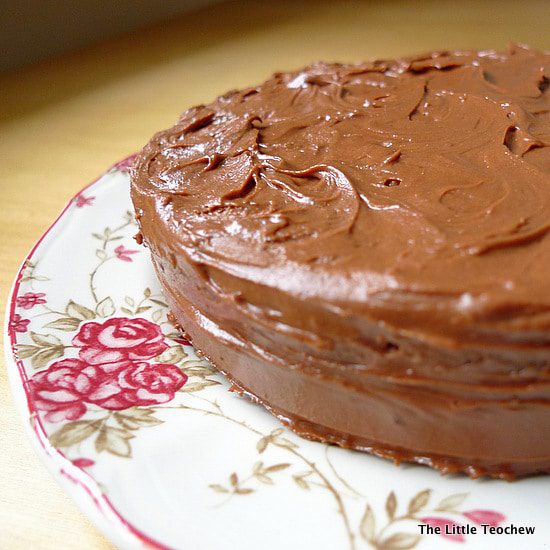 It turned out to be a fabulous cake! My family loved it (aside, if you have been reading my blog, you can tell by now that we love our chocolate). I made this cake under a lot of stress though. The kids were giving me grief by rushing me. I did everything at breakneck speed, honest. This must have been one of the quickest cakes I have ever assembled, if not the quickest! I couldn't even make 2 layers as originally intended.
Now, the only way to frost using such a viscous buttercream (in a hurry, I might add) is to make swirls. I couldn't think of any other way. Plonk all the buttercream on top and then spread them out. Make small swirls ala Vincent Van Gogh'sStarry Starry Night.
Then there was the mad rush of taking photos. My elder son was so impatient, he followed me and watched as I made good my promise to take "just a few shots". Indeed, after 10 shots (which I randomly took from all angles), I sliced the cake, and they finally left me alone … for a short while. Why? They came back for seconds! In the end, I gave up. So, here they are. Thank goodness the photos turned out decent enough to post. But you know what? Even if they didn't, I would have still posted them, warts and all … because this cake is just too good 🙂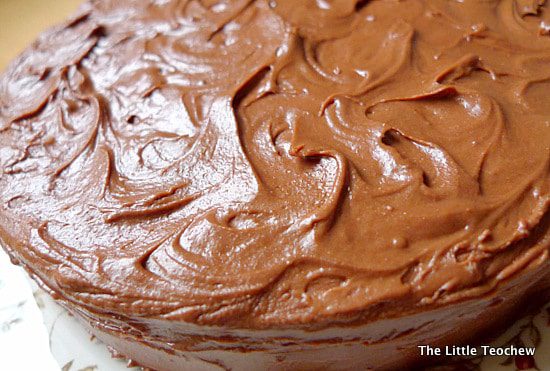 Recipe for Cake
(adapted from my ultimate Domestic Goddess, Nigella Lawson – here)
– 200g plain flour
– 200g caster sugar
– 1 teaspoon baking powder
– 1/2 teaspoon bicarbonate of soda
– 40g best-quality cocoa
– 175g soft unsalted butter
– 2 large eggs
– 2 teaspoons real vanilla extract
– 150ml sour cream (which I subbed with creme fraiche)
* Note that I halved everything to make a cake just right for my family size. The other reason being, my oven is just too small to accommodate 2 cake tins. Yes, THAT small. Sad.
1. Take everything out of the fridge so that all the ingredients can come to room temperature.
2. Preheat the oven to gas mark 4/180°C and line and butter two 20cm sandwich tins with removable bases.
3. Now all you have to do is put all the cake ingredients – flour, sugar, baking powder and bicarb, cocoa, butter, eggs, vanilla and sour cream – into a food processor and process until you have a smooth, thick batter. If you want to go the long way around, just mix the flour, sugar and leavening agents in a large bowl and beat in the soft butter until you have a combined and creamy mixture.
4. Now whisk together the cocoa, sour cream, vanilla and eggs and beat this into your bowl of mixture.
5. Divide this batter, using a rubber spatula to help you scrape and spread, into the prepared tins and bake until a cake tester, or a thin skewer, comes out clean, which should be about 35 minutes, but it is wise to start checking at 25.
6. Also, it might make sense to switch the two cakes around in the oven halfway through cooking time.
7. Remove the cakes, in their tins, to a wire rack and let cool for 10 minutes before turning out of their tins. Don't worry about any cracks as they will easily be covered by the icing later.
Additional Info from Nigella:
– I tend to keep my kitchen stocked with very good dark chocolate buttons (70 per cent cocoa solids) as this entirely dispenses with any need to chop chocolate before melting it. Do not dream of using normal confectionary ones (except just to eat, of course).
– I love to dot the top of this with sugar pansies – and you must admit, they do look enchanting – but there really is no need to make a shopping expedition out of it. Anything, or indeed nothing, will do.
– If you want to use Nigella's icing recipe, you can find ithere.
Recipe for Creamy Chocolate Frosting
(from Allrecipes – here)
– 170 g confectioners' sugar
– 15 g unsweetened cocoa powder
– 45 g butter
– 40 ml evaporated milk
– 3 ml vanilla extract
* Note that this recipe is enough for 6 servings. If you want to bake a bigger cake, you can input your desired serving size at Allrecipes (click on the link) and the corresponding measurements will be re-calculated.
1. In a medium bowl, sift together the confectioners' sugar and cocoa, and set aside.
2. In a large bowl, cream butter until smooth, then gradually beat in sugar mixture alternately with evaporated milk. Blend in vanilla. Beat until light and fluffy. If necessary, adjust consistency with more milk or sugar.