Now that it's January, I am bombarded with a plethora of fitness and/or health missions around every corner.  Whether it be in my job, or with friends or family and their NY resolutions, or the news talking about the latest diets and exercise, and even my pinterest reel has jumped on board- my feed is filled over and over again with exercise moves to tighten the belly, butt, and abs, as well as recipes for weight loss (mostly of the liquid form- and all wrong, might I add).  And, let us not forget the perfect formula for diminishing the dreaded 'love-handles'..  Yep- you can find anything on the internet.

I really haven't made any resolutions.. I never do, to be honest.  But now, post-babies, I really feel the need to get back into the swing of things and doing what I used to do- like actually cooking for me and my Fireman in a regular basis.  While in bed rest I was restricted from the kitchen and my Fireman happily stepped in to do the shopping and the cooking and did an outstanding job in providing for us where I once did.  But, we really relied on easy, convenient quick meals (chicken, starch, and frozen vegetables hit the table most often)  and definitely ordered pizza a time or two.

I was eager to meal plan for the first time and get the ball rolling.  I almost felt out of my element going to the grocery store.  Not to mention actually making the trip- I hadn't driven a car since August 30th (yes, seriously),  It was so weird.  I drove without the radio and didn't even realize it until I reached a stop light halfway to Market Street.

When meal planning, often I resort to my CL magazines for inspiration, but I most often will scroll through my recent 'pins' on pinterest to see if anything sparks my fancy for cooking up.  Some important criteria for my meal inspirations?  I really seek out healthy- or with potential to be made healthier- and of course heavy on the vegetables and whole grains.  We adore vegetables of any kind in this house.  I've even made a believer out of my Fireman of the amazing-ness of the Brussels Sprout.

That recipe title catch your eye… err, belly?  Yea.  Me too.  Totally playing my heart-strings and making me hungry just thinking about how yummy-diddly-umptious it was.  I'm all about the  b'squash this time of year, and throw Mexican in there with it, and I'm in!
I took the easy route and used pre-chopped butternut squash that was in the prepared vegetables area of my grocery's produce section.  Probably saved me a good 10 minutes of chopping.  Feel free to garnish with whatever you please – I chose to use more fresh tomato, cilantro, and diced purple onion.   Black olives would be awesome over top, too!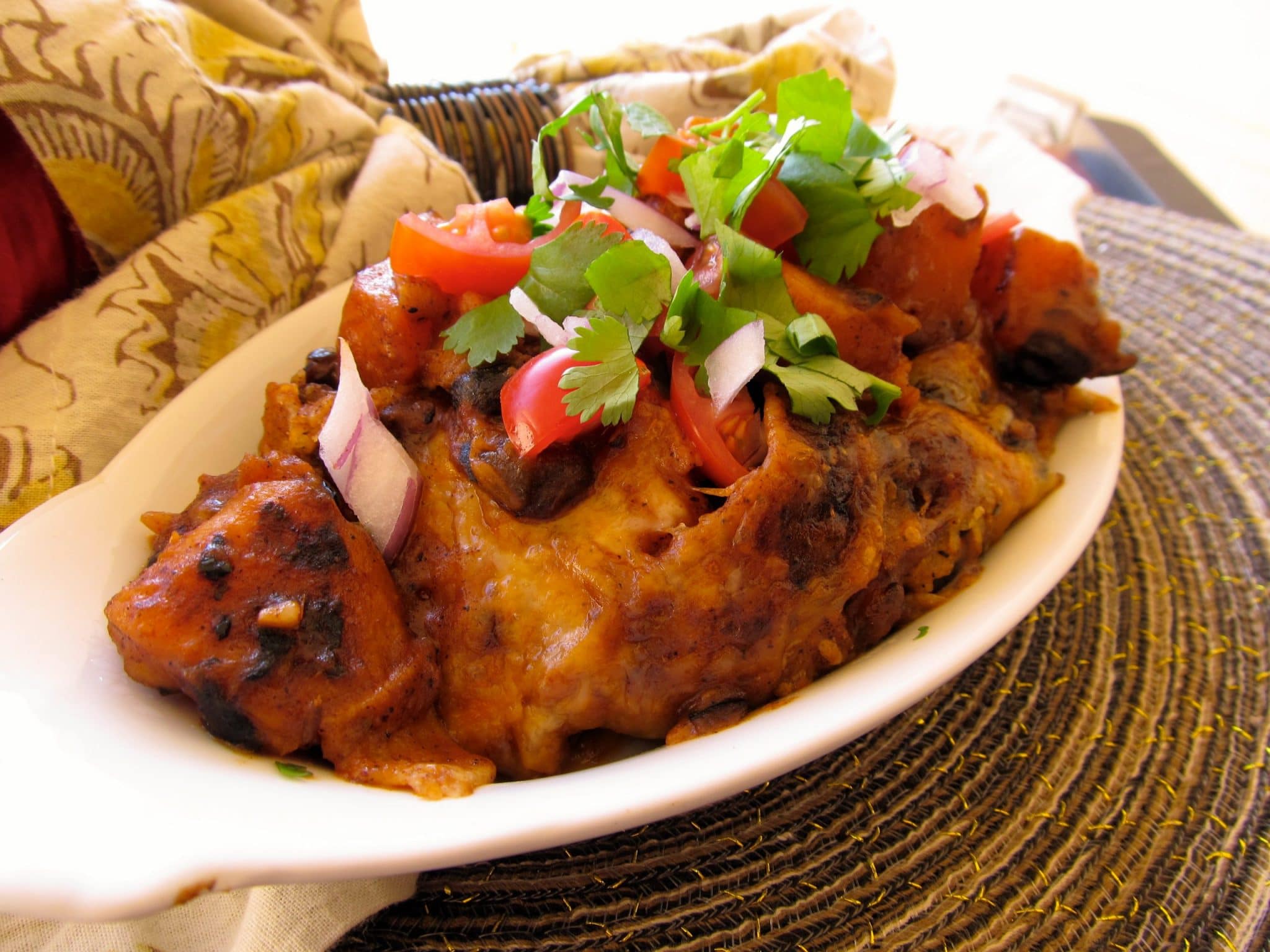 Butternut Squash & Black Bean Enchilada Skillet
Yield: 6 Servings
Ingredients
2 teaspoons olive oil
3 cups diced, peeled butternut squash
1/4 teaspoon salt
1/4 teaspoon pepper
1 medium sweet onion, diced
3 cloves of garlic minced
2 jalapeño peppers, seeded and diced
1 teaspoon cumin
1 teaspoon chili powder
1 teaspoon smoked paprika
1 (15 ounce) can no salt added black beans, rinsed and drained
1 large tomato, chopped
8 white or yellow corn tortillas, cut into thick strips
1 (10 ounce) can red enchilada sauce
1 cup reduced-fat colby jack, divided
Garnish: cilantro, tomatoes, and low-fat sour cream, for serving
Instructions
Heat olive oil over medium-high heat in large oven-proof skillet. Add onions, garlic, and jalapeno and cook 2-3 minutes until onions become translucent and garlic is fragrant. Add cubed squash, cumin and chili powder and season with salt and pepper. Cook, stirring occasionally, until the squash is fork tender, 8 to 10 minutes.
Next add the black beans, corn tortilla pieces, and can of enchilada sauce and stir to combine.
Reduce heat to medium-low and sprinkle in 1/2 cup of cheese. Stir again and simmer for a few minutes. Turn on your oven broiler to high. Sprinkle an additional 1/2 cup of cheese over the top of the enchilada mixture and place in oven under broiler for 3-5 minutes until cheese melts and tortilla edges become a tiny golden brown. Remove from heat and serve immediately.
Feel free to add in cilantro. Serve with sour cream, guacamole, or hot sauce!
Nutritional Information:
Calories: 252; Fat: 6.4g; Carbohydrates: 38.5g; Fiber: 7.5g; Protein: 12.8g