Garlic, ginger, white pepper, salt and soy sauce… that are all we need to compost a comforting warmed oven grilled chicken. I love the way the flavors dance in our months and the succulent meat melt away. However, when a small family like ours makes an effort of grilling a whole giant bird, no matter what, we always devour it like there is no tomorrow, the massive pile of leftover maturate over the serving tray. The breast, especially, which is dry and bland unlike the juicy legs and wings that usually wrapped in fatty crispy skin. Nobody wants to touch it the next day.
So what do I do to magically modify the dry and tasteless chicken breast that everyone is avoiding to a juicy delicious dish that nobody can resist? The answer lays on the glorious shade of green and the crunchy fresh Chinese cabbage leaves.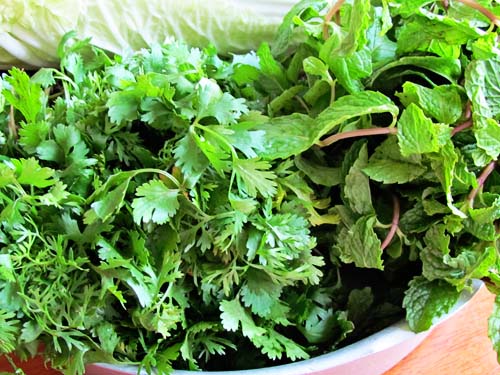 The fresh mint scent sprays up the air as soon as I got close to it, and coriander, too, gives the smells so pure and full of life. While I was washing them in the sink, my kitchen was perfumed with vibrant odors. Chinese cabbage was briskly fresh, sparging my face with fresh fluid while I was tearing the juicy stem off.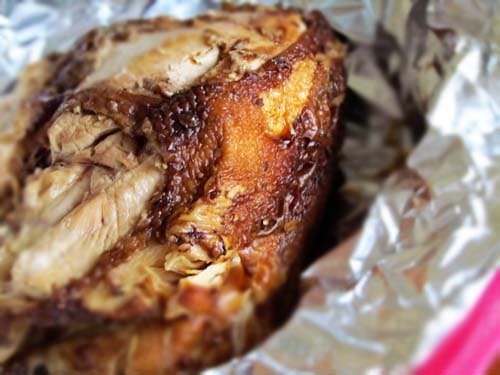 These splendid fresh green and white avail the simple chicken breasts to a flavorsome bite.
This simple Asian inspired cabbage wrap with chicken, mints and coriander leaves also need a generous spoonful of creamy sweet and toasty groundnut sauce. The sauce is simple and perfect balanced nutty and crunchy gravy. Though the sauce looks really simple but the way the flavors muddle in the crunchy and juicy wrap makes it uniquely delicious.
Groundnut Sauce
Ingredients: (makes about 2 cups)
1 cup groundnuts- roasted, peeled
3 1/2 tbsp brown sugar
3 cloves garlic
1 green chili
2 1/2 tbsp vinegar
2 tbsp fish sauce or to taste (you can use salt if prefer)
1 Lime- juiced
3/4 cup hot water
Method:
Dry roast groundnuts until cooked and lightly brown. Peel off the skin and keep aside.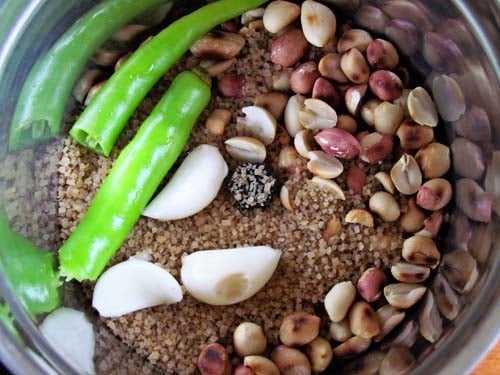 Transfer roasted groundnuts, brown sugar, garlic and chili into the blender.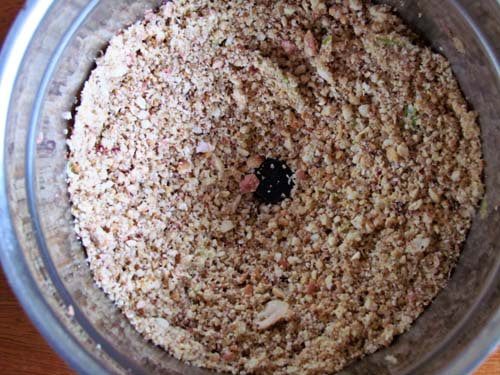 Coarsely grind into a grainy mixture.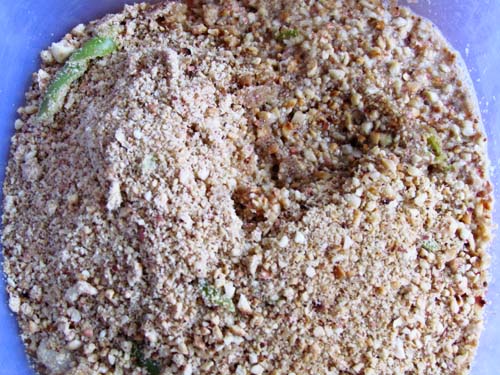 Add vinegar, lime juice and fish sauce.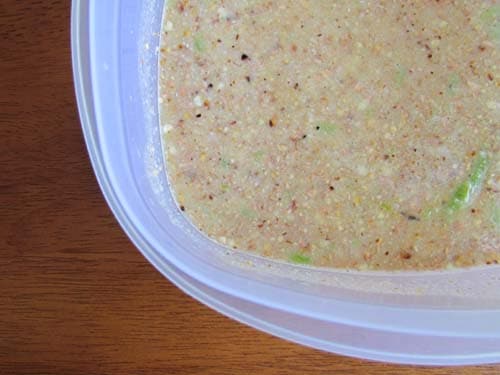 Add hot water and stir.
Check the flavor and the consistency of the sauce.
The sauce should be slightly thick, sweet, sour, and balance.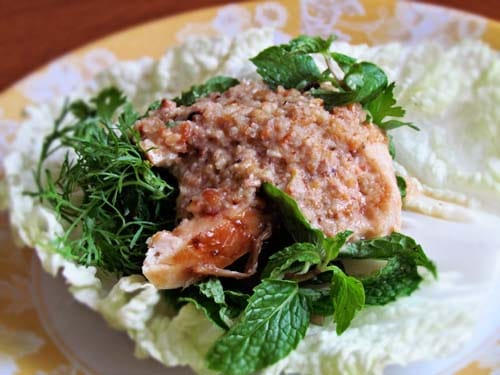 Assembling the Wraps:
Pick, clean and wash mints and coriander and keep aside.
Separate cabbage leaves, trim the stems, and wash in running water. Keep aside.
Heat the leftover grilled chicken in Microwave for 2 minutes, slice into bite size. Keep aside.
Add some mints, coriander leaves and chicken in the cabbage leaves.
Pour over with some sauce and serve.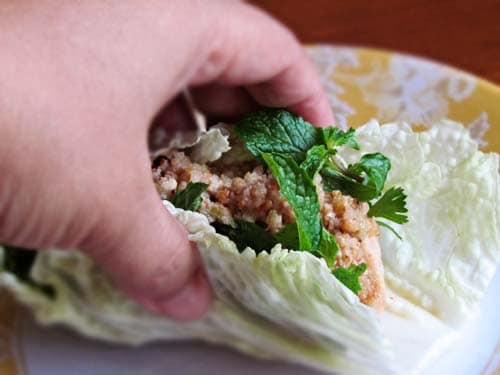 We enjoyed wrapping up the big bites and eat them immediately at the dinning table. I was surprise to see how Yaseen enjoyed these fresh wraps very much. It was refreshing and robust. The flavors were well balanced and the texture was exciting and lively. The best bite so far this year
Have you been wrapping up some fresh leaves lately? What's your favorite wrap recipe?
Take care,