"It's beginning to look a lot like Christmas …"
I saw some really red, ripe and juicy tomatoes at the market and I instantly wanted to makeMee Goreng. They are a must-have ingredient for me, for the lil explosions of refreshing tartness they bring. But, they have to be really ripe – like, on-the-verge-of-turning-into-juice kinda ripe. If I don't have them, I would rather not cook Mee Goreng – that's how essential they are.
There are many variations of Mee Goreng, but for me, this version was what I grew up eating and loving. It calls for plenty of ketchup andLingham's Chilli Sauce.
I like that it's so versatile. What I cooked today was totally meatless, but at times, if I feel like it, I throw in chicken fillets, prawns and squids.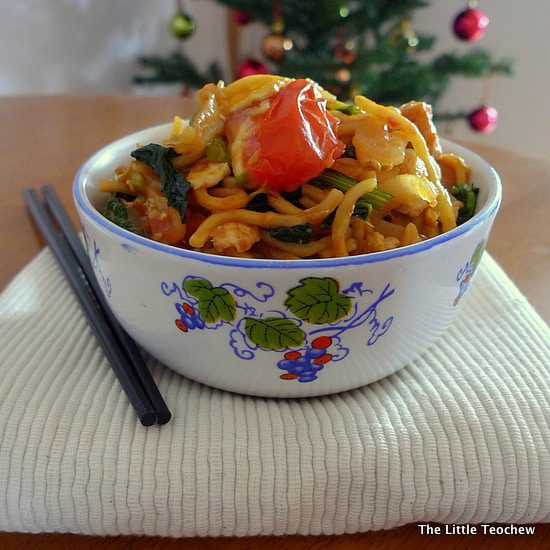 It took all of 20mins to prepare the ingredients and fry up the noodles into a delicious mess. Totally satisfying … and chock full of veggies and tofu too!
Recipe
– Fresh yellow noodles, rinsed briefly (I used about 400g, I think)
– 1 generous handful bean sprouts
– 2 eggs, lightly beaten
– Lots of chye sim (or any green, leafy veggies)
– Half a big onion, sliced thinly
– 3 very ripe and juicy tomatoes (cut into wedges)
– 2 large tofu puffs (sliced)
– 1 small square firm tofu (aka tau kwa), cut into thick strips and fried briefly so that they hold they shape
– 3 cloves garlic, minced
– 2 stalks spring onions, cut into 1 inch strips
Seasoning (mix together)
– 4 or 5 tbsp tomato ketchup
– 3 tbsp Lingham's chilli sauce (or any other chilli sauce)
– 1 tbsp kicap manis (or dark soy sauce if this is unavailable)
– Pinch of salt
– About 200ml of water (I am guessing here because I usually eyeball as I cook – use more if you want your noodles wetter and vice versa, obviously. I like my noodles a little on the moist side.)
* Note: Adjust the proportions according to your taste preferences. The beauty of such noodle dishes is, you literally cook how you like to eat.
1. Heat some oil in a wok. Briefly scramble the eggs and set aside.
2. Fry large onion slices until they sweat and turn translucent. Add garlic and fry briefly till aromatic.
3. Throw in spring onions, leafy veggies and bean sprouts. Add some water if too dry. Fry on medium heat till slightly cooked.
4. Throw in tofu puffs, tomato wedges and yellow noodles.
5. Pour in seasoning and fry everything, mixing all the ingredients up.
6. Add the pre-fried eggs and firm tofu (aka Tau Kwa) and stirfry a little more. This is where pre-frying the tofu strips helps keep their shape.
7. Taste test and adjust accordingly. Serve piping hot. Yum!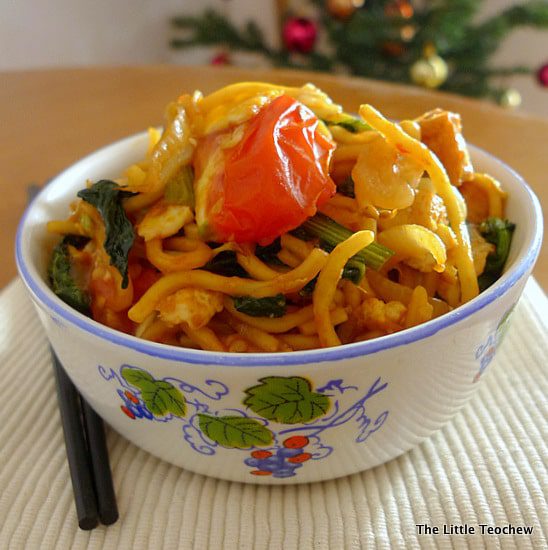 Chow time! Let's dig in …