Here's a dish which I would categorise as real, unpretentious, homecooked fare. It is simple. And cheap. And easy. AND so delicious. It's called NyonyaCincalok Omelette and it's something you might want to consider whipping up as a light meal or as a side dish. That is, if you like stinky food in the first place. Me? I adore it!
Cincalok, belacan, hae ko, fish sauce … you name it, I love it (although I draw the line at petai, sorry!).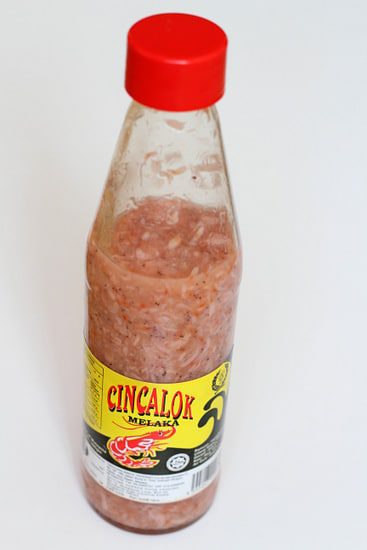 WheninSing featured this dish (contributed by Debbie Teoh, cookbook author and Nyonya food consultant for Tourism Malaysia), I was totally sold. After all, I am such an eggs person! 😀 Also, with the recent rainy weather, it looked like perfect comfort food to have with white porridge. Mmmm …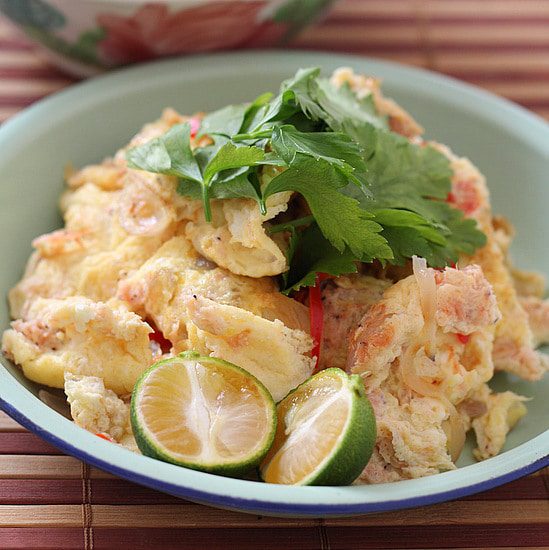 Recipe
(from inSing)
Cincaluk or cincalok are made from fermented shrimps or "gerago" or "geragau", as the locals call them. Found along the shores of Malacca, these shrimps are less commonly available today as more beaches are being reclaimed. One Nonya favourite using this shrimp paste is the cincaluk omelette, whose taste is fully enhanced with a squeeze of kalamansi lime.
Serves 4
Ingredients
– 5 to 6 tablespoons cooking oil
– 2 tablespoons Cincalok
– 3 grade A eggs
– 1 big onion, peeled and sliced
– 4 bird's eye chilli, sliced (omit if you can't take the heat)
– 1 big red chilli sliced
– Pinch of ground white pepper
– Salt to taste (optional, I omitted because it was salty enough for me)
Garnishing:
– 2 kalamansi lime, squeezed over the omelette before serving (substitute with regular lime if you can't find kalamansi)
1. Heat oil in wok, sauté the chillies and big onions until fragrant.
2. Add the eggs and give it a stir before adding the Cincalok and cooking it over low to medium heat. Adjust seasonings to taste. Omit the salt if it's already tasty enough.
3. Once the omelette starts to set, flip it over and brown the other side. I like my eggs to be slightly tender on the inside, so I don't cook for too long.
4. Remove from wok and serve omelette with steaming white rice. Squeeze the lime juice over the omelette and enjoy. I only used one half of the lime and I thought it was sufficient. My helper, on the other hand, preferred it without the lime. Well, different strokes for different folks.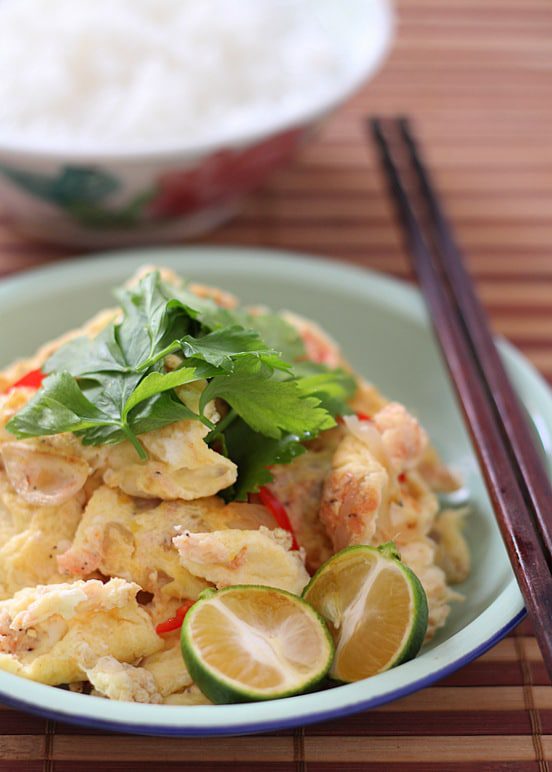 If you notice, my omelette is in a very pale shade of yellow because instead of using 3 eggs like the recipe stated, I used only 2. I had 2 egg whites leftover from makingSpaghetti Carbonara for my children the night before, so I conveniently used them up for this dish. See, it's a great way to clear out the odd yolk or white you have sitting in the fridge!
PS: I used this (and another yellow) enamel plate for my guest post forRasa Malaysia. Some of you emailed me to ask where I got them from. In Singapore, they can be found at those shops which sell "household" items (those that sell mops, pails, pots & pans, etc). I found THREE such shops selling these plates near my home, which means, they must be quite easily available. This green one costs S$1.70 and the other smaller yellow one costs only S$1.30 … and I love how they trigger childhood memories the moment I serve my food in them!