My 7 years old boy Yaseen just loves tofu and paneer (Indian Cottage Cheese). When we go grocery shopping at a supermarket, he usually runs to the cold storage section and grabs a few blocks of tofu or paneer by himself. He is very particular about how he wants them to be cooked. For tofu, he likes it to be deep fried and served with peanut sweet chili sauce. He also likes tofu to be braised along with eggs in soy sauce and Chinese Five Spice Mix.

I don't use paneer much in my cooking because I simply don't know many ways to cook it. Most of the time, I just use paneer as meat-substitute, but very rarely, because I find it to be quite heavy. Yaseen, on the other hand, will enjoy it any chance he gets. It's soft, hot and delicious; and if you forget about all the calories, you will probably want to eat it every day.
Anyway, I just made a little snack for Yaseen and I this afternoon. I just want to share this easy foolproof recipe because I know it will come in handy when you're lazy and you need quick simple food. It's ridiculously simple, and you can do the whole thing under 5 minutes. It's good as appetizer or you can just have it as snack like us.
Spiced Paneer (Indian Cottage Cheese)
Ingredients:
200 gm Paneer- cut into bite size
2 cloves garlic- minced
Half onion- sliced
½ tsp salt or to taste
1 tbsp ketchup
1 tsp yellow curry powder (You can use any of your favorite spice mixes)
1/2 tbsp oil
Some chopped coriander leaves for garnishing
Direction:
Heat oil in a large non-stick pan over medium heat, and when the oil is hot sauté garlic and onion until aromatic.
Add paneer, yellow curry powder and salt to taste. Gently stir for 3-4 minutes. You need to be careful because paneer is very delicate. The paneer should be golden on the outside and melting soft on the inside.
Add ketchup and lightly toss it. Turn off the heat and add some fresh coriander leaves for garnishing.
Serve hot and enjoy.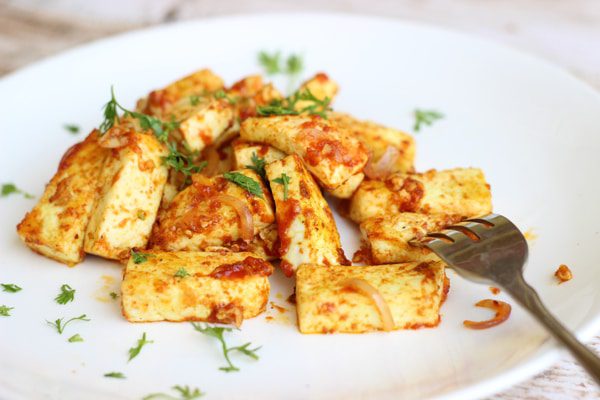 Love,