Exciting things are happening…
Did you look up?  Up there.  In the big bar that tells you where you are.  Yes!  There!  I'm a .com!  I don't know what I'm more excited about, that I've got some website legitimacy or that I managed to make the transition without yelling at my computer, walking away and asking Paul for help.  Not that I ever do that…
Thank you for your seriously awesome response to the Black Bean Brownie post earlier this week.  I'm excited that you're excited!  The only sad thing about now being a .com is that I lost all of the comments I once had from people who read and left their thoughts.
With all the changes plus the actual job I have plus the start of a new semester plus the leftovers from the January term, it's been a crazy week.  I came home the other night and I just wanted a cookie.  Specifically a lemon cookie.  I don't think I've ever made a lemon cookie before and the internet is full of "use boxed cake mix"recipes for lemon cookies.  No thank you, not today.
I want real lemon flavor from actual lemons!  What's a girl to do?
Do it herself, that's what.
Enter Lemon Vanilla Drop Cookies:
I took a classic recipe for vanilla drop cookies and gave it a lemony twist.
The thing about drop cookies is, well, you drop them onto the cookie sheet.  It doesn't make for the prettiest cookie you've ever seen, maybe not as Pinterest worthy as the perfectly shaped and textured flatter cookies you get from other recipes, but the flavor and texture are so worth it.
You can add to the fun of these by sprinkling them with lemon sugar. (Here's how to make it.)
Lemon Vanilla Drop Cookies
Adapted fromHow to Cook Everything
Time: about 30 minutes / Yield: about 2 dozen
Ingredients
8 tbsp (1 stick) unsalted butter, softened
3/4 cup sugar
1 tsp vanilla extract
1 egg
2 cups all-purpose flour
1/2 tsp baking powder
pinch of salt
1/4 cup milk
zest of two large lemons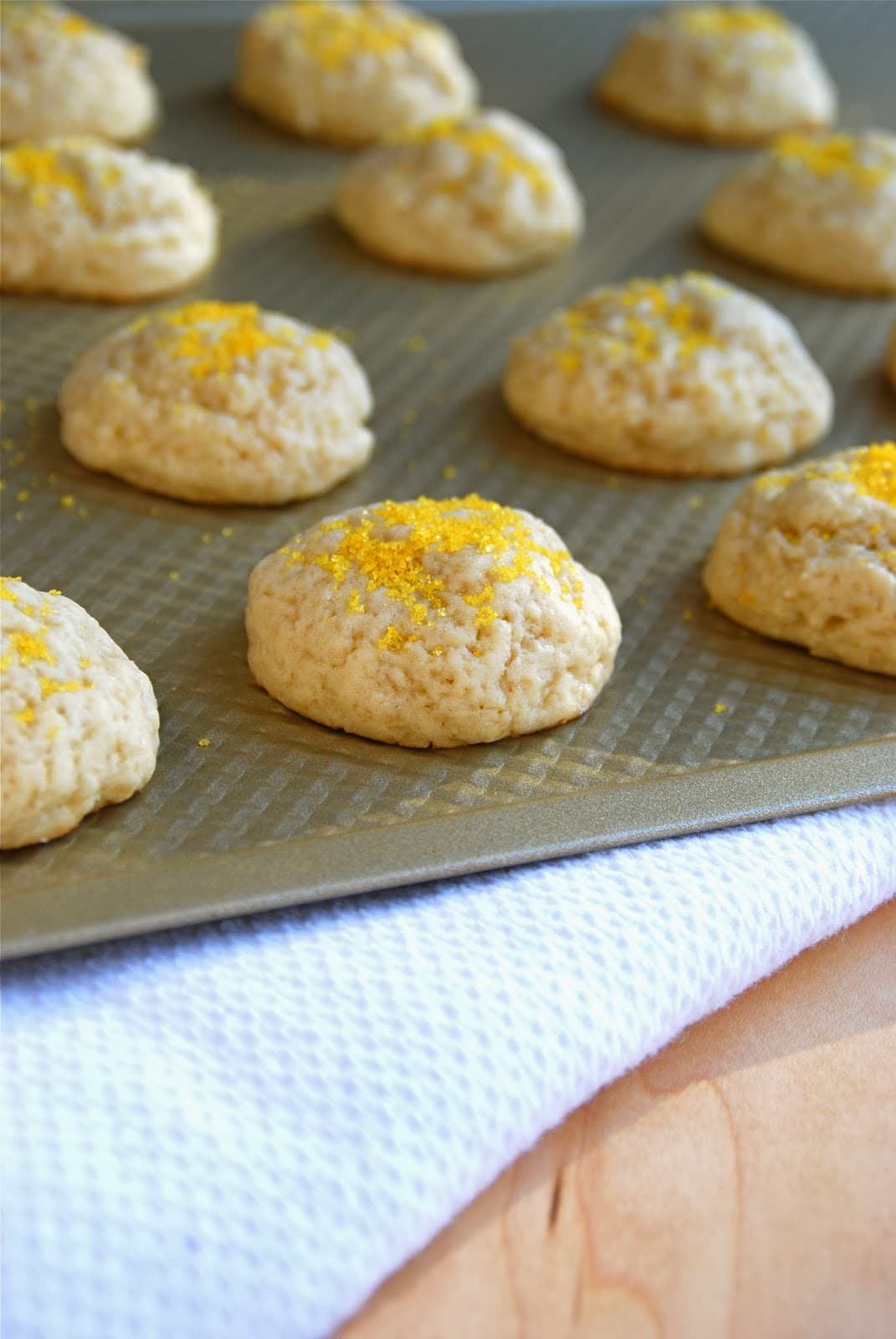 Heat oven to 375º and line a baking sheet with parchment.
Using an electric mixer, cream the butter and sugar.  Add vanilla and egg and beat until well blended.
Combine the flour, baking powder, and salt in a separate bowl.  Add half the dry ingredients to the butter mixture and beat a few seconds until just combined.  Add the zest and the milk and beat for 10 more seconds, then add the remaining dry ingredients.
Drop tablespoon sized mounds of dough about 3 inches apart on to prepared baking sheet.  Bake until edges are lightly browned, about 10 minutes.  Transfer to a rack for cooling.
Each of these delicious morsels has the following stats: