Thanksgiving came early at my house (apartment).  I baked this pie the other day and made myself sick on it, it was so good.  I froze the leftovers, too!  Chocolate pecan pie is my absolute favorite pie, I think.  I always have to bake one every year.  Are you a pecan pie fan?  I can see why people wouldn't like it.  It's pretty intense… it's just so rich.  I'm immune to rich desserts, though.  It's one of my favorite qualities about myself.
I've had some bad pecan pie before, and I bet you've had some too.  I think bad pecan pie happens when you overbake it; the egg gets all weird and scrambled.  I can't say I've ever overbaked pecan pie before, but I've underbaked it, creating a runny mess on Thanksgiving.
I've been testing out some Thanksgiving dessert ideas lately, and I think you'll like this one.  I'm giving you this recipe early so you can test it out before the big day if you want to!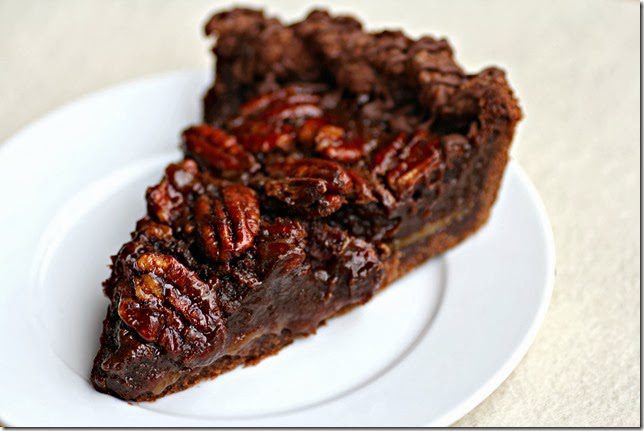 This is a double chocolate pecan pie, meaning the pie crust is chocolate, and the filling is chocolate, too.  Thankfully, I had some good chocolate to use!  Ghiradelli sent me some samples of new products they have (No, I'm not being compensated for telling you about them!  I just really like their chocolate.).  I used their unsweetened cocoa powder in the pie crust and it worked fabulously.  I used the sweet ground cocoa in a chocolate cake I made the other day.  I kind of ruined the cake with a chocolate cream cheese frosting, in my opinion, so I don't think I'll post that recipe (I don't love cream cheese that much).  I used the white melting wafers to dip red velvet cake balls in, and I've used the dark melting wafers in cookies.  I would definitely recommend any of these products.  The cocoa is rich and has a lot of flavor, and the melting wafers are good quality.  I usually don't like melting wafers because they taste weird, but I'd use these.  The only thing I don't like is the melting wafers do contain partially hydrogenated oil (which all melting wafers have, I think).  Is there a way to leave that out?  Maybe?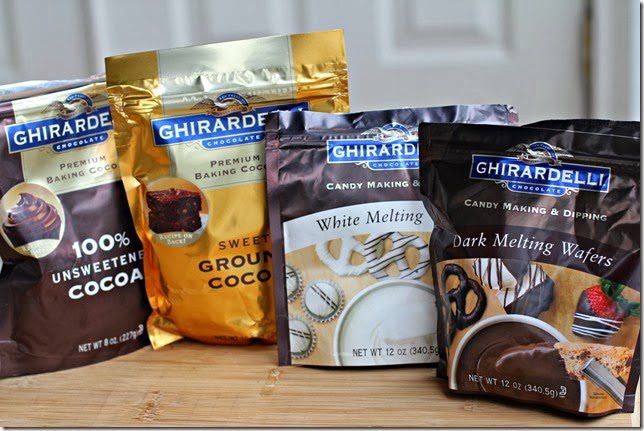 Eric and I have been enjoying these hot cocoas – they're wonderful.  Eric likes the chocolate mocha and I like the chocolate caramel the best.  We've been stirring them into our morning cup of joe.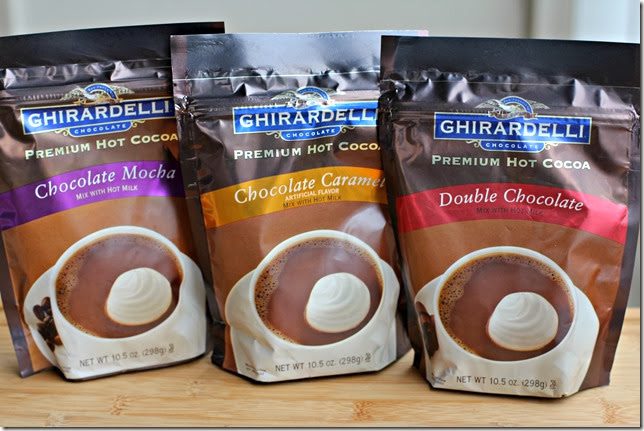 Thanks, Ghiradelli for the samples!  I'll be posting another recipe using the white melting wafers soon.
Anyway, back to the pie.  The crust is your basic all-butter pie dough, except it's made with cocoa powder.  The filling is made from browned butter, dark corn syrup, brown sugar, eggs, vanilla, melted semi-sweet chocolate and pecans.
I'll tell you a little secret: I toasted the pecans before whisking them into the filling.  Do not, I repeat, do not use untoasted pecans in pecan pie!  I cannot stress this enough.  It makes a world of difference.
Ingredients:  
 Chocolate Crust
1 1/2 cups all purpose flour
1/4 cup Ghiradelli unsweetened cocoa powder
2 tablespoons granulated sugar
1/4 teaspoon salt
8 tablespoons cold unsalted butter, cut into small pieces
4 tablespoons ice water
2 tablespoons unsalted butter
3 large eggs
1 cup dark corn syrup
1/2 cup brown sugar
4 ounces Ghiradelli Semi-sweet chocolate baking bar, melted
1 teaspoon vanilla extract
1/8 teaspoon salt
1 1/2 cups pecan halves, toasted (I toasted mine in a 325 degree oven for 12 minutes)
Instructions: 
In a large mixing bowl, sift together flour, cocoa powder, sugar and salt.  Knead in butter, using fingertips, until well incorporated and mealy.  Toss in the ice water, a tablespoon at a time, until dough is moist.  Use your hands to gather the dough into a ball; shape into a disc.  Wrap the dough in plastic wrap and chill for 30 minutes.
Roll dough out thinly, on a lightly floured surface, into a round that fits the size of the pie dish; transfer dough to pie dish and crimp edges.  Chill in refrigerator for 20 minutes.
Heat oven to 325 degrees F.
Melt butter in a small saucepan over medium heat; cook and whisk until butter starts to foam and turn golden brown.  Transfer browned butter to a large mixing bowl; whisk in eggs, corn syrup, brown sugar, melted chocolate, vanilla and salt until well combined.  Stir in pecans.  Pour mixture into pie shell.
Bake 50-55 minutes, or until pie filling just barely jiggles.  Cool on a wire rack.
Makes 9 servings