I love the smell of fresh mint so much that I usually buy it without thinking what I am going to do with it. I put away lovely fresh mint last night in my refrigerator and when I opened it in the morning, the pure exotic fragrance of these green leaves hit me. I knew right away that I needed to eat them immediately.
This recipe is one way to show off the beautiful fresh aroma of mint. Something about fresh mint leaves with sweet creamy peanut sauce with crunchy vegetables made me really addict to it. So today I went a little bit more….  I served fresh spring rolls with peanut sauce for breakfast
Fresh Spring rolls with Creamy Peanut Sauce
Ingredients: (4 servings)
For Chicken
2 chicken breast fillets (about 300 gm)
4 cloves garlic
1 lemon grass- sliced
1 tsp white peppers
1 tbsp light soy sauce
1/2 tbsp oil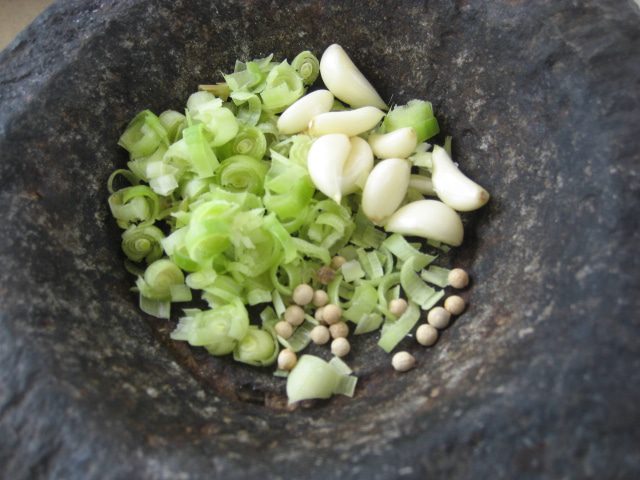 Roughly grind lemon grass, garlic and white pepper.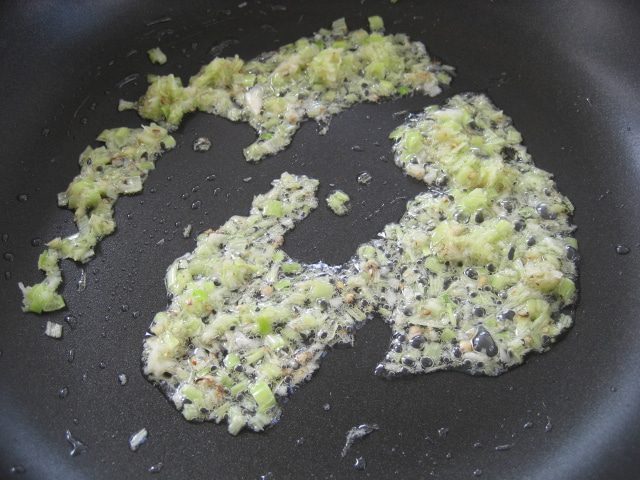 Heat oil in the pan over the medium heat and add the lemon grass, garlic and white pepper mixture.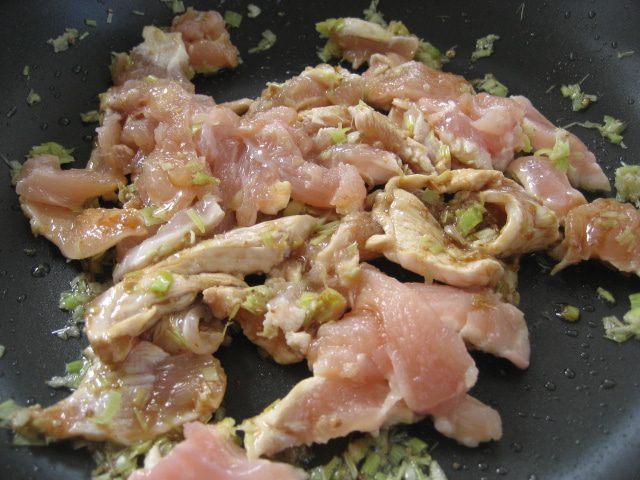 Stir fried for 1 minute and add chicken and light soy sauce.
Cook further for 3- 5 minutes or until the chicken is cook and tender and keep aside.
For sauce:
200 gm peanut- roasted and removed skin
2 1/2 tbsp sugar
1 1/2 tbsp vinegar
1 lime- juiced
2 tbsp fish sauce or to taste
2 green chili (or red chili)
3 cloves garlic
3/4 cup hot water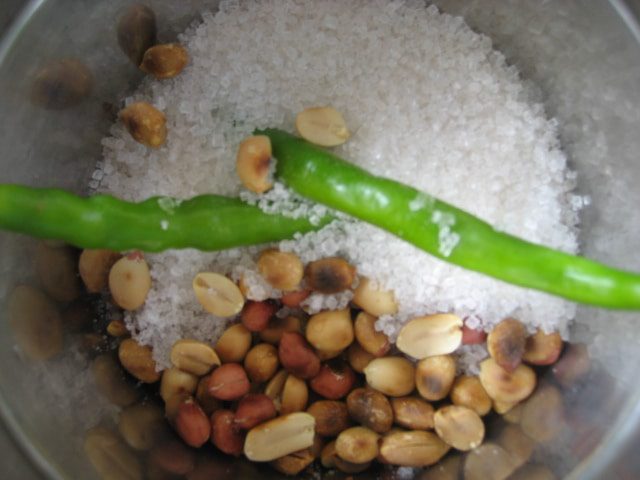 Add peanut, sugar, garlic and green chilies in the blender.
Blend for 30 second or until roughly ground.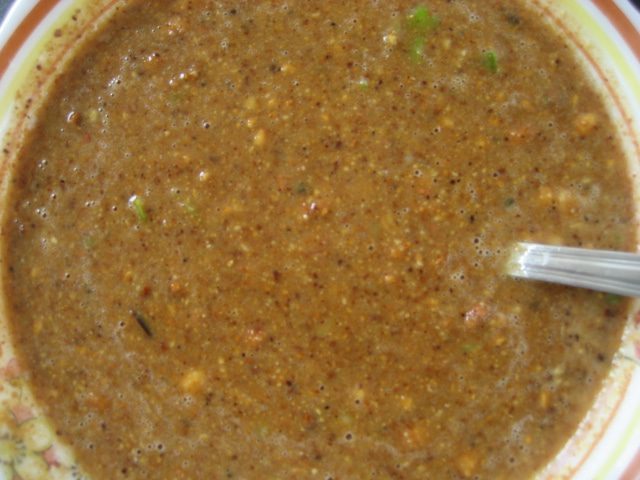 Add hot water, vinegar, lime juice, and fish sauce to taste.
Stir well and keep aside.
Other ingredients: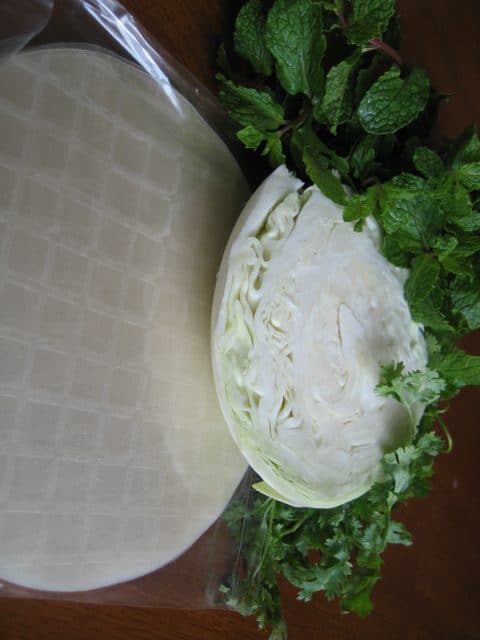 12-15 Rice paper
Mint leaves- stem discarded
Coriander leaves- stem discarded
Cabbage or lettuce- sliced
Water
Assemble: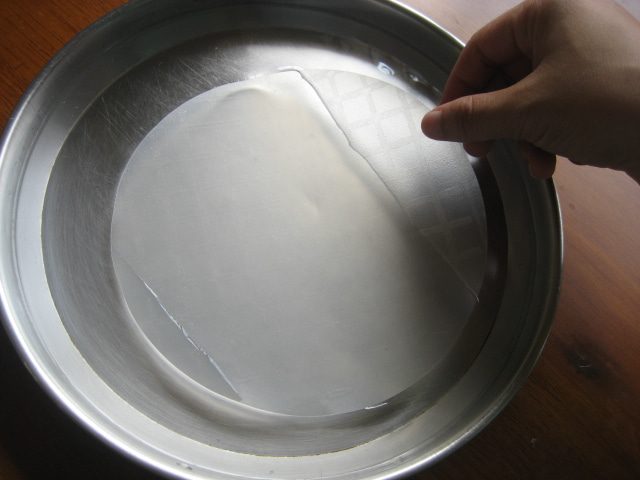 Immerge rice paper into the water one by one only for a few second and transfer it to clean plate.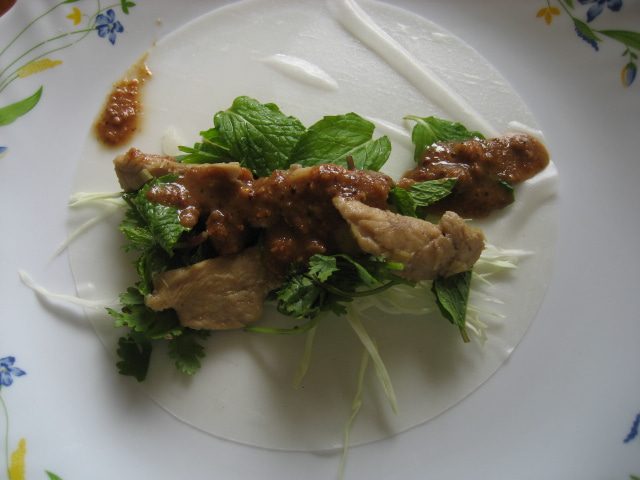 Add sliced cabbage, mints and coriander leaves then pour generous amount of creamy peanut sauce in.
Roll and serve immediately.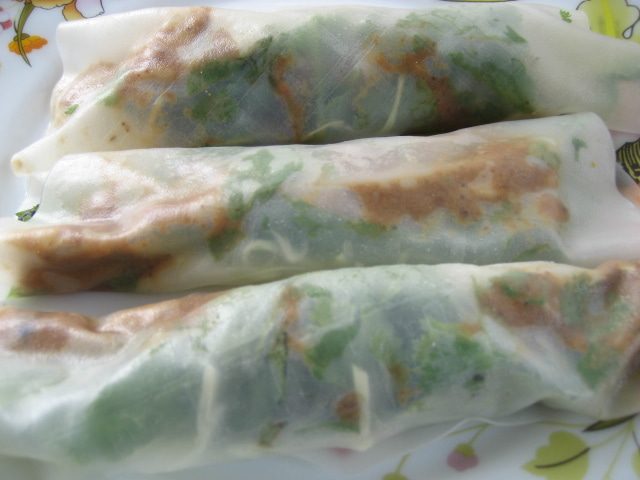 Today breakfast was a hit. The contrast of texture between soft rice paper and crunchy green veggies works wonderfully with sweet, sour and salty peanut sauce. We planed to try this again soon
I'm off to cook lunch now…. See you later