Remember those empanadas I wanted to order in between that Cuban sandwich a few weeks back?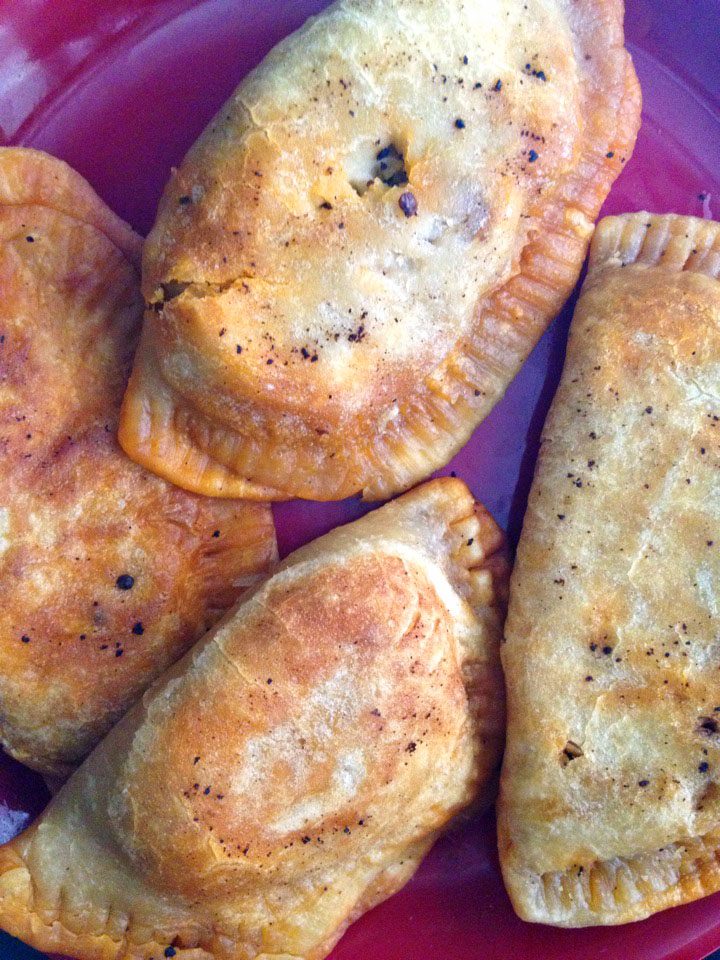 I actually did order two extra orders to eat in between my sandwich but I go out to Frederick, Maryland so infrequently (to see my friend or get empanadas) I vowed on my drive home to create my own version.
What luck I'd be in Target (no surprise) and potatoes would be on sale and I had my CartWheel app to give me an extra discount. A quick look for ground beef and a couple of days later I was simmering meat on my stove with the smell of Adobo seasoning, cumin and cilantro floating around my studio. That and once my dough was done attempting not to burn my forearm with hot oil jumping from the pan as I tried to fry it. There were a couple of small burns but completely worth it in the name of homemade empanadas. Instead of vegetable oil I used olive oil to do my frying which somehow made the dough seem less greasy.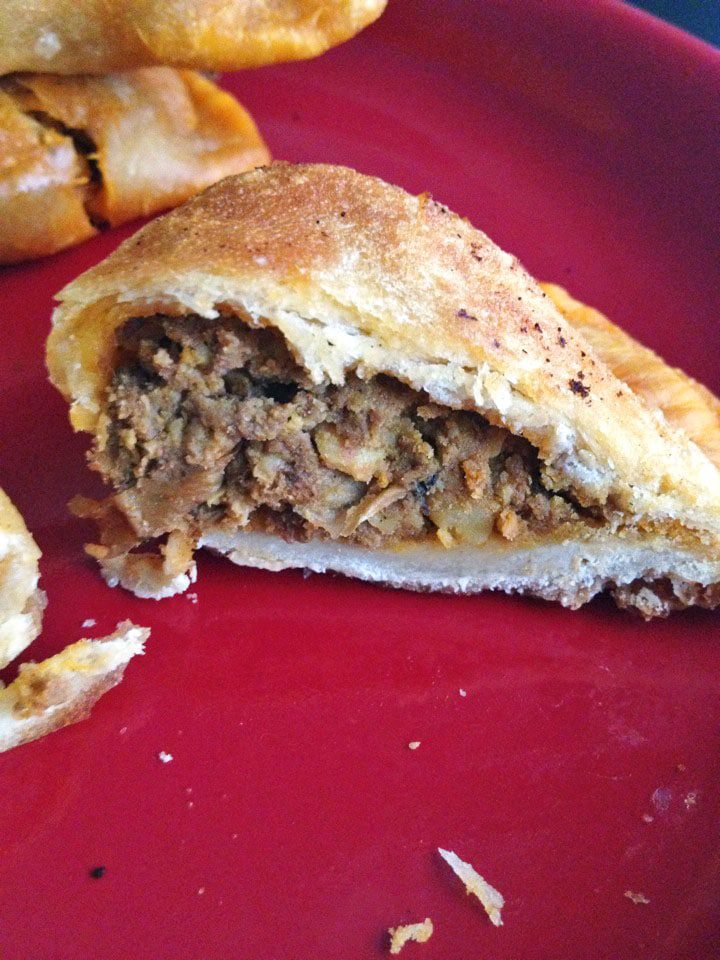 For the meat I went with classic ingredients and for my potatoes I simply boiled them, chopped them up and used them as part of my filling. I considered adding cheese into the melee but I opted to keep it simple (though some Monterey jack cheese would've been a great addition).
I was extra surprised at how quickly everything came together. These empanadas are also pretty filling. Even eating half of one made me full so I had about a week or two's worth of empanadas to work with as part of my lunch (perhaps it was because I was also eating these with those mini Greek yogurt guacamole cups from Costco). You can even freeze these and then put them in the oven for about 25 minutes or so at 400 degrees to reheat them.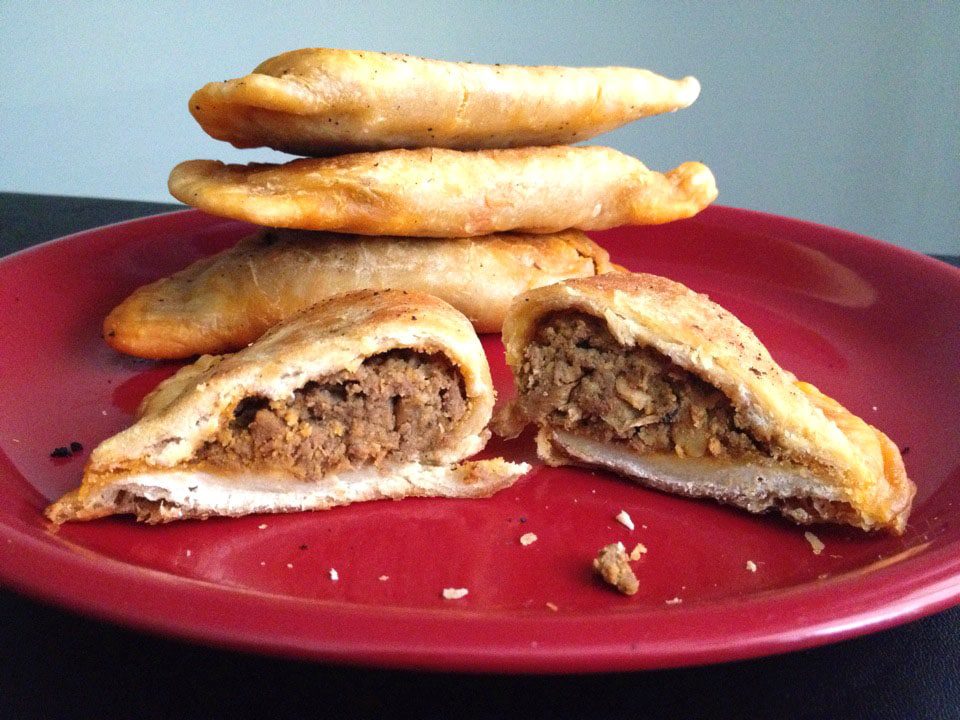 BEEF EMPANADAS
For the dough (via Use Real Butter via Saveur):
1 cup water
3/4 cup lard (I used butter)
2 3/4 c flour
2 tsp salt
pinch paprika (I used smoked paprika)
For the filling:
2 lbs ground beef
3 tablespoons olive oil
1 c chopped cilantro
1 tablespoon minced garlic
1 c chopped onions
10 small potatoes (boiled and chopped)
2 tablespoons Adobo seasoning (sin pimiente)
1 tablespoon cumin
1 tablespoon ground black pepper
1 teaspoon garlic powder
1 teaspoon smoked paprika
1 teaspoon chili powder to taste
Optional: chopped pickled jalapeños
To make the dough:
1. Heat water and lard (butter) in a medium saucepan over medium heat until lard (butter) has melted.
2. Mix flour and salt in a large mixing bowl and make a well in the center and sprinkle a pinch of paprika in the well.
3. Pour a little of the warm liquid in and stir with fingertips to make a wet paste.
4. Pour in remaining liquid and work the flour into the dough with your hand until you get a wet, oily dough.
5. Wrap the dough in plastic and refrigerate for at least 2 hours.
To make the filling:
1. Put ground beef into bowl and begin adding seasonings to it. Then with hands begin mashing meat and working seasonings in.
2. On medium heat stovetop pour olive in and then place meat in pot. With spoon begin breaking apart meat. Simmer on low heat periodically stirring with spoon allowing meat juices to simmer until meat is cooked thoroughly (should be a brown color as opposed to red color it started as).
3. While meat is simmering, begin boiling your potatoes. In separate pot bring water to a boil and then place potatoes in allowing to stay in pot for 15 minutes or until potatoes are soft. Drain water and let cool. Once cooled chop potatoes into small cubes.
4. Once meat and potatoes are done set aside.
Assembling and frying the empanadas:
1. Take dough out of fridge after two hour period and begin tearing off pieces. Using rolling pin roll out dough into circle shapes. Add meat and potatoes to dough circles and pinch close with a fork.
2. On stovetop in a frying pan pour desired frying liquid (I used olive oil) on medium to high heat. Once oil begins to heat up, depending on size of pan place one to two empanadas into pan frying both sides until brown. Set aside on plate with paper towel.
3. Let cool and serve with salsa, guacamole or sour cream.