I'm thinking of a million different variations of this recipe that I want to make now.  I don't know if I can top this, though.  Nothing beats chocolate and strawberries.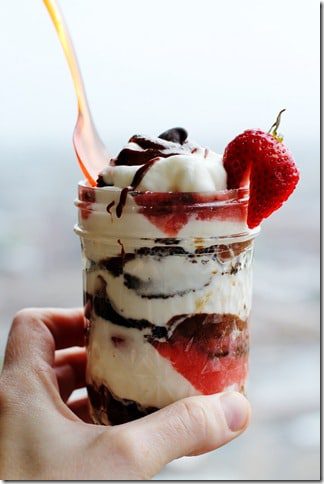 I've been buying lots of strawberries lately.  They've been perfectly sweet and juicy.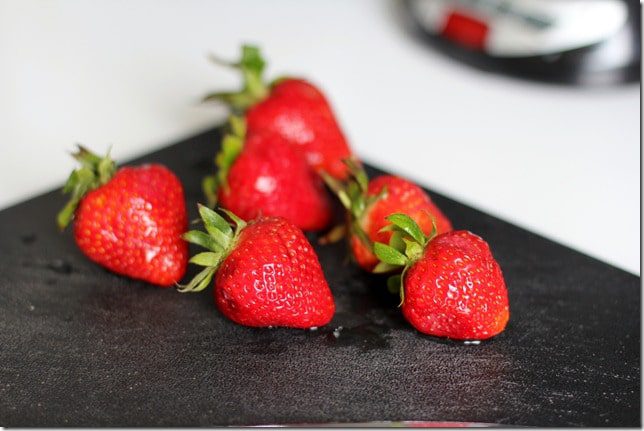 I would say this recipe is a little more complicated than most of my recipes; don't let that scare you away.  It looks like there are a lot of ingredients, but some of them are used several times.
Here's what you do:  -You bake a small, fudgy chocolate cake.  Easy peasy.
-You whip up some chocolate cream cheese frosting.  No big deal.
-You make whipped cream.  Anybody can do that.
-You make a strawberry sauce.  It only takes a few minutes.
Then comes the fun part – layering cake, frosting, whipped cream and strawberry sauce in little jars.  Eating these is fun, too.
So don't give me the excuse youaint got time for this recipe.  Now if you'll excuse me, I need to go get a COLD pop and some barbecue.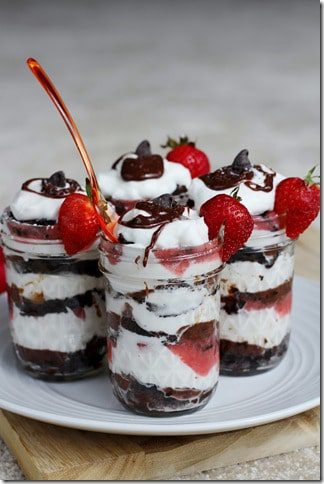 Layered Strawberry Chocolate Cake-in-a-Jar
Chocolate Cake1/2 cup all purpose flour
6 tablespoons unsweetened cocoa powder
1 teaspoon baking powder
1/4 teaspoon baking soda
1/4 teaspoon salt
1/4 cup unsalted butter, softened
3/4 cup granulated sugar
1 large egg
1/2 teaspoon vanilla extract
1/2 cup milk
1/4 cup semi-sweet chocolate chips, melted
Chocolate Cream Cheese Frosting1/3 cup cream cheese, softened
1 tablespoon butter, softened
1/3 cup confectioners' sugar
2 tablespoons milk
1/4 cup semisweet chocolate chips, melted
Whipped Cream1 cup heavy whipping cream
3 tablespoons granulated sugar
1/2 teaspoon vanilla extract
Strawberry Sauce3 tablespoons water
2 1/2 teaspoons cornstarch
1 cup thinly sliced strawberries
3 tablespoons granulated sugar
Heat oven to 350 degrees F.  Coat a 9-inch round cake pan with cooking spray.
To make the cake, in a medium bowl, sift together flour, cocoa powder, baking powder, baking soda and salt.  In a large bowl, using a mixer on medium speed, beat together butter and sugar until creamy.  Beat in egg and vanilla until combined.  Reduce mixer speed to low, and beat in flour mixture, alternating with milk until just combined.  Beat in melted chocolate until combined.  Pour batter into pan.  Bake 20-25 minutes, or until cake pulls away from edges of pan, and a toothpick inserted comes out with moist crumbs attached.  Cool completely.  Refrigerate for easier slicing.
To make the frosting, in a large bowl, using a mixer on medium speed, beat together cream cheese and butter until creamy.  Beat in confectioners' sugar, milk, and melted chocolate until well combined and smooth.
To make the whipped cream, in a large bowl, using a mixer on high speed, beat together cream, sugar, and vanilla until stiff peaks form – about 2-3 minutes.
To make the strawberry sauce, stir together water and cornstarch in a small bowl until combined.  In a small saucepan, over medium heat, stir together cornstarch mixture, strawberries and sugar.  Bring mixture to a simmer, whisking frequently.  Cool 5 minutes.  Puree in a food processor.  Strain into a medium bowl.
To assemble jars, cut out cake rounds the size of the jars by using a cookie cutter or a small glass.  Layer jars with cake, spoonfuls of frosting, spoonfuls of whipped cream, and strawberry sauce.