The last few weeks I've been a crazy hypochondriac.  Seriously.  I get off the train, sanitize my hands.  Get to work, wash my hands (twice).  When I'm in the bathroom, I wash my hands twice, then use paper towels to turn off the water and open the doors back to my desk.
I was starting to feel a little ridiculous that I was taking so many precautions.  But then, Thursday morning, I woke up to a bit of a tickle in my throat.  I started panicking – drinking fluids, taking Vitamin C, and eating lots of soup.  It was no use; Friday I woke up with a fever and the worst raw sore throat I've ever experienced.  It literally felt like someone had scratched up the whole inside of my throat.
So much for my careful precautions, right?  It's almost worse to try and be so good and still get sick.  This whole time I should have just been more carefree about it – would have gotten sick anyway.  So after a whole weekend being laid up on the couch with John taking care of me, I took today off with the hopes that by the time tomorrow comes (along with it 2 big meetings at work), I'll feel better.  Regardless of if you're sick or not, this warm soup is the perfect dinner for any cold night!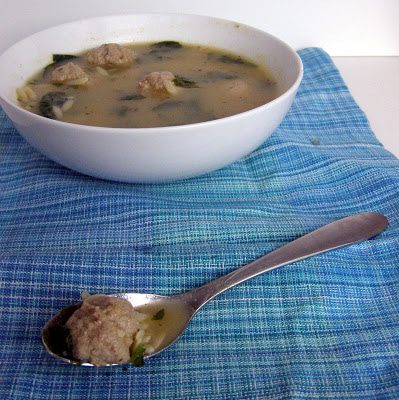 Italian Wedding Soup (adapted from SkinnyTaste)
Serves:  6 (about 8 cups)
Meatballs:
3/4 pounds ground turkey
1/4 cup breadcrumbs
1/4 cup parmesan cheese
2 tablespoons parsley
1 egg
1/4 cup onion, diced small
2 tablespoons garlic, minced
Soup:
6 cups low-sodium chicken broth
2 cups spinach, chopped
1/2 cup orzo, uncooked
1 tablespoon black pepper
Meatballs:  Combine turkey, breadcrumbs, cheese, parsley, egg, onion, and garlic.  Mix well.  Form 1-inch meatballs (about 3 dozen).  Set aside.
Soup:  Place the chicken broth into a large pot and let come to a boil.  Add meatballs, spinach, and orzo.  Add pepper and salt, if needed.  Cook 10-12 minutes until meatballs are cooked through and orzo is al dente.
Serve immediately or place into airtight containers for 3 days in the fridge or up to 1 month in the freezer.
Until the next time my oven is on…