I love food that tells you about the season. The kind of food that boasts local best produce at the moment. Now it's winter, and it means pumpkin. In Thailand, we are taught to savor pumpkin because it is rich with vitamins and it is also a good source of carbohydrate. I remember my elementary school's canteen often served us rice with Chicken Curry with Pumpkin. It's was under-appreciated then, but now it's one of my favorite dishes.
Pumpkin can be cooked with different kind of proteins in curries, stew and stir fry. Pumpkin is also good for dessert. Oh, this reminds me to share with you pumpkin in coconut cream soon.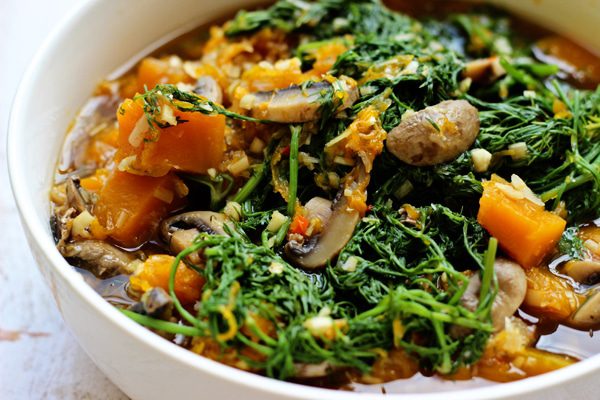 Today instead of meat, I use mushroom. It's almost vegetarian. The reason it's not entirely vegetarian is because I use fish sauce in the dish. But if you want to stay away from the pungent scent of fish sauce, you can use salt, and I believe that it will give you a nice clean and humble flavor. This dish is to be served with rice. Sticky rice is best!
Pumpkin and Mushroom Stew
Ingredients:
1 cup pumpkin- cut into small cutes
200 gm mushroom- sliced
A handful dill – sliced
1 stalk lemongrass- sliced
3 shallots- peeled
4 cloves garlic
2 fresh red chilies
A handful of Thai Basil
2 tbsp fish sauce
Direction
In a blender, roughly blend lemongrass, shallots, chilies and garlic in a little water to create a rough paste.
Transfer the paste into a medium saucepan and add 1 ½  cups of water. Add fish sauce and bring to boil.
Add pumpkin and cook for 7 minutes.
Add mushroom and cook further for 3 minutes or until the mushroom is cooked and the pumpkin is soft.
Add dill and mix well. When the dill is wilted, add Thai Basil and remove from the heat.
Adjust the flavor with fish sauce if needed more.
Serve hot with rice.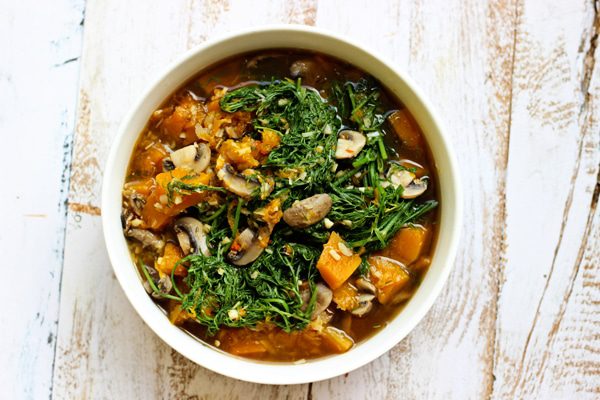 Love,