Episode 2 of the Great Irish Bake Off aired last night and much to my delight I feature in it, thus proving I was actually in the show!
That I did bake some stuff on the telly. Give my bakes to the judges for critiquing and let their words of wisdom and  judgement pour over me.
Now, having said all of that, the one bake they did show of mine last night, was one where I received not- so-great feed back. It was my savoury dish, the Spinach, Ricotta and Pinenut Tart. The pastry was cracked, the filling wasn't full enough, but the flavours were good. They liked the flavours. They just didn't think it was show stopper enough.
The show was edited in a way that you didn't get to see my true responses either, nor the fact that they enjoyed my Lemon Lime Meringue Pie. A lot. They like the flavour, the presentation, the way the meringue cracked when Paul cut into it but alas… you 'll have to take my word on these observations as it was never shown.
I have toyed with the idea of remaking everything I have baked on the show, episode per episode and showing you what I can do. But there are some bakes that I never want to bake again. Some bakes that will pop in in their own time, in due course and some that got critiqued so badly, I never want to even think about having to bake them again.
So with knowing that and knowing I had friend's coming over for Episode 2 (and yesterday being the most glorious of sunny days…) I decided to make a bread, a sweet bread/cake and let it rise and rise, in the heat of the sun on my kitchen windowsill before baking it to it's delicious perfection!
I give you, my fine readers, one giant, Cinnamon Roll Swirl Bread/Cake… thing…
Yeah, yeah ok. It's a working title!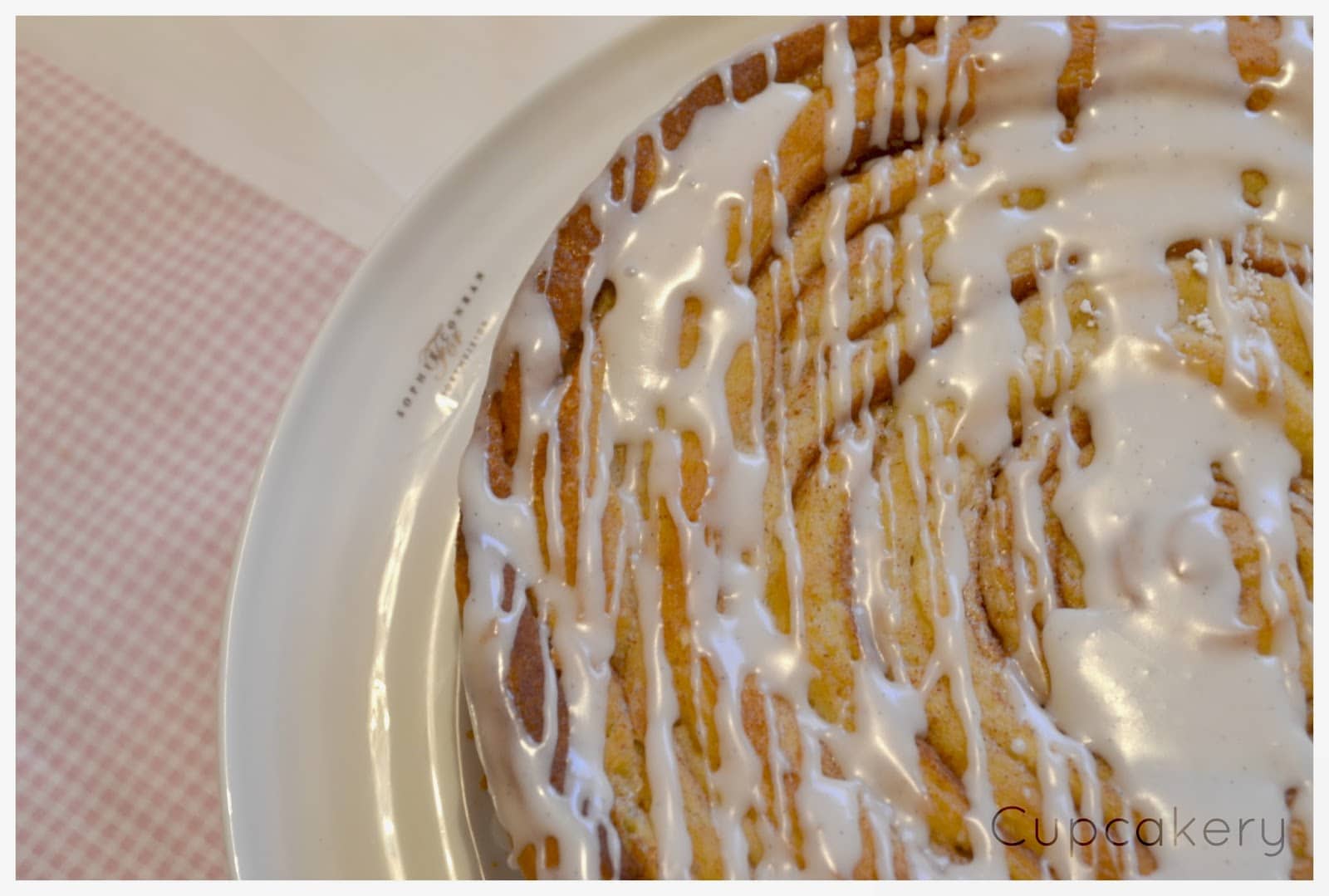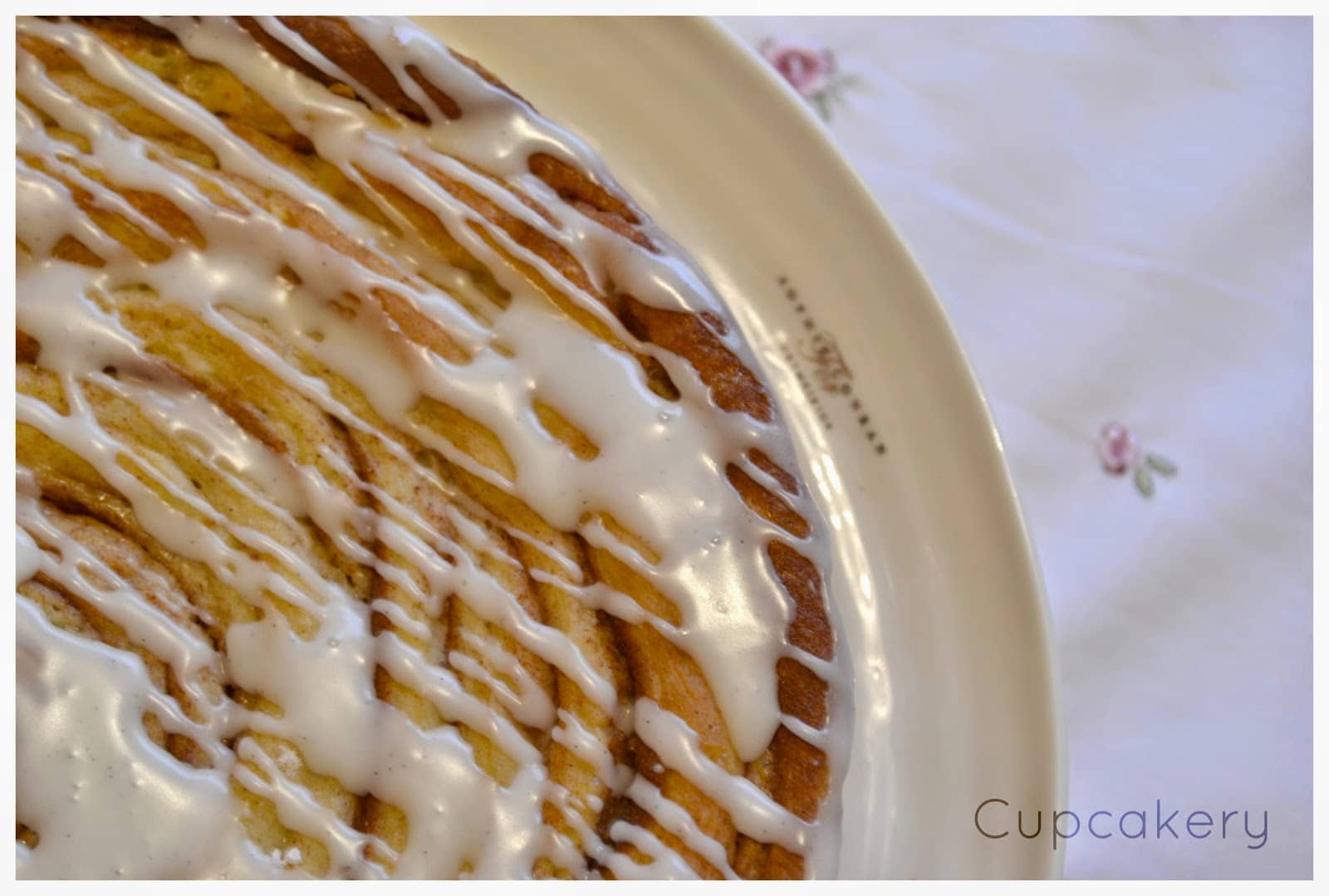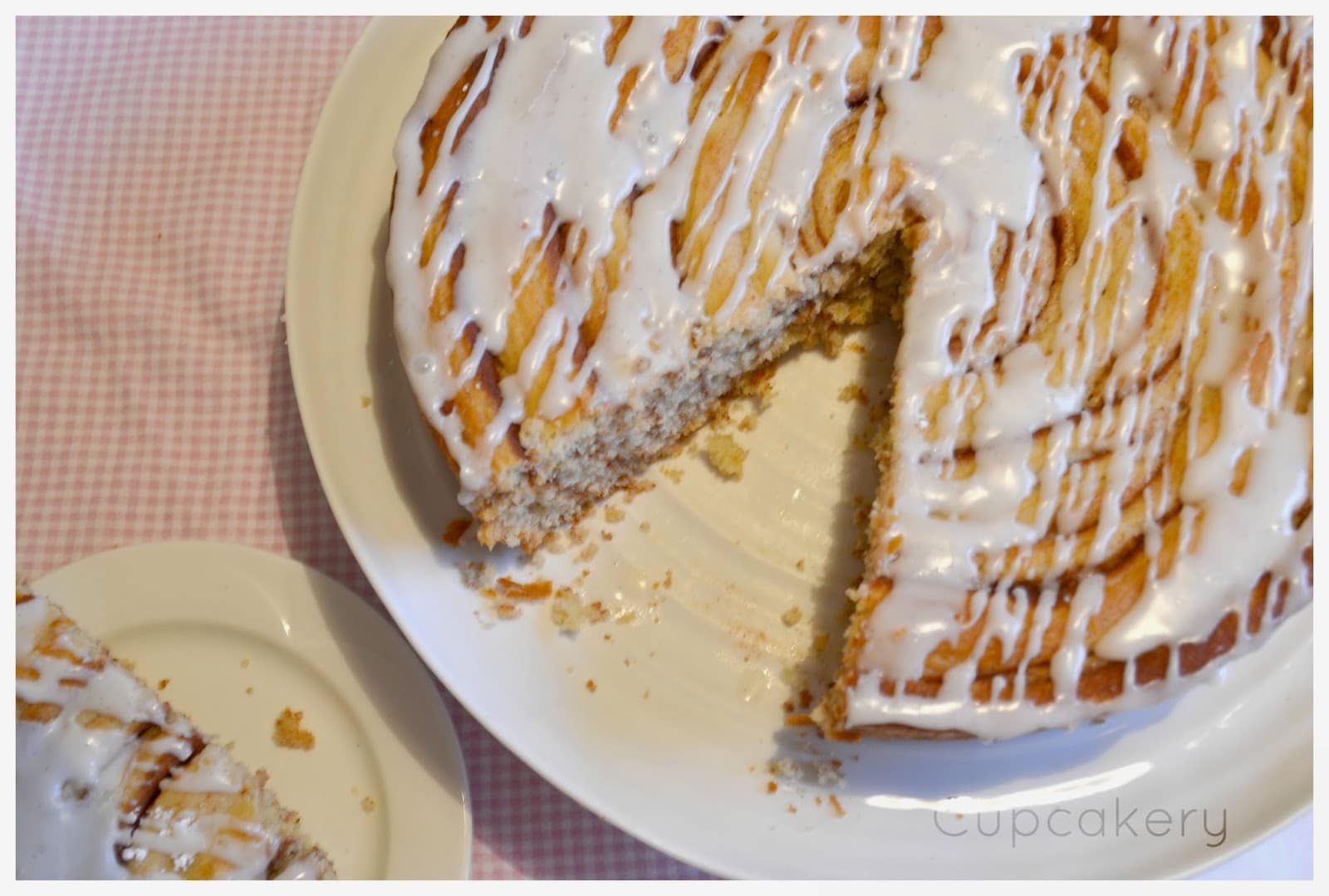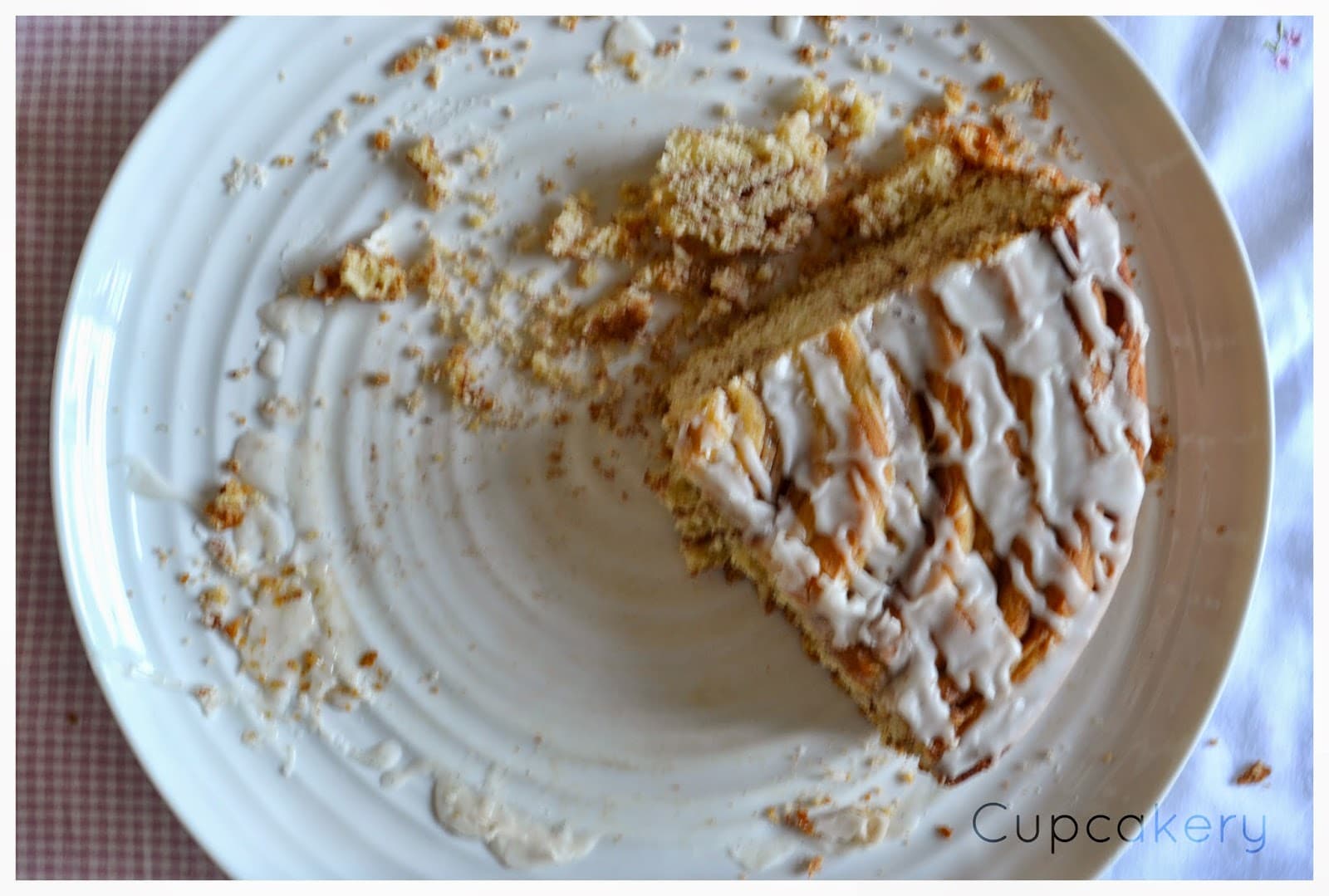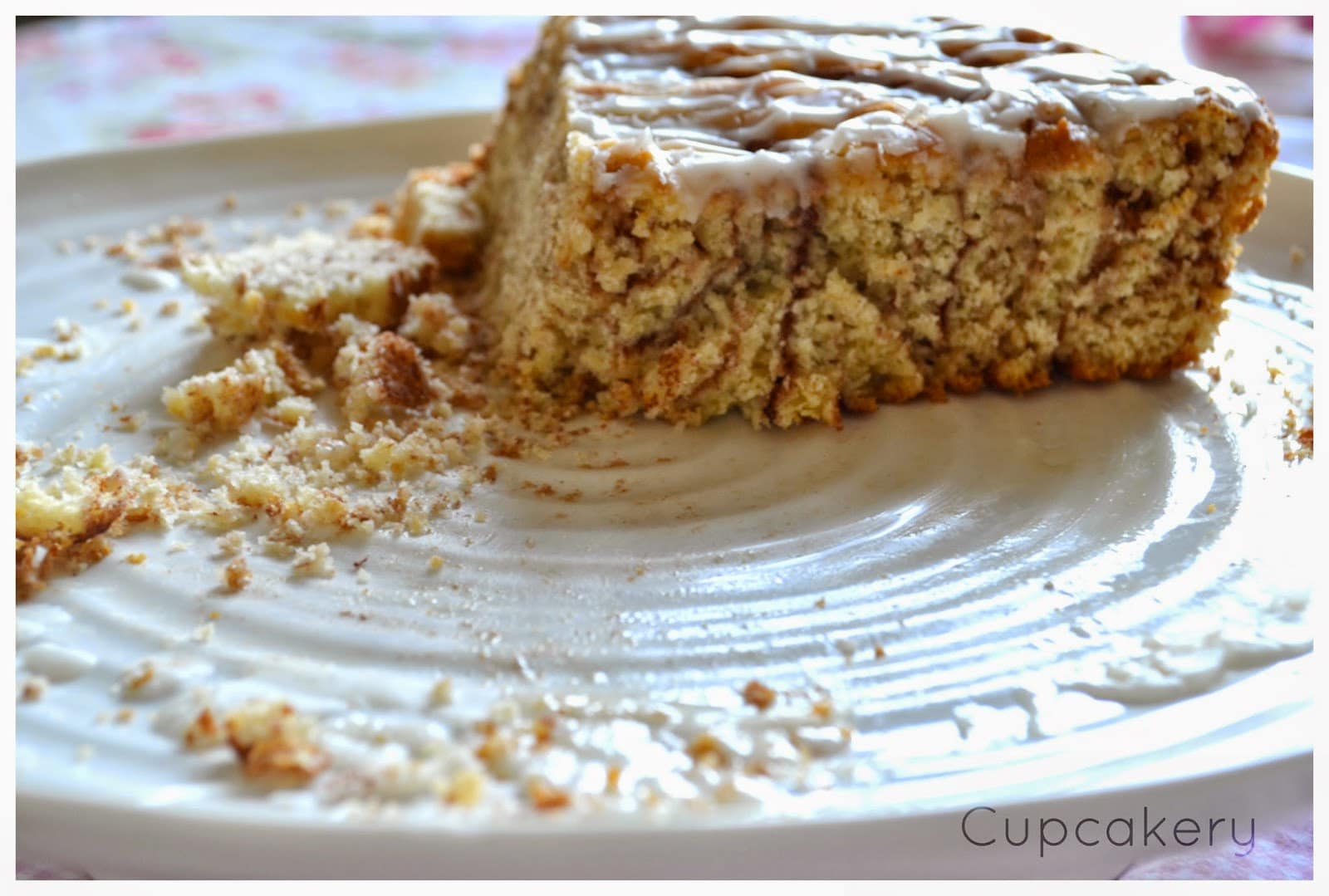 345g (plus 55g extra) self raising flour
3 tablespoons caster sugar
1 teaspoon salt
1 package fast action yeast
120ml warm water
60ml room temp milk (I use full fat)
45g unsalted butter
1 large egg, at room temperature
45g salted butter, softened to room temperature
1 and 1/2 Tablespoons ground cinnamon
50g granulated sugar
120g icing sugar, sifted
15ml milk
1 teaspoon vanilla extract
Let's make a cake… bread… whatever you want to call it!
Make the dough: Set aside 55g of flour. In a large bowl, put the 350g flour, the sugar, salt, and yeast together until all mixed up. Give it a good dry whisk. Set to one side.
Melt the butter in the microwave and add it to the warm water and milk. Stir.
 Stir the butter mixture into the flour mixture. Add the egg and only enough of the reserved flour to make a soft dough. You know the dough is ready when it gently pulls away from the side of the bowl and has an elastic consistency. It's a sticky mess up until then
On a lightly floured surface, knead the dough for about 5 minutes. Just give it a good bashing about and then, form a ball and place in a lightly greased bowl.  Cover the bowl tightly with a bit of cling film and let rest for 30 minutes. The dough will slightly rise.
Make the filling: After the 30 minutes rise, roll the dough out into a rectangle shape about 12 inch wide. Spread the softened butter on top. Mix together the cinnamon and sugar and sprinkle it all over the dough.
Grease a 9-inch round pan and set that to one side.
Using a very sharp knife or a pizza cutter, cut the dough into six 2-inch wide strips. Loosely roll up one strip and place it in the center of the pan. You want to roll it up loosely so that the dough has somewhere to go as it rises. Wrap the remaining 5 strips around the center roll. I find it easiest to start each strip at the end of the previous one and you keep going until you have one large rolled cake.
Loosely cover the cake with cling film  and allow to rise in a warm, draft-free place for 60-90 minutes.
Here is the thing that I (now) do…  a trick I learned on the Bake Off.  Heat the oven to 200C degrees, once it reaches the 200, turn the oven off. Place covered cake inside oven, close the door and allow it to rise. My cake took 60 minutes to double in size.
After your cake/bread dough has doubled in size, preheat the oven to 180C. Bake for 30-35 minutes until lightly browned. If you feel that the cake is browning too fast, you can cover it with some parchment and allow it to cook on.
Make the vanilla glaze by mixing the sifted powdered sugar, milk, and vanilla together until smooth and  when your cake comes out of the oven and has cooled for about 10 minutes, drizzle that stuff all over them rolls.
I think this cake is best had on the same day, but will remain fresh, covered tightly for up to 3 days at room temperature. Or you can pop it in the fridge but to be honest… it won't last three days. It's too good.
Let me know if you bake it, make it or even hate it!