Fall wouldn't be fall without pumpkin spice lattes.  The warm, frothy drink somehow embodies the whole season.  Crisp air, crinkling leaves, and sweaters seem even more appropiate once you have this latte in hand.  However, as good as they are, I really shouldn't buy one of these delights every morning on my way to work.  Not good for the wallet or the waistline.
So, I started making my own syrup.  Now, the base of a simple syrup is sugar and water… Not, very healthy, but I lessen the blow by replacing granualted sugar with morena sugar.  Morena sugar is less processed, which adds a rich, warm flavor to just about anything you toss it in.  Plus, it's a healthier alternative to white sugar.
Then, go make this. It takes about 5 minutes to blend everything together and then let it set for fifteen minutes. For the next few weeks, just add a spoonful to your latte, top off with some whip cream, and then drizzle a little pumpkin spice deliciousness to the top.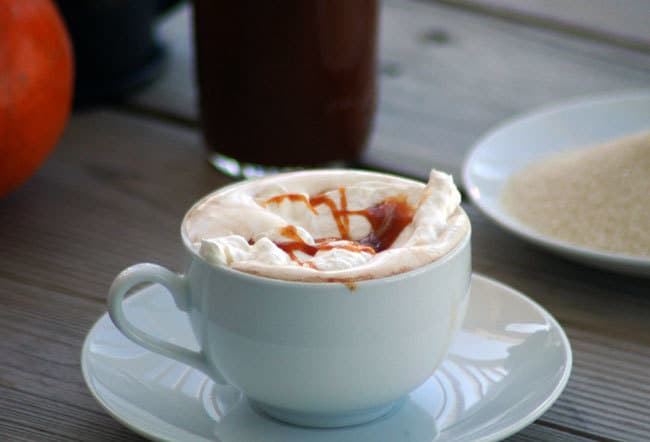 Pumpkin Spice Lattes
Ingredients:
1 cup morena sugar
1 1/2 cup water
2 teaspoon ground cinnamon
1 teaspoon pumpkin spice
1/4 teaspoon nutmeg
1 teaspoon vanilla
1/4 cup pureed pumpkin
1/4 cup strong coffee or expresso
1 cup warmed or steamed milk
A moderate amount of whipped cream
Prep Time: 20 minutes
Cook Time: 10 minutes
Set Time: 15 minutes
Yields: 2 cups syrup… So many yummy lattes. :9
Method:
1. Over a low heat, blend sugar and water until sugar is dissloved.  Add spices, vanilla, and pumpkin stirring constantly.  Don't let the mixture come to a boil.  Heat for about 5 minutes or until blended.  Remove from heat and let set for 15 minutes or until cool.
2. Strain syrup through a fine sieve. Store in a sealed container in the fridge.
3. To make the latter, mix coffee or expresso with warmed milk.  (I don't have a steam wand, so I heat mine in the microwave for 40 secs…) Add a spoonful of syrup.  Top with whipped cream and drizzle with a tinsy bit of syrup. Die and go to autumn heaven.