"You don't have to cook fancy or complicated masterpieces just good food from fresh ingredients" — Julia Child
Don't you agree? I've cooked complicated foods, standing for hours trying to do it the authentic way and the results have been rewarding. I've also cooked food within minutes and with right ingredients they're just as satisfying as complicated ones. I recently brought home a bag full of homegrown fuyu persimmons from my friend's backyard. Even though we love to eat persimmons just as is, I wanted to use them in a recipe. I've been thinking of making spinach and mandarin orange salad for a long time, since I didn't have any oranges at home I searched for persimmon salad and came across this recipe (from myrecipes).
I loved the salad, you can't go wrong with this recipe as they were made with fresh ingredients. I substituted glazed walnuts with roasted almonds as my kids are allergic to walnuts. Next time I'm either going to glaze the almonds or get honey glazed almonds for this recipe. The crunchiness from the persimmon was perfect with the sweet orange marmalade dressing. Even though this recipe seems simple they do provide a festive touch with their vibrant color and excellent taste. Enjoy!!!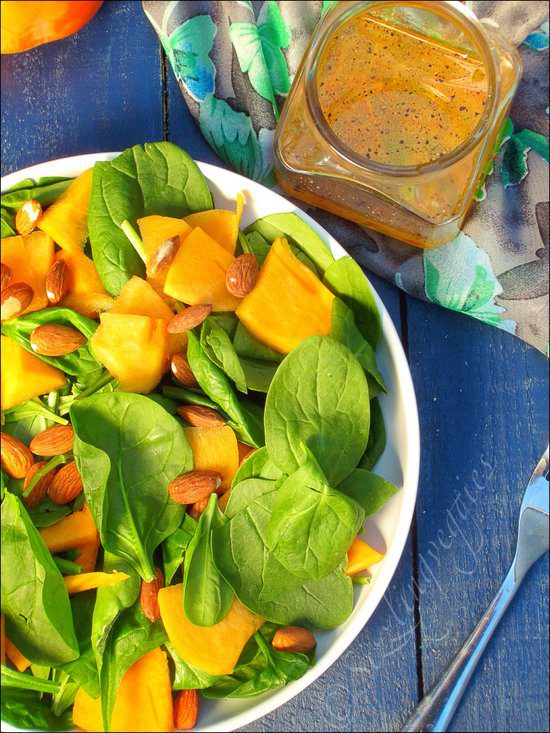 Spinach and Persimmon Salad
Ingredients
Spinach — 1 1/4 lbs (about 8 cups)
Fuyu Persimmons –3 Firm (peeled and sliced into thin wedges)
Glazed Almonds– 3/4 cup (can be substituted with glazed walnuts)
For the dressing
Rice Vinegar — 1/4 cup
Toasted Sesame Oil — 1 tsp
Orange Marmalade — 2 Tbsp
Salt & Pepper — to taste
Instructions
In a large bowl whisk vinegar, sesame oil, orange marmalade, salt and pepper until well combined. Adjust salt and pepper to taste.
Add spinach, persimmons, and glazed almonds to the bowl and mix until everything is well combined. Serve immediately. Enjoy!!!