Dhalia Biscuits otherwise known as Kuih Semperit in Malay language is a basic butter cookies but shaped like a flower. These cookies are widely popular during festive seasons like Chinese New Year, Aidil Fitri, Diwali or Christmas in Malaysia. The cookies very much resemble butter cookies in taste and I was totally drawn to these cookies just with one look. There was one another factor that made this cookie so interesting to make is the use of corn flour, custard powder, and wheat flour instead of the usual all-purpose flour.
I made few errors in making these cookies like not using plain custard powder, using multi-grain flour instead of whole wheat flour, and not converting the measurements from grams to cups properly. Since I had strawberry flavored custard powder I thought it would be interesting to try but if I have to choose again I would prefer plain custard powder. I had the advantage that my family has never tasted nor seen dhalia biscuit, as far as the resulting cookies were tasty I didn't hear any complaints. I always teach my kids to be never afraid of making mistakes as long as we learn from them. If I happen to make this recipe again, I'll try to update this post. Enjoy!!!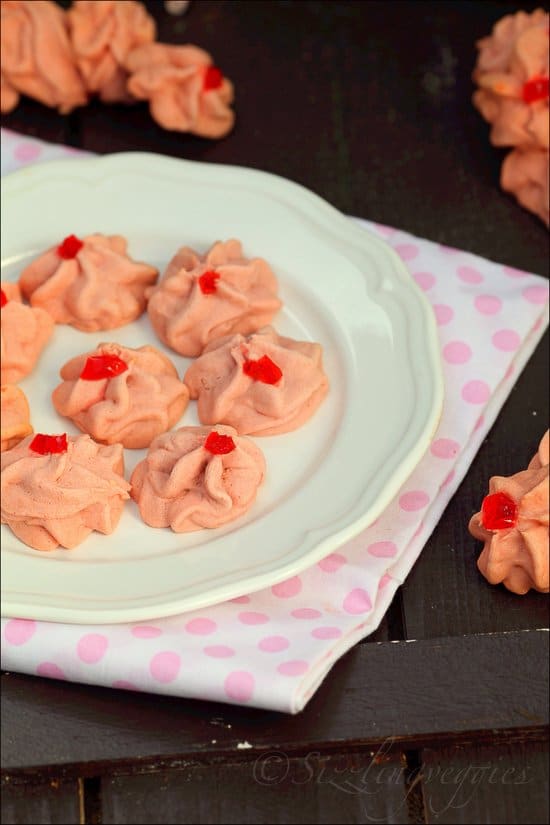 Recipe Source: Snapguide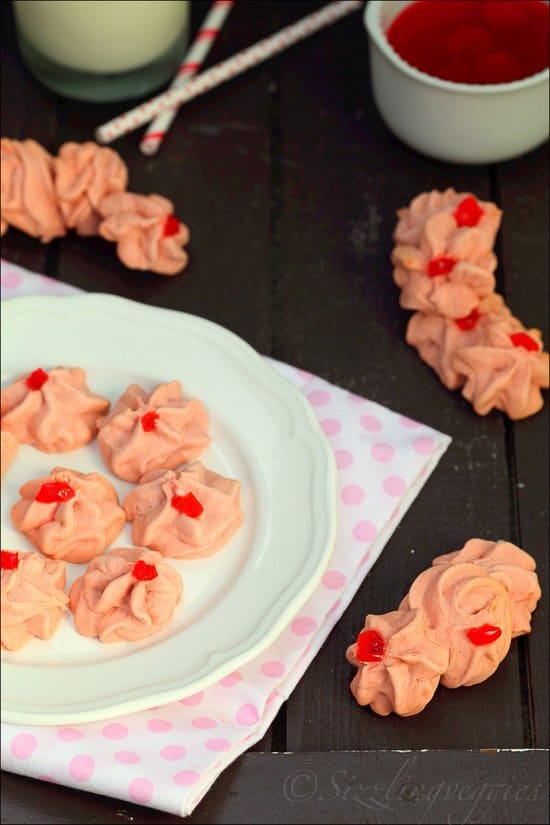 Dhalia Biscuits or Kuih Semperit
Ingredients
Unsalted Butter —150 grams (at room temperature) about 1/2 cup +3 Tbsp
Icing Sugar or Powdered Sugar — 60 grams about 1/2 cup
Custard Powder — 100 grams about 3/4 cup
Wheat Flour — 120 gms about 1 cup
Corn Flour — 50 grams about 3/8 cup
Egg Yolks –2
Vanilla Extract — 1 tsp
Sweetened Condensed Milk — 4 Tbsp
Cherry Cubed — for decoration
Instructions
Separate egg yolk and whites from the 2 eggs in two different bowls. Set aside.
In a bowl beat butter and icing sugar using a hand-held mixer or stand mixer until creamy but not too long. Add egg yolks, vanilla extract, and sweetened condensed milk. Mix until well incorporated.
Using a spatula, add custard powder little by little and fold them. Once the all the custard powder is folded into the mixture add corn flour and mix well. Lastly add wheat flour and mix until all the flours are well mixed.
Line a cooking sheet with parchment paper. Using a star tip, pipe the cookie dough in the cookie sheet. Add cherry cubes on top of each of the cookies. Bake at 300 F (150 C) for about 20 minutes or until the base of the cookies turn brown. Cool completely on a cooling rack. Store in an airtight container. Enjoy!!!