Last week, I posted about being up to my elbows in limes and lemons. When life gives you citrus, I think we all agree that you're supposed to juice it—but then what do you do with all that juice? Well, here's one idea.
I made this simply, flavorful syrup using about half of the fresh lime juice from the other day. I have always loved the combination of ginger and lime, and I combine them whenever I have an excuse. A few months ago, I had a cocktail that combined these two flavors with a healthy dose of vanilla vodka and I was floored by the way the soft, subtle vanilla flavor complimented the strong, pungent flavors of ginger and lime so well. Since that day, I've been looking for ways to re-create that flavor profile, and this syrup does the trick.
Ginger Lime Vanilla Syrup 
Yield: About 3 cups
3/4 cup agave nectar (see note for substitutions)
1 1/2 cups filtered water
1 cup fresh lime juice
4-5 1/2 inch slices of ginger root
1 vanilla bean, seeds scraped
In a medium saucepan, combine agave and water and bring to a boil. Reduce heat to a high simmer and add ginger slices. 
Simmer 10 minutes, then remove from heat. 
Add vanilla bean seeds and pod, stir, and allow to sit, covered for 10-20 minutes. 
Remove vanilla pod and ginger slices. Strain if desired (see note). 
Stir in lime juice and transfer to an airtight container. Store in refrigerator for up to 1 week.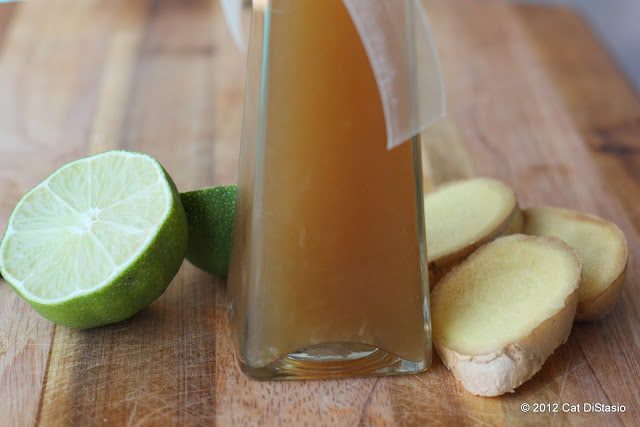 Notes: 
If you don't like agave, any other liquid sweetener will work just fine, but you may need to increase the amount, since agave is much sweeter than alternatives.
To strain or not to strain? If you want a clearer, non-pulpy syrup, strain after you've added your lime juice. I didn't strain mine, and it looks a little like bog water. But, it's delicious, so I don't mind.
I use this syrup in cocktails (a little vodka and soda water is all you need) but it can also be used in many other ways. Consider adding a couple of spoonfuls to your favorite hot tea (especially green!) or drizzling it over your favorite vegan ice cream. It even makes a delicious glaze for vanilla cupcakes. Just sayin'.