This decadent dessert starts with a graham cracker crust, is filled with a super chocolatey, ultra creamy middle and is finished with toasted marshmallows to make your favorite childhood treat into an elegant and delicious pie.
I love s'mores!  I don't know who couldn't like toasted a marshmallow and sandwiching it between chocolate and graham crackers.  That first bite when the chocolate just starts to melt and starts to ooze out, then add in that gooey marshmallow -Mmmmm!  It reminds me of childhood and camping.  More recently, before my friend moved, we'd have dinner and cocktails and always finish the night by making s'mores in their firepit in the backyard of their house.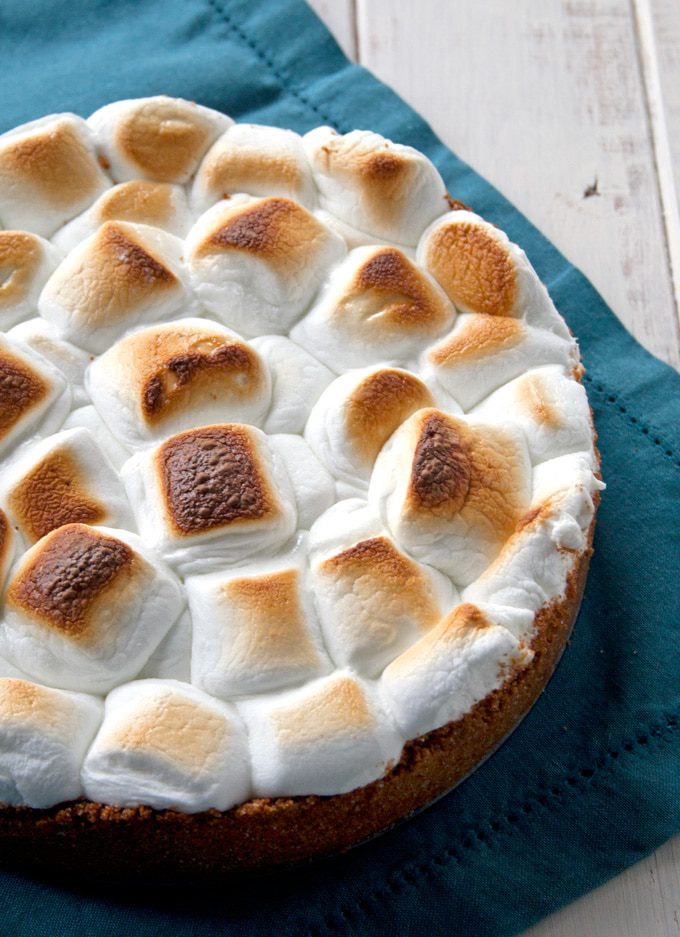 Now I'm forced to toast marshmallows over our gas stovetop.  I'm sure I won't look back and reminisce on this method – but it still makes for a damn good s'more.
I've been try to prepare for the big day (yes, Thanksgiving) as much as possible.  Making desserts ahead of time (like these mini pies) and planning recipes that won't hog my oven (like these brussels sprout and these sweet potatoes).  But that doesn't mean I don't want a show-stopper of a dessert.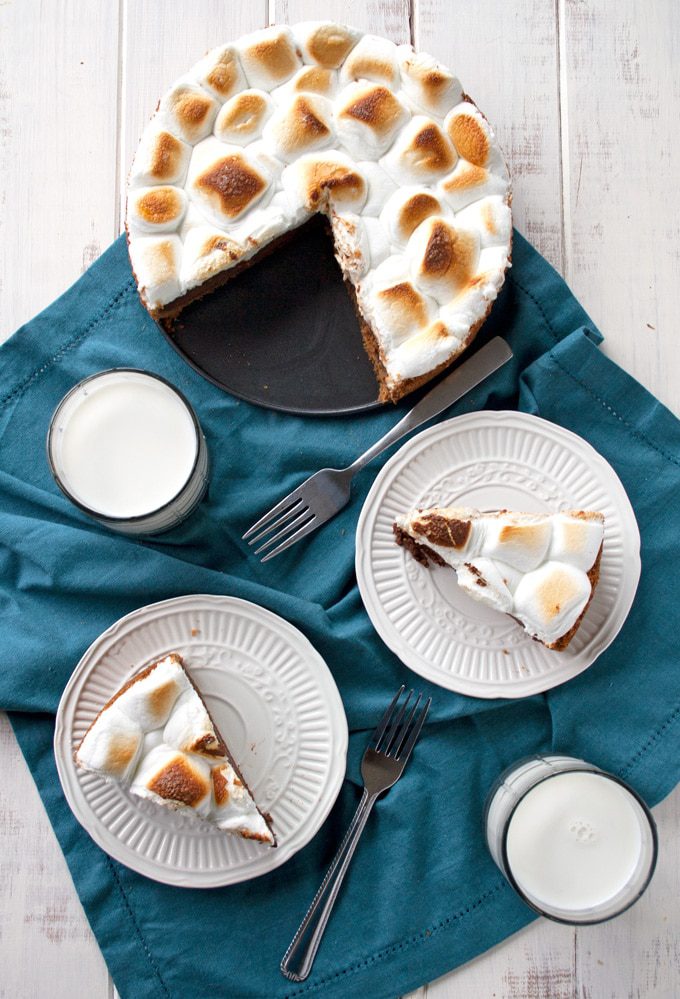 And that's what this s'more pie is going to be!  Plus, you can easily make it a day or two ahead (it's actually best to making it at least 24 hours before you plan to serve it).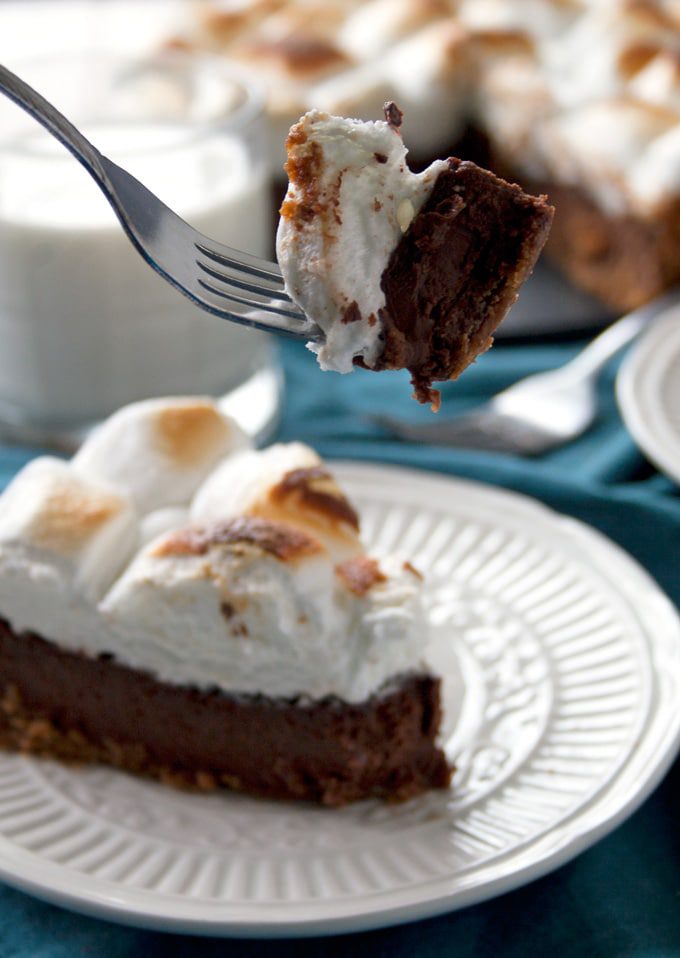 The graham cracker crust was slightly sweet and crunchy and the marshmallow topping was gooey and sticky, with a beautiful toasted flavor – but my favorite part was the super chocolatey filling, made with both semi and dark chocolate.  It was rich without being too over the top, and the graham cracker and marshmallow were a perfect compliment.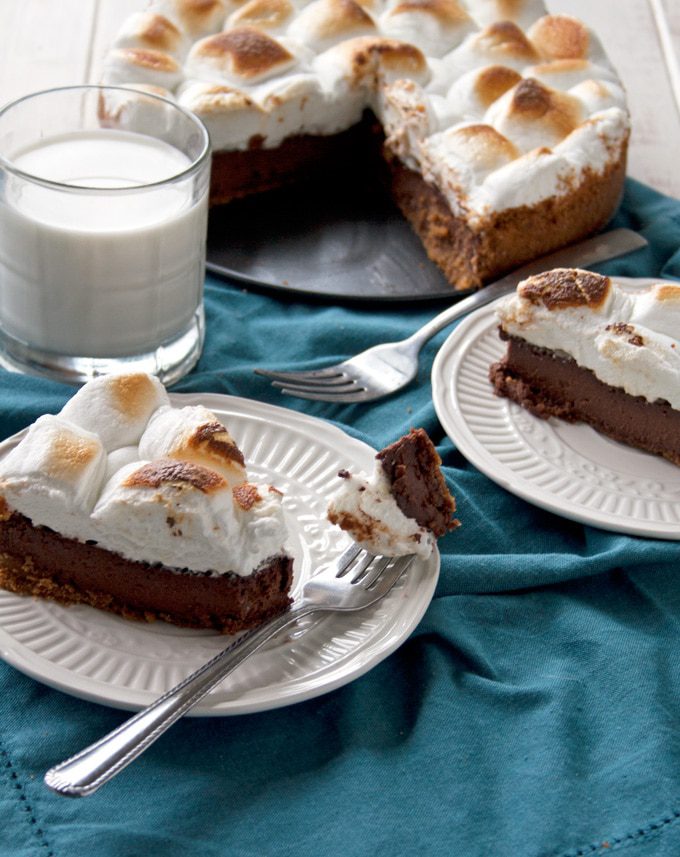 So, if you'd like to be the show-stealer at turkey day this year, making this s'more pie.  It's definitely going to be on our table this year!
ingredients
Graham Cracker Crust
12 graham crackers finely ground (about 1½ cups)
5 tablespoons unsalted butter, melted
¼ cup sugar
pinch of salt
Chocolate Filling
1 cup heavy whipping cream
½ cup milk
5 ounces semisweet chocolate, chopped
5 ounces dark chocolate, chopped
¼ cup sugar
¼ teaspoon salt
2 eggs
1 bag of large marshmallows
Graham Cracker Crust
In a food processor, pulse together graham crackers, salt and sugar. Add butter and pulse until mixture is combine.
Press into an 9-inch springform pan, pressing on the bottom and edges.
Chocolate Filling
Preheat oven to 325 degrees F.
Combine milk and heavy cream in a saucepan over medium heat. Watch carefully and as soon as it starts to simmer, remove from the heat and add the chocolate, stirring until all the chocolate has melted.
Whisk in sugar and salt, stirring until dissolved.
In a small bowl, whisk the two eggs. Take about ¼ cup of the chocolate mixture and slowly drizzle it into the egg mixture while still whisking.
Add the egg mixture back into the remaining chocolate mixture and stir gently just to combine.
Pour the chocolate mixture into the graham crust and bake for 15-20 minutes, or until the chocolate is no longer liquid.
Remove the pie and top with as many large marshmallows that will fit. I broiled mine in the oven, slowly turning and adjusting as needed to brown the tops of the marshmallows. You could also use a kitchen torch.
Let the pie cool slightly, then refrigerate for at least 2 hours before cutting.
To cut, run a sharp knife under hot water, dry quickly with a towel and slice. Repeat heating the knife for each slice.