One year ago: Easy Spinach Green Chile Chicken Enchilada Casserole
Ever have a fridge full of left over produce, and not know what the heck to do with it all?  This all too often is my food conundrum as I stared blankly at several leaves of kale,  green onions, and left over basil from my On The Vine CSA produce box from North Scottsdale Farmers Market.  There is nothing worse to me than having to throw away produce that has gone bad.  Knowing the farmer who has grown and picked that kale and basil makes me feel even more determined to not waste the veggies that have been lovingly grown without chemicals for my family's table.
I adapted this pesto spaghetti recipe from Bon Appetit (June 2013) to suit what I had in the fridge.  At first, I was a bit skeptical if it would work, and it turned out fantastic.  Traditionally, pesto is made with basil and pine nuts.  This is what I've become used to and loved.  But it turns out, I prefer pesto with almonds as it carries a richer flavor.  Also, this pesto holds it's beautiful green color much longer than traditional basil pesto.  Go ahead and give it a try!  There are no hard and fast rules of what you can use to make this pesto.  Added bonus, this is a dish that can be made in a flash.  Boil the pasta, and throw everything else in the food processor!  Fin!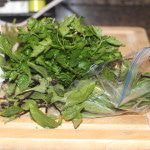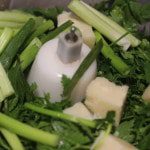 toss everything in the food processor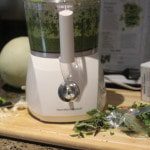 stream in olive oil as processing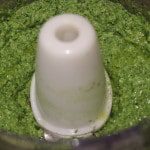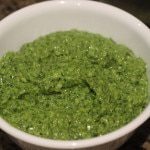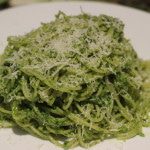 Kale Parsley Pesto Spaghetti
Prep Time : 15 minutes
Cook Time : 11 minutes
Yield : 4-6
Ingredients
spaghetti – 1 pound
salt – handful
raw almonds, unsalted – 1/3 cup
kale – 1 cup, destemmed and chopped
spinach – 1 cup
parsley – 1/4 cup, chopped
basil – 1/4 cup
green onion – 1/4 cup, chopped
garlic – 1 clove
olive oil – 2/3 cup
parmesan cheese – 1/2 cup, more for serving
salt and pepper – to taste
Instructions
Cook spaghetti in salted boiling water according to package directions. Reserve 1 cup of pasta water for sauce.
Pulse almonds in a food processor.  Add kale, spinach, parsley, basil, green onion, garlic and Parmesan, and process until smooth while streaming olive oil.  Add salt and pepper to taste.
Add pesto to drained spaghetti.  Add a little pit of pasta water, as needed, to thin sauce.  Toss, and serve with additional Parmesan sprinkled on top, if desired.